Season 2 of USA's Colony premiered January 12, 2017 and the occasion was marked by a viewing party. But not just any viewing party.
The Sayers Club was transformed into The Yonk, the bar owned by Sarah Wayne Callies' Katie Bowman and a central location in the show. All the details were in place —- the signs behind the bar, the prop moose head hanging on the opposite wall, the folks dressed as Homeland Security agents (aka Red Hats).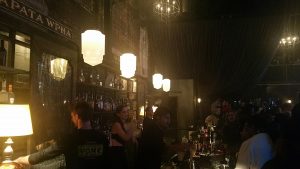 After the attendees, which included the full cast, Showrunner Ryan Condal, and Co-Creator Carlton Cuse, watched the episode, Peter Jacobson (who plays Alan Snyder) served as the very capable host of a Facebook Live sessions that had a Q&A session as well as some giveaways.
With the festivities ended, there was a demo of small flying drones where you could take a shot piloting or see what it sees via handheld monitors.
Take a look at more photos below!
Did you miss the premiere? Visit the official site to catch up and see some behind-the-scenes goodies.New episodes air Thursdays on USA. And be sure to read our Colony set visit from last week!
There are less than 2 days left to get the "Origins" theme Loot Crate, Loot Crate DX and more; head to Loot Crate to sign up!