It's the biggest convention of the year, and we can't WAIT to see all of you in San Diego! So without further ado, here's what Loot Crate is up to at Comic-Con International 2017!
We're incredibly excited to be back once more at the year's largest pop culture destination, and you can find us both inside the convention center as well as outside. (More on that in a bit!) Loot Crate will be celebrating all of our favorite films, shows, characters and more right alongside you, and if you can't join us on the show floor we'll be sharing daily updates on social media, too!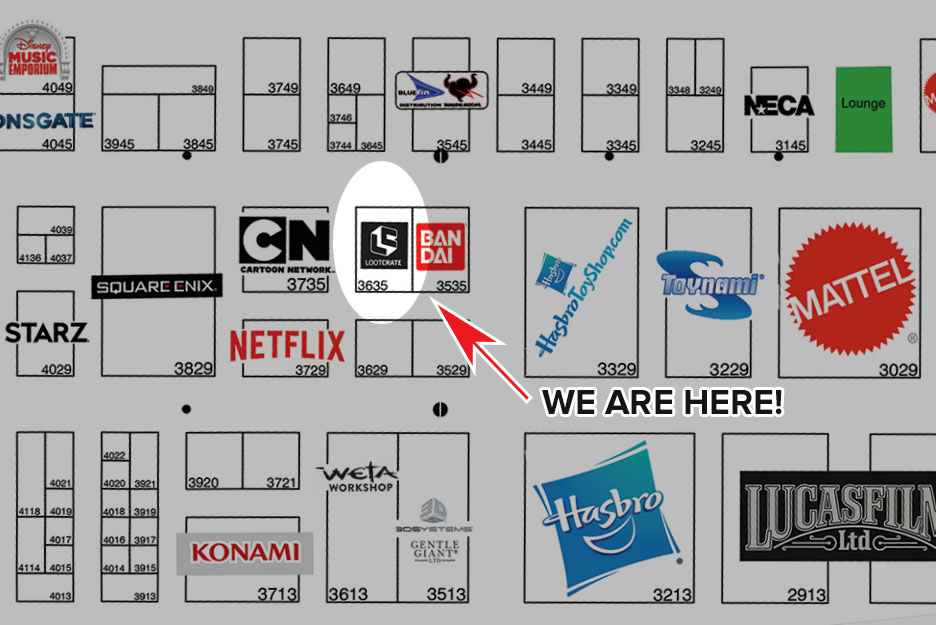 This year you can find us right in the middle of the Exhibit Hall floor, near many of our fine friends and partners. We're at Booth #3635! (Click here to see the full map of exhibitors, courtesy of Comic-Con's website)
At the booth:
EXCLUSIVE Rick & Morty Figure – Limited Quantities! –

During the run of the show, we will be featuring a limited daily amount of an SDCC Exclusive, Numbered

Rick & Morty

Variant figure – the very first con exclusive collectible designed and manufactured by Loot Crate! These will be available until sold out

each day

, including Preview Night on Wednesday 7/19!  

If you want to be spoiled for the figure, head to the official SDCC Exclusives page!

We'll once again be including an

Interactive Photo Booth, where you can take your picture on a rad digital backdrop and receive your photo via email right away!


If you're a Looter, you can once again swing by our booth for a

FREE Looter gift

, either by showing us your Looter Membership Card or, if you don't have it on you, an email you received from us will do. (Also, if you're wearing a Loot Crate tee or other item, come on by!)

We'll be taking signups for new members all weekend, as well – and if you make any kind of purchase (exclusive figure

or

a subscription) at the booth using your

Mastercard

, we have a special gift for you of one of our classic tees from Loot Crate's past assortments.

Our production team (who bring you our Theme Videos, Looter News and more) will be at the booth periodically to film some testimonials from friends of Loot Crate, and that includes all of YOU!

And to make things extra exciting, we'll be scanning badges for the entire show to enter anyone who wants to enter into our

SDCC Mini Mega Crate

giveaway!  One lucky winner will receive a variety of items from our partners who are also exhibiting at SDCC; stay tuned for more details on this prize in the coming days.
In Downtown San Diego:
We're thrilled to be featured as part of

FYE's Pop-Up Shop at the Westfield Horton Plaza – Suites 133 & 136

, located five blocks north of the Convention Center at 324 Horton Plaza. If you'd like some Loot you can take home with you during the show, we have specially selected assortments of past crate items from several of our crate lines available at FYE.
Last but not least, we'll be doing most of our live updates from the show on our official Twitter account (@lootcrate), so be sure to follow that for the latest from LC @ SDCC!  See what's going on at our booth, and also some fantastic panel coverage!
We'll see you soon, Comic-Con!