It's the biggest convention of the year, once again we're looking forward to seeing you in San Diego! Here's what Loot Crate is up to at Comic-Con International 2018!
We're delighted to be back once more at the year's largest pop culture destination, and Loot Crate will be celebrating some of our favorite films, shows, characters and more right alongside you, and if you can't join us on the show floor we'll be sharing daily updates on social media, too!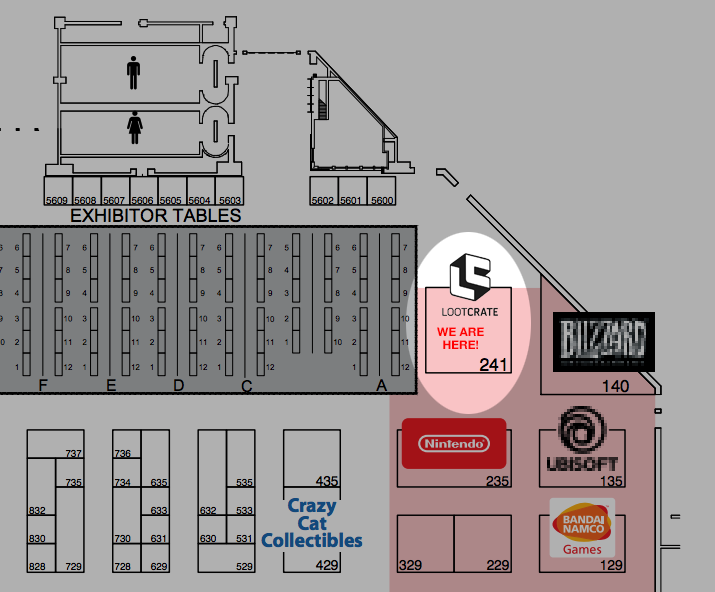 This year you can find us on the north end of the convention center, near many of our fine friends and partners. We're at Booth #241! (Click here to see the full map of exhibitors, courtesy of Comic-Con's website)
At the booth:
Friday 7/20: You do NOT want to miss the Alita: Battle Angel Pillars of Iron City Search! Come to our Booth #241 as soon as possible to participate in this search across the exhibit hall; the first 100 Looters who complete it will win a special Alita: Battle Angel Meet & Greet that evening in the Gaslamp with director Robert Rodriguez, stars Rosa Salazar and Keean Johnson, and producer Jon Landau! See this morning's post for the full details of this special event!
Daily: EXCLUSIVE Rick & Morty and Archer Variant Figures and Loot Crate Edition Alita: Battle Angel Poster Set – Limited Quantities! – During the run of the show, we will be featuring a limited run of SDCC Exclusive Rick & Morty and Archer Variant figures, as well as a beautiful set of three Alita: Battle Angel posters – These will be available until sold out, including Preview Night on Wednesday 7/19!  If you want to be spoiled for the figures and poster set, head to the official SDCC Exclusives page!
Daily: In addition to our exclusives, we will be selling a limited quantity of past Loot Crate and Loot Gaming crates, as well as Loot Crate DX figures and Loot Pins; these offerings highlight some of the most popular figures we have shipped in recent months, and it's a great opportunity to grab those if you missed out!
Daily: We'll once again be including an Interactive Photo Booth, where you can take your picture on a rad digital backdrop and receive your photo via email right away! This year's Photo Booth features Mighty Morphin Power Rangers, so come prepared to strike your best Ranger pose!  Also, if you are in a Power Rangers cosplay on Friday 7/20 – please come to the booth at 2pm for a photo op! 
Daily: If you make any kind of purchase at the booth using your Mastercard, we have a special Mighty Morphin Power Rangers gift with purchase you can take home!
Daily: If you're a Looter, you can once again swing by our booth for a FREE Looter gift, either by showing us your Membership Card or, if you don't have it on you, an email you received from us will do. (Also, if you're wearing a Loot Crate tee or other item, that counts!)
Daily: As we did last year, we'll be scanning your badges for the entire show to enter anyone who wants to enter into our SDCC Mega Crate giveaway!:
One lucky winner will receive this amazing Deadpool Premium Figure from Sideshow Collectibles! We also don't want you to leave empty handed, so all scanned badges will receive a Golden Ticket you can use for credit on Loot Vault, as well. (Good for up to 75% off!)
Thursday 7/19 and Saturday 7/21, 2-3pm: On these two days we will feature a Loot Pin Trade-A-Thon; for you avid pin collectors, bring your pins from past crates and you can trade with us for some of our all-time fan favorites!
Thursday 7/19 – Sunday 7/22: we'll feature a Giveaway Happy Hour at the booth; in addition to the badge scan for the Mega Crate listed above, we'll have limited quantities of some of our favorite Loot Socks on a first-come, first-served basis! Stop by the booth for scheduled times.
Saturday 7/21 – Sunday 7/22: We'll also be featuring two Fan Cosplay Contests, where you can win up to $200 in prizes! An Adult Cosplay contest will take place Saturday, July 21st at 5pm; meanwhile, please bring the little ones by for our Kids Cosplay contest at 2pm on Sunday, July 22nd!

Last but not least, we'll be doing most of our live updates from the show on our official Twitter account (@lootcrate), so be sure to follow that for the latest from LC @ SDCC!

We'll see you soon, Comic-Con!

---

---