The current Sanrio Small Gifts crate theme is TASTY, featuring food-themed exclusive loot with Chococat, Cinnamoroll & more.  Which got us thinking about our history with the ambassadors of kawaii and their various types of "nom"…
Back in the 80's, it started in the mall – specifically, the Sanrio store. (Sometimes dubbed "Sanrio Surprises," depending on where you grew up.)  That oasis of rainbow pastel – yeah, okay, mostly pink – was filled with so many adorable goodies, from the backpacks, purses and plushes that were birthday-present wishlisted to the tiny trinkets you might actually be able to afford with your allowance when you were nine.
As these regular Sanrio treats went, plenty of them were of the non-edible variety: Those soft, sweet-smelling erasers shaped like character's heads, or those rad clear plastic/glittery pencils with tiny lead cartridges so you'd never have to sharpen them. (Fancy!)  But there was also the sweets, including little chocolate bites, several kinds of hard candy… and best of all, DAT GUM:
It's hard to undersell how obsessed my friends and I were with the Sanrio gum: Little packets of fruity yum with Sanrio characters branded on each, and some of the flavors were so exotic. (You didn't get kiwi-flavored anything those days, much less gum!)  The cola one was my favorite, though in an earlier version I could swear it wasn't Badtz Maru on the package but rather Tuxedo Sam. (Aww, remember him?)  They were hard to blow bubbles into because it was so damn soft and chewy, but that hardly mattered. Best. gum. EVER.
Of course, time would pass and as I got older, I discovered a whole other world of foodie excursions that went well past the local mall complex. By the time I'd moved to the city and discovered Asian import markets, there was a plethora of Sanrio-related goodies suddenly available… direct from Japan!  Kitty-Chan was branded on everything from cookies to curry (!). Calpico, the oddly satisfying milk-based soft drink, turned up with her face on it as well. Not to mention even more candy treasures of all sorts and in all flavors. (The filled marshmallows were a fave – sugary sweet, but weirdly addictive:)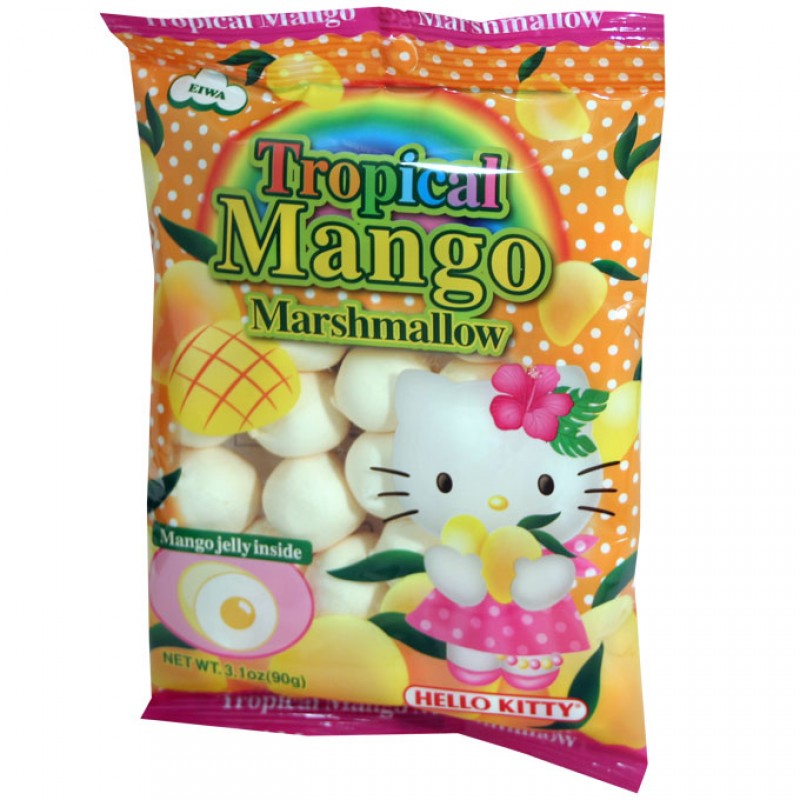 Of course, the sheer plethora of packaged foods is just the tip of the iceberg when it comes to Sanrio deliciousness back in Japan.  All across Hello Kitty's home turf, there are entire cafes dedicated to making your mealtime both as tasty and as irresistably cute as possible; Little Miss Bento once ran a fantastic top 10 of the best Sanrio food stops in Tokyo. (Sanrio Puroland, oh how we long to visit…)
And in recent years, it seems like the US is finally catching up with the Japanese culinary front of all things Sanrio; not far from Loot Crate HQ, we finally got an official Hello Kitty Cafe of our own at a mall in Arcadia, CA earlier this year. (The lines on opening weekend were bananaaaaaas!)
There have also been plenty of pop-up cafes and special event goodness for American Sanrio fans, as the introduction of totally-kawaii food-based characters make such events a natural fit. Gourmet burgers-and-more restaurant Plan Check in L.A. were celebrated for their Gudetama cafe event, just as the adorable lazy egg was becoming the latest Sanrio sensation to cross over into U.S fandom.
(Aaaaaaah, can't eat delicious burger. It's JUST TOO KAWAII!…no wait, yes I can.)
The possibilities for more Sanrio characters brightening up our lunches and dinners is endless, as since the beginning of their 50+ year history, they just keep the inventive and precious characters coming. Personally, we're waiting for an enterprising seafood or sushi place to hop on the bandwagon and serve up an array of dishes to introduce the little salmon-headed cutie known as Kirimichan: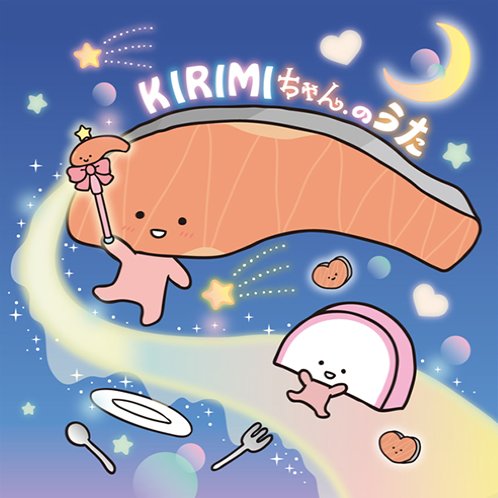 (Seriously, America, you're sleeping on Kirimichan. Look at how cute she is!)
---
---
Sanrio Small Gift Crate's TASTY theme is available now, so grab a bib and a napkin and get yours before all the noms are gone!