Are you good enough to know these fun facts and silly trivia from the 80's cult kid classic 'The Goonies'? Since May is all about Loot Crate's GUARDIANS theme, we thought we'd uncover some trivia treasures! See just how well-versed in The Goonies YOU are!

1. "The Inferno", which is the name of One Eyed Willie's ship, was actually modeled after Errol Flynn's ship in the 1940 movie "The Sea Hawk".
2. Sean Astin was told he could keep the treasure map from the movie. However, his mother (the late actress Patty Duke) thought it was just an old piece of paper and threw it away. Not cool, Mom!
3. Those parents you see reuniting with the kids at the end of the flick? A good portion of those are the kids real-life parents! Heck, they even let some of the crew in that scene as stand-ins.
4. Ke Huy-Quan (Data)'s real-life Mother had told him he wasn't allowed to swear, even if it was in the script! This is why when he has his line "HOLY S***!" he actually spells the curse word out so as to still have the line but not upset Mama Data!
5. Those bats? Yeah, they were just paper mache and crumpled up balls of black crepe paper. How did they launch them? An air-cannon shot the paper wads! Pretty smart, right?
6. In a scene in the Fratellis' basement, Sean Astin actually flubs his line and calls Josh Brolin 'Josh' during the take. It was overlooked and ultimately left in the final cut.
7. The map was distressed using coffee but also another ingredient: blood! The prop-master felt it needed more authenticity and since they were all out of fake blood, he decided to prick his finger and use some of his own.
8. You may see the Walshes' yard contraption has a sign on it saying 'Rube G.' and that's because it's named after Rube Goldberg — the Pulitzer Prize-winning cartoonist those contraptions are based on.
9. One Eyed Willie's skull was legitimately bone. There's no paper mache happening here!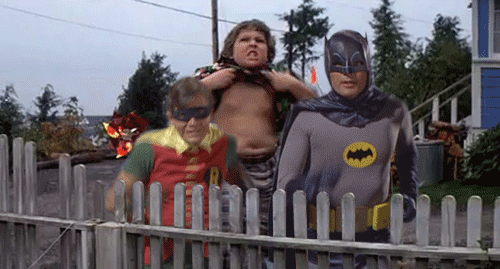 ---
---
How much did you already know about these fun little tidbits? Grab yourself an exclusive from The Goonies this May with the GUARDIANS Loot Crate! Make sure you get yours now before May 19th when you'll be forever without your Goonies treasure!