Aw, those lovable Gremlins. If you grew up in the 80s you remember how the Mogwai entered your life and never left. Especially the wonderfully adorable Gizmo. 1984's Gremlins is perhaps the strangest Christmas movie ever made. Writer Chris Columbus's tale of a man and his exotic pet quickly became a nightmarish Halloween story when the cute Mogwai turned into troublesome murder machines if they ate past midnight. Coupled with multiplying if they got wet and you had the perfect movie recipe for pint-sized destruction puppets. Gremlins was a big hit with kids and stores were flooded with both good, and bad, Gremlins merchandise.
To celebrate the inclusion of Gremlins in this month's Core Crate (only available for a few more days, so order now!) and this month's Fright Crate, let's take a look back at some of the strangest 80s Gremlins merchandise to grace your local Montgomery Ward and J.C. Penny's.
Poseable Gizmo Figure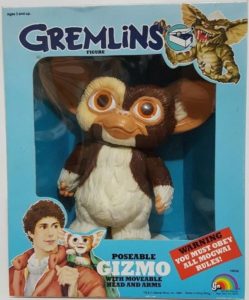 If you ever wondered what a toy would look like if it snorted a mountain of cocaine, wonder no more. Wide-eyed, all night rage bender Poseable Gizmo offers not only joint manipulation, but a wonderful reason to have a talk with your children about the dangers of drugs.
Gremlins Board Game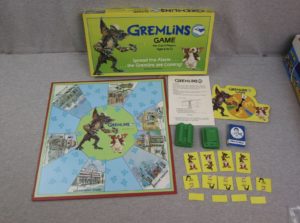 Everyone loves board games! Especially ones that are based on your favorite movies. Unless that movie is Gremlins, then you're getting a board game where you travel to different Kingston Falls locations trying to warn the town of impending danger. It's perhaps one of the most boring board games ever made. But that Gizmo is so darned cute!
Gremlins – Atari 2600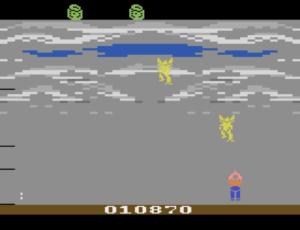 I remember getting this as a kid when it came out. I also remember taking it out of the system after 15 minutes of play and throwing it across the room.
Gremlins Clothing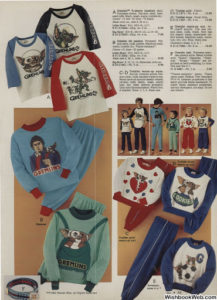 One surefire way to get your ass kicked in school was to show up wearing clothes with Gizmo's face on it. Not only were you a target for bullies at recess, but teachers would make sure you sat in the back of the class so you didn't have spitballs pelted at your head by the evil Teresa Simms. I remember you, Teresa!!! I remember!!!! 😢
Gremlins Slumber Mate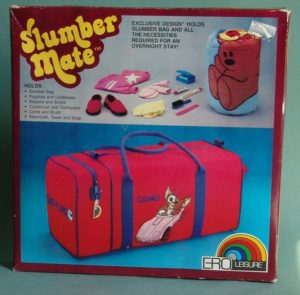 The Gremlins Slumber Mate had enough room to hold your sleeping bag, some clothes and other knick-knacks you'd never get to use because your friends stopped talking to you when you showed up to school wearing a Gremlins onesie. Gotta be honest, I'd actually rock this thing to the gym if I had one.
Gremlins Cereal
SUGAR! GREMLINS! SUGAR! GREMLINS!!!!! MORE SUGAR!!!!! MORE GREMLINS!!!!!!! MORE CEREAL!!!!!!!! READY FOR SCHOOL!!!!!! WHERE IS MY LUNCH!?!? WHERE ARE MY SHOES???? AAAAAAAAAAAAAAAAAAAAAAAAAAAAAAAAAAAAAAAAH!!!!!!!!!!!!!!!!!!!!!!!!!!!!!!!!
Gremlins Stickers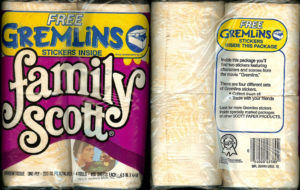 In the 80s, recess was a time of playing Red Light, Green Light, two-hand touch football, and ripping open four packs of Family Scott toilet paper to collect those sweet, sweet Gremlins stickers. Oh 80s, why did you ever have to end…
Don't miss out on some awesome Gremlins swag from Loot Crate! Grab your Core Crate and Fright Crate today. Remember, don't feed your Gremlins merchandise after midnight and whatever you do, don't get it wet!