Hello my fellow Potterheads and welcome to my first ever blog on the wonderful world that is Wizarding World! I am super excited today to be sharing with you some of the most amazing places in the world to visit for a Harry Potter enthusiast. After lots of digging through the internet I found a total of 6 places I thought would be worth the trip. Note: there are more than these 6 so these are simply my opinion. Anyways, let's transport ourselves through the portal that is all places Wizarding World! 
Alnwick Castle, Northumberland, England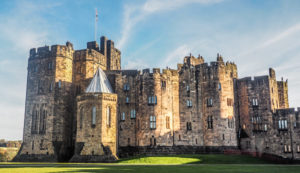 The first  destination on this magical journey is a larger than life castle in England called Alnick Castle. Madame Hooch's broomstick flying lessons, seen in the first film, takes place in the Outer Bailey of medieval Alnwick Castle. The castle is still a ravin tourist destination in England, not just because of its famous lawn but because, well, it's a castle. Nowadays, broomstick training still occurs and you can also see wizardry magic shows or join a tour with a costumed guide regaling behind-the-scenes stories from when the Harry Potter crew were filming. If anything this place would make for an epic photoshoot spot.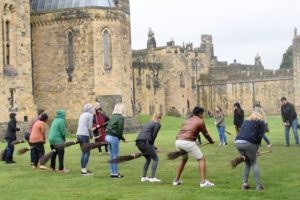 Platform 9¾: King's Cross Station, London, England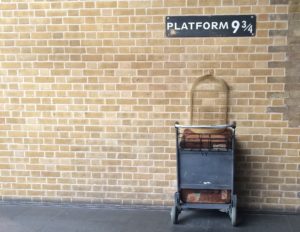 Located in King's Cross Station, London's Platform 9 ¾ is quite possibly the most famous railway platform in the world – and it doesn't even exist. (Well, not really…)Platform 9 ¾ is a fictional train platform located in King's Cross Station in London. In order to be transported to the Hogwarts School of Witchcraft and Wizardry, Harry Potter and the rest of the students at Hogwarts would have to board the Hogwarts Express at Platform 9 ¾ to get to their school in the north of Scotland.Or, head towards the entrance to platforms 9, 10 and 11 on the west side of the station where you'll find a trolley disappearing into the magical realm through a wall marked 'Platform 9 ¾'. To help you get into character there's a shop selling fun accessories from round Harry Potter specs to Hufflepuff hair scrunchies.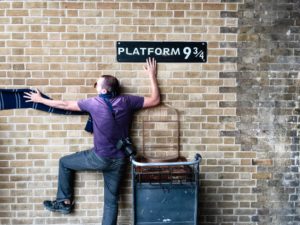 Potions class: Lacock Abbey, Wiltshire, England
Lacock Abbey's (another beautiful castle) Warming Room, which now contains a giant cauldron, was Professor Quirrell's Defence Against the Dark Arts classroom, whilst Professor Snape's Potions Class was held in the Sacristy. It was in the abbey's Chapter House that Harry stumbled upon the Mirror of Erised, which shows the user's heart's deepest desire. And amid all that selfie wizardry in the lab, the abbey's South Gallery includes the very spot where William Henry Fox Talbot took the world's first ever photograph. Who would've thought?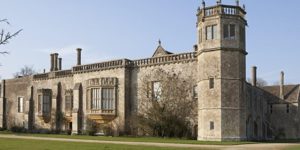 Hogwarts: Warner Bros Studios, Leavesden, England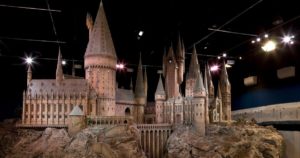 Probably one of the biggest dreams of any Wizarding World fan ever would be to visit the actual set where all the magic happened in the first place. As part of the Warner Bros Studio Tour in England you will get to see this amazing replica of Hogwarts itself. The 1:24 scale construction was used for filming the exterior and aerial shots of the school and is filled with props used in the productions. Take that in for a second. Every time you thought you were seeing an actual grand castle in the wold some where, it was actually just a rendition. I am still impressed though, can you imagine the dedication and time it took to build this? Amazing.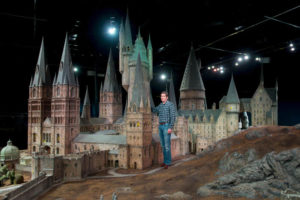 Leadenhall Market, London, England 
Situated between Bank and Tower Hill, Lendenhall Market is famous among us muggles for being one of London's oldest markets. But it also doubles up as the exterior for Diagon Alley and the Leaky Cauldron! You may not find your chosen wand in Ollivanders, but the market is still a great place to grab a bite to eat or do some non-magic related shopping. Just look at this place! It's absolutely breathtaking with all of its bright color. It would make a perfect photoshoot location as well. Plus remember this famous scene? It took place in this very market. Pretty cool, right?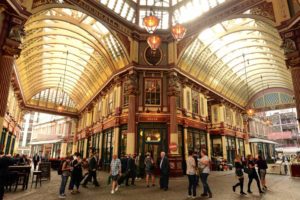 Christ Church, Oxford, England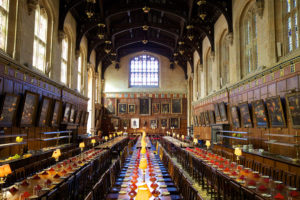 The Great Hall at Christ Church in Oxford draws serious similarities on The Great Hall in Hogwarts, probably because the setting was modelled after the renaissance splendour church and replicated in the London studio. The staircase which leads up to the Great Hall was also used for the arrival scene for new Hogwarts students in the first two Harry Potter films. Fans of the movies can visit Christ Church and even enroll to be a student there if you are looking for a place to call your own University. That's right, if you didn't already know, Christ Church is a constituent college of the University of Oxford in England.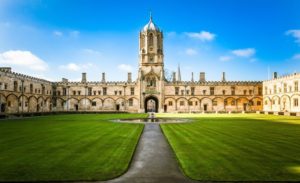 Well my beautiful potterheads, thanks so much for reading this blog! Out of all these wonderful places in this blog to visit I personally want to visit Leadenhall Market because I love food. That's really the only reason you need to want to visit somewhere in my opinion! If you guys are interested in other pop culture topics, I also do blogs about Anime, Horror, Hello Kitty and the occasional Sci-Fi! ENJOY!
Know a real-life Wizarding World location that wasn't on this list? Let us know about it on TWITTER!