It's con season again, kicking off with WonderCon Anaheim! Next weekend, March 23rd-25th, attendees ranging from convention goers to pop culture fanatics, cosplayers and comic book fans, plus the general geeky types, will converge on the Anaheim Convention center for a weekend celebrating the best of popular culture.
The convention boasts plenty of activities for every single attendee, but sometimes that schedule of events can be a little daunting. Throw in all the sights and sounds outside of the convention center and sometimes the whole weekend can overwhelm you. Meanwhile, we here at the Daily Crate are here to help with a list of just some of the few highlights of the weekend that you can be a part of!:
"Making of Star Trek Discovery"- March 24th from 3pm-4pm in Room North 200A
There is no better combination than a convention and Star Trek. Well, there are definitely other combinations, but it's hard to go without this epic duo. With Star Trek Discovery airing on CBS All Access, fans have the opportunity at WonderCon to go behind the scenes of the show with its very own panel. Here is what fans of the show can look forward to meeting the minds behind the scenes in charge of creating the world they see on the small screen. With panel information on the writers' room to makeup and more, this panel is one for fans of the CBS ALL ACCESS show not to miss!
A Series of Unfortunate Events Screening with Nathan Fillion- March 24th from 7pm-7pm in Room North 200A
Be prepared to view a series of unfortunate events with Netflix's A Series of Unfortunate Events at WonderCon. The studio is screening an episode from Season 2 of the hit show and bringing Nathan Fillion (Firefly, Serenity, Con Man) with them to be the host of the festivities. Season 2 premieres worldwide on Netflix on Friday, March 30th, so you'll see the episode before anyone else!
Ready Player One with Ernest Cline- March 25th from 12:25pm-1:10pm in the Arena
The Arena at WonderCon is the place where all of the big movie and television action happens. It's no surprise that this year, the Arena will play host to Ready Player One, the upcoming film adaptation of the Ernest Cline novel. The panel will have the author in attendance, making this a great opportunity for fans of the book who are awaiting the film's release to catch the fun in person!
Hangin' In the Hilton Lobby Bar
This one doesn't even require a badge! You can find just about anyone in the Lobby Bar of the Hilton Hotel next to the Anaheim Convention center. While it might be quiet during the day when you walk through the lobby, at night the crowds descend onto the bar and mingle the night away. You might see your favorite comic book artist, sneak a peek at a celeb, or just finally find that moment to hang out with your convention friends that you haven't seen since last WonderCon. It might get loud, but it's a great way to end your day at the convention.
Convention Center Fountain and the Cosplay Masquerade- Saturday 24th from 8:30pm-11om in the Arena
Cosplay, or costume play, continues to grow from convention to convention. WonderCon is no exception. You can hardly walk a few feet without seeing someone cosplaying as their favorite character or see a group perfectly pull off the Avengers, the Sailor Scouts, or a slew of Disney Princesses. The best place to find the talented creators who put their time and effort into their outfits is the center fountain in front of the Anaheim Convention Center. The fountain is a hotbed of activity and you can find a group of cosplayers there at basically any time of day.
If you want to see more of these talented folks, then the Cosplay Masquerade at WonderCon is the place to be! Just look at that giant crowd in the image above, all gathered for the Masquerade at WonderCon. You could be in that audience and enjoying the sights! Check out the official programming description for this yearly event:
This big onstage costume competition features amazing, beautiful, and imaginative re-created and original costumes crafted by talented attendees. Contestants compete for trophies, cash, and merchandise awards as bestowed by a panel of guest judges and representatives from various companies and organizations. The MCs are Phil Foglio and Kaja Foglio. Entertainment during judging intermission is provided by the Saber Guild performance group. Doors open for seating at 8:00, but the line for choice seating starts earlier!
Visit the Loot Crate at Booth 1837 in the Exhibit Hall!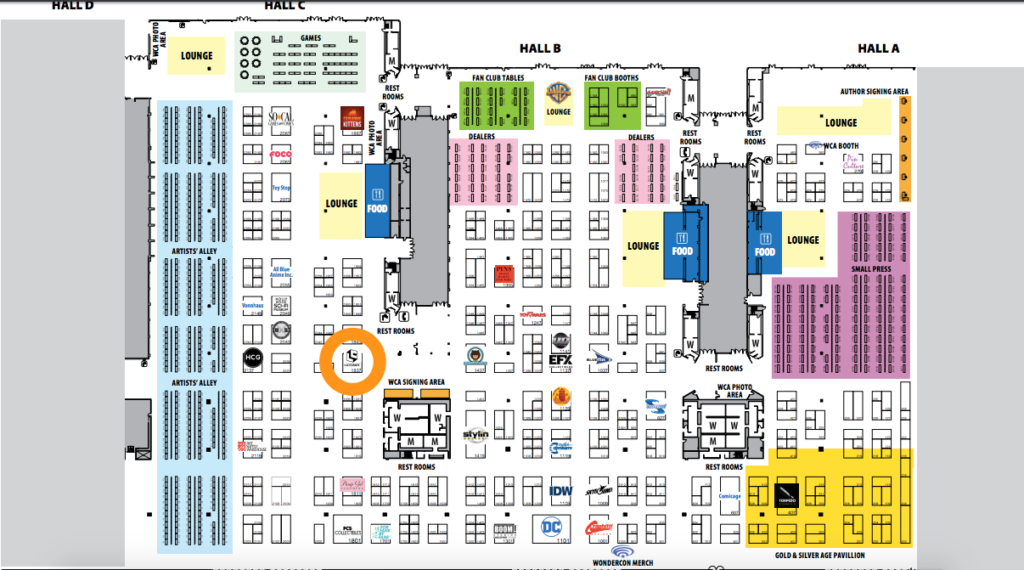 You can't go to a convention without the exhibit hall calling your name. The floor, lined with booths of the coolest items catch your eye as you walk up and down perusing what each vendor has in store for you. If you're looking to say hi to Loot Crate, you're in luck! We'll be on the exhibit hall floor in booth #1837. We'll be announcing more details on our WonderCon plans soon, but make sure to stop by and say hello to our team manning the booth! Tell them the Daily Crate said to give them high fives!
There are really endless things that you can end up doing at WonderCon and we know our list only scratches the surface of the things you can do, see, experience, smell, and taste (those food trucks are delicious), but we hope you will take some of our suggestions and incorporate them into your convention plans.
Is there something you're looking forward to seeing at WonderCon this year? Let us know in the comments or by tweeting us using #TDCWonderPlans and letting us know what your plans are!
---
---
Want that convention and fan-focused experience all-year round? Sign up for a Loot Crate subscription today and you can celebrate fandom each month with awesome loot of your own!