Ever since Supernatural first aired on The CW in 2005, it was clear that The X Files was a major influence. Two partners traveling the country—one a little more brainy, one a little more carefree—investigating strange crimes with stranger explanations. In The X Files, the culprits were usually labelled as aliens; in Supernatural, ghosts and demons. Whatever the phenomena, the blueprint was the same.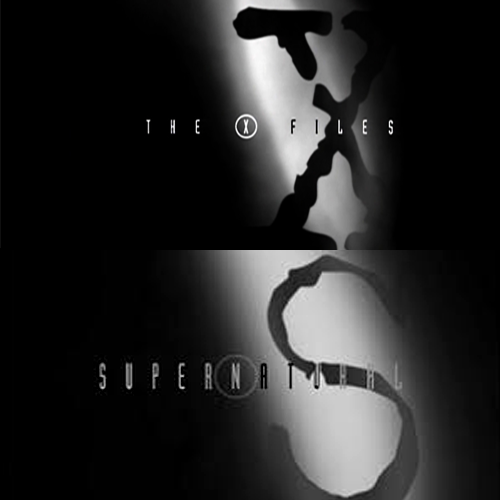 Supernatural always made sure to nod to its predecessor too. The CW show is littered with pop culture references, and plenty about The X Files. Some of them are impossible to miss, like Dean calling the two FBI agents "Mulder and Scully" in the pilot. (He and Sam actually argue about which one of them is Mulder and which one is Scully in the following season.) Some of them are more discreet, like a cameo from The Smoking Man in 1.11 "Scarecrow."
And, of course, there's an entire episode that parodies The X Files in season 6, "Clap Your Hands If You Believe." Sam and Dean investigate a few claims of alien abduction, only for Dean to be abducted himself. In the end, it turns out to be fairies, but there's no shortage of alien jokes made over the course of the hour. The episode even had its own specialized title sequence to look like The X Files intro, just in case the overt parallels didn't hit you over the head hard enough.
But as someone who watched Supernatural when I was young, and only got around to The X Files as an adult, I was baffled by how many other references I'd missed. Here are five episodes of The X Files that clearly had a direct influence on some of the best parts of Supernatural.
The X Files 1.08 "Ice" VS. Supernatural 6.16 "…And Then There Were None"

This episode has a lot going on in it, but the basic premise is this: our heroes come up against a parasite that can crawl into a human's ear and make them a host. The host is under total power of the parasite, and essentially becomes an aggressive killing machine, but there's no easy way to identify who's the host. That means that everyone is pointing the finger at someone else, getting defensive, and fighting for their lives.
If this sounds ultra-familiar to you, it's because this trope isn't exclusive to these shows. The X Files episode draws heavily from John Carpenter's The Thing, so much so that they both take place in an arctic tundra where a dangerous alien life form has thawed and been set loose on an expedition crew. In "Ice," the only way to kill the parasite is to introduce a second parasite and let them kill each other. Supernatural's solution of electrocution is a little closer to the fire used in Carpenter's movie. Technically speaking, both shows were pulling from a third-party source; The X Files just got there first.
Funny enough, this episode of Supernatural also features Mitch Pileggi, who plays Assistant Director Skinner on The X Files!
The X Files 4.23 "Demons" VS. Supernatural 2.14 "Born Under a Bad Sign"
This episode tackles another well-worn trope: the backwards whodunnit. Both of these episodes start with one character waking up covered in blood, with absolutely no memory of where it came from or what they did. With the help of their partner, they have to retrace their steps and piece together clues to prove that they haven't actually committed the heinous crime it appears they have.
Mulder is the one who suffers from amnesia in The X Files. His investigation with Scully leads him down the road of his path to confront suppressed memories about his family. While he's initially arrested for the murder of two people, he's later cleared of all charges. In Supernatural, there's a bit of a twist. Sam wakes up covered in blood, and the Winchesters trace it to a local hunter that's been killed in his office…where there's footage of Sam killing him. Don't worry though; while Sam's body definitely committed the murder, it's revealed that he's actually been possessed by a demon the entire time.
So Mulder is fighting his inner demons while the Winchesters fight an actual demon. Get it?
The X Files 5.04 "Detour" VS. Supernatural 1.02 "Wendigo"

In a small town, multiple people have gone missing deep in the woods. They've been taken by a creature with expert hunting skills, one that could very well be hundreds of years old. With super speed and mind tricks, it lures its victims to capture, then keeps them below ground in a cave for snacking later.
This is one of the very first episodes of Supernatural. Sam and Dean go head to head with a wendigo, a solitary monster that can only be killed with fire. One of the things that makes the monster such a great hunter is its ability to change its voice to mimic humans. Its calls for help are a perfect lure for catching prey. On the other hand, in The X Files, there are multiple creatures creeping in the woods. They can change their body temperature to blend into the environment, making them impossible to pick up on infrared cameras. While the creatures are never strictly given a name, Mulder suggests that they might be related to the Mothman.
Even more than the monsters or plot, it's the cinematography of these episodes that made them feel so similar to me. Both of them utilize a shaky cam darting through the foliage of the forest, mimicking the point of view of the monster. That makes the episodes look just as similar as they sound.
The X Files 5.05 "The Post-Modern Prometheus" VS. Supernatural 4.05 "Monster Movie"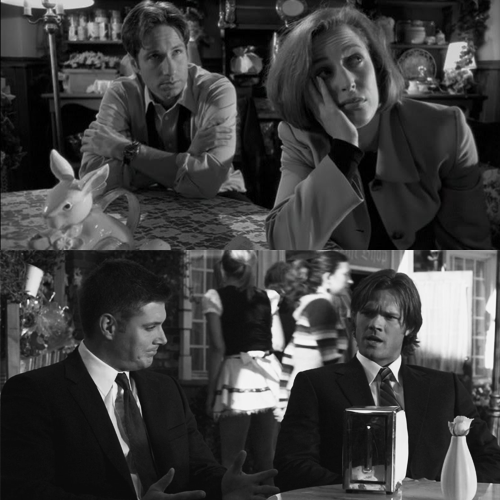 This comparison is less about plot and more about presentation. "The Post-Modern Prometheus" is an episode that parodies the classic monster movie Frankenstein. As Mulder and Scully investigate The Great Mutato, they find an intelligent but mutated individual who is ostracized by their community. The whole episode is filmed in black and white, with hand painted backgrounds to mimic the look of the original Frankenstien film.
Supernatural's episode is also filmed in black and white, and takes the concept of the monster movie parody a step further. Rather than relying on one classic story, "Monster Movie" pulls from a bunch of them. The culprit is a shapeshifter who is obsessed with the classic Hollywood monsters, and kills his victims in their styles: The Wolf Man, The Mummy, Dracula, etc. While it leans most heavily on Dracula, there is a scene that takes place in a Frankenstein-style laboratory, where Dean is poised to be electrocuted during a storm. While the heroes get away in this one, the monster dies at the hands of the damsel in distress.
I always loved the creativity of this Supernatural episode, so finding this episode of The X Files stopped me in my tracks. Who knew!
The X Files 5.12 "Bad Blood" VS. Supernatural 2.15 "Tall Tales"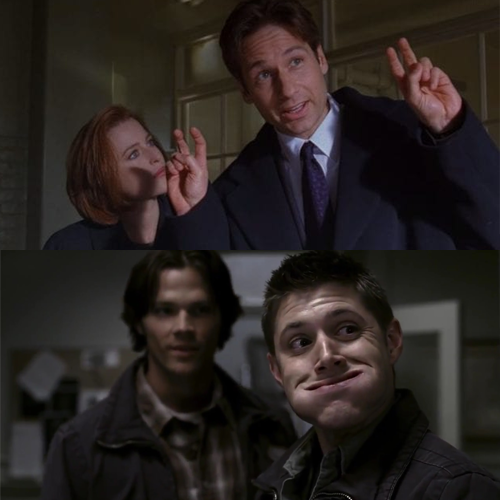 These two episodes are some of my favorites in each series. They're filler episodes, really, ones that don't have a huge bearing on the overall plot but are just loads of fun to watch. Mulder and Scully are investigating a town of vampires while Sam and Dean look into some wild claims on a college campus, leading them to a being known as The Trickster. Really, the plot of these episodes couldn't be more different. But the way they tell the story is where the money is.
Each episode is told by the main characters looking back at past events. Mulder and Scully are bickering about their case while Sam and Dean are sniping at each other the way only brothers know how, trying to explain their case to their friend Bobby. The story is directly tied to their point of view, which means we get to see two different versions of the same event. Most importantly, it shows us each partner in the eyes of the other, which gives us some hilarious scenes.
The easiest example of this is a gag pulled in both shows: one partner is flirting with someone in town and the other partner doesn't approve. In Supernatural, Dean recounts picking up a classy blonde model at the local bar, while Sam's version of events portrays her as a messy drunk who slurs her words and throws up in her mouth a bit. On The X Files, Scully was taken with a local deputy, who she remembers as tall, suave, and handsome. When Mulder bitterly tells his side of the story, the deputy appears as a buck-toothed towny who's slow on the uptake. It's a great character tool that makes for a lot of arguing and a lot of laughs.