One of my favorite scenes in Fight Club is where the Narrator, also known as Jack, sits with Tyler Durden fresh after his apartment has blown up and has a drink with him at Lou's Tavern. Sure, it's a well known scene but not really the most favored. Well, I wanted to take it apart and show you why it matters to me.
If you haven't seen Fight Club, I would encourage you to not read this further. Not that I don't want to share my thoughts with you, but I'm going to get a bit spoiler heavy here and sure, this film is over nearly twenty years old now but still. Just giving a heads up! Everything past here, well, I warned you! These excerpts are taken from only a small part of the scene and it's directly from the script. Further re-writes would add more to it, as well as ad-libbing by the cast, but it's the bones of it that hold the tone.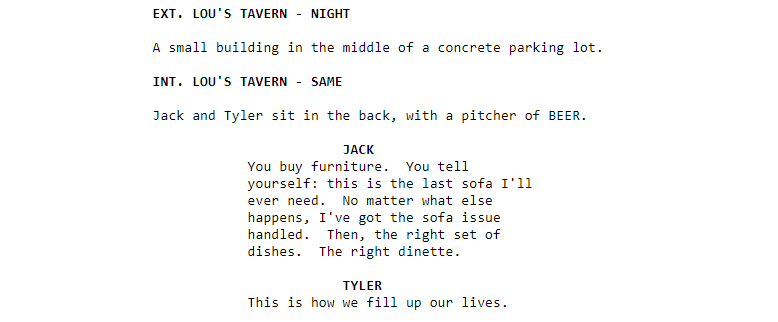 After the explosion at his apartment, Jack is making phone calls at a pay phone and a card falls, as if fated, out of his Rolodex. This card is the same card he received from the passenger he learned so much about during his plane ride coming home and so, knowing nobody else to call, Jack speaks with Tyler Durden and is invited to have a drink with him. Wearing a deep red clay leather jacket and a pointed button-up print shirt that came straight from a thrift shop, Tyler is already giving larger-than-life confidence. He showed it on the plane, but here he sits, in a seedy bar at whatever hour and he's having a drink with a stranger? There's a lack of self-preservation there, if you were an actual person, that shows an headstrong nature or a complete willing abandon towards your own safety. Perhaps this is what encouraged Jack more.
At this point, we know nothing about who Tyler actually is save for his soap-making venture. He's got clever things to say and it's these things that lure Jack into feeling that Tyler is someone who can provide safety. It is this stage that Tyler woos Jack through a careful dialogue to initiate the concept that Jack knows nothing about himself or what he does. That he is a mindless drone that consumes items based on their societal importance.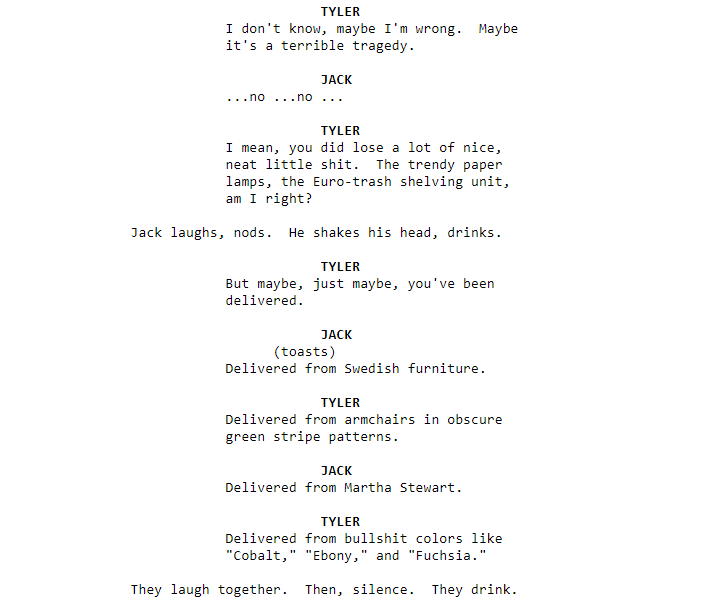 Casually, Tyler uses gentle banter to wryly insult Jack and his want for the things magazines, television and movies tell him are important. In this moment, Jack hands over the reigns of the relationship between the two of them. He has admitted that Tyler knows better than he does about the important aspects of life. Obviously, Tyler feels they are unimportant and, to a degree, Jack wants to believe this because he no longer has these things. Jack knew he had these things and, despite that, not only were they tangible and lost to a fire, but they were also not making him feel better. Tyler tells Jack that he has been 'delivered' in the form of a massive explosion that wiped away all of his belongings and now he would be truly free to experience life without the hang-ups of consumerism.
At this point, you start to see a pattern. Jack is endlessly seeking someone or something to give him an answer. If you followed this scene as someone who had seen the movie before, you know Jack had gone to the doctor to try and find a magical pill to help him sleep. He didn't want to hear about counting sheep or reading or even meditation. He just wanted a pill to fix it. When he couldn't figure out why his life was giving him no meaning, he refused to seek the answers himself in a waking sense, his brain took over and tried to find the answers for him in the form of a sleepwalking psychosis. Jack has never handled things, to this point, for himself and has always hoped for something else to give him a quick fix for the repressed emotions and problems.
And now, he was sitting with a figment of his imagination, letting himself be told by a charming and confident mental ghost, that his belongings were gone and now he was free. There. Good thing you blew up your own apartment, right? You accidentally saved yourself and now your brain has to feed it to you through these means to make you feel redeemed. No more furniture. No more magazines. No more IKEA. Now what, Jack?
At this point, Tyler is now baiting Jack into the self-realization that he doesn't actually need the things he lost. Need, sure, but want? That's not actually argued here. It's not argued because Jack himself knows that it wasn't bringing him happiness. If Jack were to truly go to therapy and perhaps have meaningful conversations about his mental health and his listlessness then someone could approach these topics in a healthy way. See, this scene doesn't do anything but prove a warped perception of value in peoples lives when it comes to the items they accrue over their lifetime.
What Jack doesn't know, and doesn't want to realize (thus his brain having Tyler feed it to him in a hyper-masculine bitter pill) is that you can own things out of want and desire without them taking over your life. Jack is telling himself, through Tyler's words, that something has to be at the root of his unhappiness. Is it this? What would someone suave, collected and unfettered by appearances do in his situation? Well, they simply wouldn't want them. There, problem solved, yeah? No. See, Fight Club in and of itself is entertaining and yet some people would like to think it's a core workbook in 'Cool' when even the writer would tell you it isn't. Consumerism can be used as a larger conversation, but what this really comes down to is 'what is healthy?' and that's the key.
I find this scene fascinating because it's such a subtle and slow burn. It's a scene everyone remembers for that last line that I showed Tyler delivering: "The things you own, they end up owning you." and it's somewhat the most important statement one can think on here. Wanting things in your life, to look upon and find value in for how they make you feel, that isn't a bad thing. In fact, it is sometimes what encourages us through our goals and ambitions when we're feeling like we need a reminder. When we buy our wants as well as our needs, we're telling ourselves that we're giving self-care through our day-to-day lives. It's about understanding, obviously, that we should do all things in moderation and within our budgetary handling, but also that it doesn't make us less-than for wanting those more trivial of items. If anything, it is proof that we care about surrounding ourselves in things that speak to us silently merely through existing in our homes. When I look at my television, the one I pay for in monthly installments, I don't berate myself for having a thing I don't need. What I tell myself is that I work hard and I deserve a nice thing to enjoy that I can get value from. I think sometimes we forget that we're allowed to have things to make us happy.
It takes Jack a long time to realize that Tyler is not only a false idol, but that all of the knowledge and wisdom he has spun into gold, at the end of the day — it is merely hay. It isn't real. They are things that we're brought up to believe through a constantly threatening misconception we've watched and learned in our media, whatever way we're offered it. Owning things doesn't make you weak, not wanting to fight people, that doesn't make you weak either. What makes you weak is letting someone tell you how the best way to live your life is, rather than living the healthiest and best possible life for you. Nobody else is going to walk to the end of your road for you. Tyler serves as a lesson to trust in yourself first and foremost and it takes Jack the entirety of his association with this imaginary friend, to realize it.
Quite the journey we went on, right? Fight Club is a complete mental race and a must-see for film lovers of all kinds. Good thing Loot Wear has a Fight Club EXCLUSIVE in the August MAYHEM package! It's not going to be a modest furnishing for your apartment, but Tyler Durden would approve of the irony for sure.