Psyched to become a Pathfinder? So is pretty much everyone at Loot Crate! I sat down with brand manager Wes Citti to talk about the upcoming Mass Effect: Andromeda Limited Edition Crate.
Q: Wes, you're the Brand Manager for Loot Gaming and the Halo Legendary Crate. Can you explain what a Brand Manager does?
A: I can't. I have no idea. I'm still figuring it out. (Laughter) The short version is that I run around like a chicken with my head cut off in the hopes of bringing the team together to create a crate every month.
Q: So, big question: why a Mass Effect: Andromeda crate?
A: Mass Effect: Andromeda is going to be one of the best games this year. The original Mass Effect series is a legendary trilogy, and a soft-reboot set in another galaxy is super exciting and creates the potential for a lot of cool products and experiences to expand on that universe with the crate. We're big fans of the franchise, but also we love the folks at BioWare, so on the selfish side it's fun to work with them.
Q: What do you think Loot Crate has learned from the first Mass Effect Limited Edition Crate launch a couple years ago?
A: (Laughter) Make enough for everyone. I mean the whole point is that it's limited edition but we don't want people to feel like they missed out. I think that crate sold out in a day or two so we'd like to make a couple more of them than that. Also, that one was more of a classic trilogy crate. We're really focusing on Andromeda for this one, so we want it to feel like you are really participating in the Andromeda Initiative with artifacts from the universe surrounding you.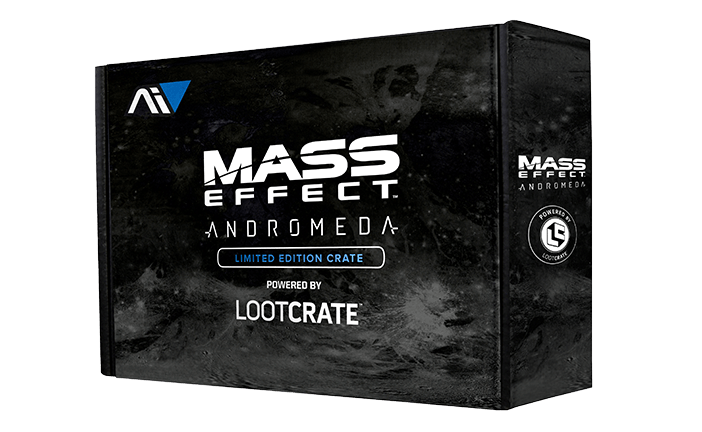 Q: Can you tease out any of the items in this crate?
A: Well, we are going to have a bonus item if you sign up in the early days. It's a slick Andromeda Initiative pin. And then… This is a hint! When you actually order the crate, instead of "shirt size," it says "hoodie size." So, I wonder what that could mean! (Laughter)
Q: Have you had a chance to play Mass Effect: Andromeda?
A: I have not. I wish I did. We flew up there to visit the BioWare office in sunny Edmonton, Canada, which was a balmy negative 15 degrees fahrenheit, and walked through the snow to go to Tim Hortons for the true Canadian experience. So that's the closest we've come to actually playing the game.
We did meet in person with Mac [Walters], who is the Director, and we had a good, long conversation with him about the game. We discussed what he thought we should focus on in the crate, then the team was able to give us assets directly from the game.
I think one of the coolest things about this job is talking to people like Mac, people who are in there working on the game, and getting assets directly from them to make our products. So, for example, our Portal Companion Cube [box] in Loot Gaming, that was the actual texture asset from Portal! So the dude who made that image, who worked on both Portal games, sent us the texture file to put on the [Loot Gaming "Mad Science"] box. It's hard to get more authentic than that.
Q: If you lived in the Mass Effect universe, what do you think your job would be?
A: I'd like to be something cool, like everyone imagines themselves as a Spectre, but the most likely case is I'd probably just be a dock worker. The coolest job… I think it'd be dope to be an ambassador. You see a lot of the galaxy. I think I'd like to be a Krogan ambassador. If I also get to pick my species. Even if I'm human, I'd like to be a Krogan ambassador.
Q: When you played the original trilogy, did you customize your Shepard to look like you, someone else, or go with the default?
A:  I always go with a red-headed woman whenever I play an RPG. I don't know why the redhead thing. And I always pick a lady because I'm a dude all day so why not, in a video game, play as another gender for awhile. Read into that as you may (Laughter).
Q: Totally personal, incredibly invasive question: who'd you romance?
A: Liara from the first game, Kelly from the second game, and my other assistant from the last game so I guess I am a very, very corrupt commander who does not see any sort of boundary between professional and personal life.
Q: Are you going to be playing Mass Effect: Andromeda on PS4, Xbox One or PC at launch? Keep in mind, literally everyone will judge you for your answer. There's no way to win.
A: I play on Xbox. There's going to be a multiplayer element and all my friends are on Xbox. So that's my excuse for being a filthy console peasant.
Q: Anything else you'd like to say to Mass Effect fans about this crate?
A: Buying it goes without saying, just because it's going to be a super cool crate. We brought down the price point from the first N7 crate because we want it to be more accessible to people.
I'm excited about this crate is because we were able to work closely with BioWare to create it. The design aesthetic of the Andromeda Initiative is very distinct from the original trilogy and it's carried throughout the crate. It's a very crisp, sleek aesthetic, so anything that you get in the crate is going to showcase that. It's going to be filled with premium, exclusive products straight out of that galaxy.
Thanks for taking the time to answer our questions, Wes!
---