As you may have noticed, we are excited to feature a number of The Jim Henson Company titles across our crate lines this January. So as you might imagine, we were triply excited to have the opportunity to interview one of the veterans of the Henson creative stable, Julie Zobel!
Zobel is a Senior Puppet Builder based out of Jim Henson's Creature Shop in Los Angeles. With over three decades of experience, she has been a lead fabricator on puppet and animatronic projects for television, film, stage show and commercial clients. She started with Henson working on Sesame Street Live on stage, and has been a part of film and TV productions as varied as Fraggle Rock, Muppets Tonight, Where the Wild Things Are and more. Additionally, Zobel has been on the team for the Shop's live show clients like Kanye West, Lady Gaga and Deadmau5. She's also part of the creative team currently in production on the upcoming Netflix series The Dark Crystal: Age of Resistance.
Check out our video interview with Julie above for some terrific stories, plus a sneak-peek behind the scenes at Jim Henson's Creature Shop!
---
We had such a great time chatting with Julie and getting her insights that we've decided to share some additional, extended excerpts of our chat, some of which didn't make the video edit. Aspiring creature creators and puppeteers, this you'll want to read!
Where did you begin your career as a puppet builder, and did you study your craft or was it something you learned on the job?
I came to this company pretty much right after I finished getting a graduate degree from NYU in Costume Design. I did not set out to make puppets, but I had a summer job that ended, and I needed something to do. A friend of mine from graduate school had already worked at the Jim Henson shop in New York, and she said "Well, let me just call them and see if they've got something going on." And they did, and that was 1980, and here I am! But I had learned in costuming how to create a costume when you're using a form. It's called draping, when you're doing a costume. But that technique lends itself to making puppets. So, in the New York shop where I worked for 10 years, people came from two backgrounds: Either art school or theatre. That was it. In Los Angeles, what I've learned since I've been here (1991), is that people often start just making things in their garage. They train themselves… so it's a different thing, it's all fine. But it brings a difference to everything.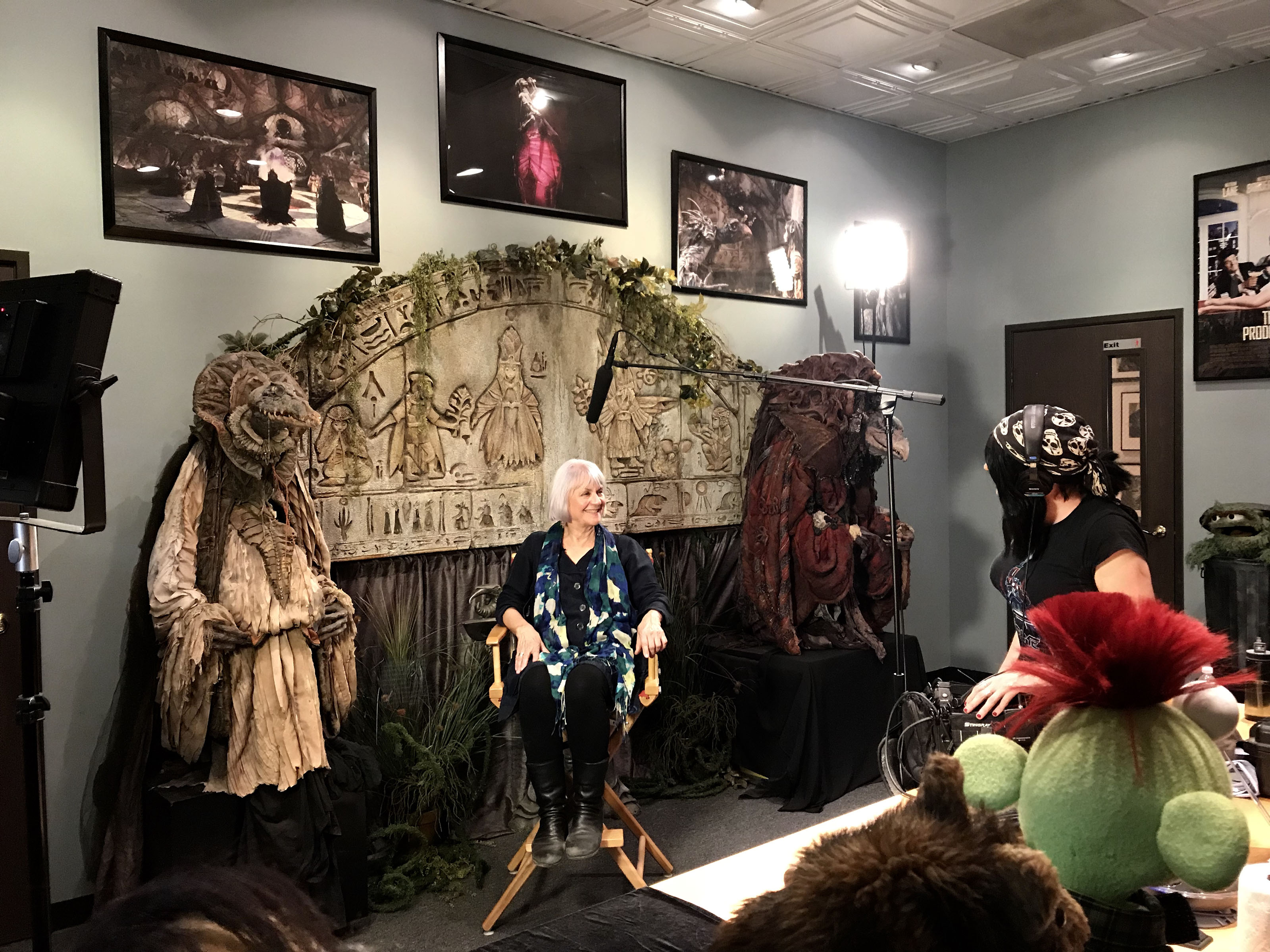 Were you a fan of the work that Jim Henson's team were doing at the time?
When I heard that they were hiring at the Muppet Shop, I was excited because I knew the product. I'd seen The Muppet Show which was wonderful. I knew Sesame Street because my brother's kids loved that when they were kids.I had an affection for the characters.  And though I had not done anything with the shop, I also knew having been in New York already for three years that the Henson shop was a good shop.  That is was creative, it was fun…it was hard work, but there was a better atmosphere there than at some of the other shops. There are fewer shops that do puppets or creatures in New York than there are in Los Angeles. It had a very good reputation, and so I was excited to just test it and see for myself. And it was true, it was a fun place to work.

You've been a part of a pioneering group of innovators. What lessons have stuck with you the most from this group of mentors?
I started out in a very low position, just helping other people who had more experience, but I was quickly able to understand what the process was. I was nervous about actual puppet building, and the woman who ran that shop at the time, Caroly Wilcox, had been with the company since the '60s. And she knew Jim well and had a very interesting style. She was very generous with helping people coming into the shop. So Caroly was a great support in the beginning. And one of the senior puppet builders there, Rollie Krewson, is still with the company in New York. What we like to say about Rollie is if you want a cute puppet, you call Rollie. She knows cute, she does cute so beautifully that you just want to hug what she creates.And so she was incredible generous in helping me.  And she taught me to wrangle on set, which is when you take what you've built to set and service those characters during the course of the shoot. The demand on that person whose job it is to wrangle can be pretty tough. And so I was always grateful, and still am, to Rollie's training for learning how to do that.  She is still a mentor for me. When she builds a puppet and sends it here for a shoot, we talk a lot about what she wants it to do, what it can do, how I need to repair it so that I can maintain what she's built. And I'm so grateful that she does that for me, because continually learning makes the whole process more interesting.
And you did actually work directly with Jim Henson for some time.
I worked with Jim for 10 years directly. That was amazing, and I really love that I had that opportunity. You know, no one knew that Jim would be gone when he was gone, and sometimes you take for granted that you'll have more time with someone. Jim was a very gentle sort of person, and he was kind, he had really interesting ideas. He really wanted to foster new people to work and create things, he wanted to foster creativity. But he also wanted his team to make what he wanted made, so sometimes he could suddenly be a little tougher on us. But we were very eager to please him because it was a great environment to work in, and he was so kind and generous in so many ways.
One of the things I will never forget is when we were creating a new touring Sesame Street-based show, and there was a new character.The man who ran the department, Michael Frith, has designed this character; and she was a funny and weird little alien girl.  Very cute. We began the process of getting the materials and the colors, and sorting her out. And Jim called me to his office, which wasn't just up the stairs – it was out of 67th Street, up to 69th Street, up the stairs, into his office – and thinking "Oh boy, here we go, what's happening." He didn't like the design.  He said, "I think she's too sweet. Here's what I want you to do." And he did one of his designs, he was a very fast designer! And I said "Well, Jim, she has such sharp teeth. I think she might be a little scary. She seems like a scary character now." He said, "That's what I want her to be, because she's so sweet in the script that I want children to get that you can't judge a book by its cover."  So that was my first lesson in that particular event.And I completely agreed with him.  I got his idea. I was young; I was in my early thirties.  And Michael Frith been there for [about] 25 years. And I said, "When are you going to tell Michael?"  And [Henson] said, "I'm not going to tell Michael. You're going to tell Michael." And he gave me that lesson.  And I learned how to talk to a senior person in the company in a way that was respectful, and he would understand the process as directed by our boss.
Over time you've worked on creature creation as varied as Dinosaurs and Where the Wild Things Are. What are some of the principles that you bring to every project in the process of creating vivid characters?
Some of the processes and skills that I think all of us [have] that have worked on these projects, or in this company for a while, aresimilar.  Jim used to always say this is a performance-based company.  So one of the things we are all keenly aware of – I've been trained in this from day one here – is how does it perform? Because, there's either a person inside wearing the entire puppet, or their hand is up above their head. However this puppet is maneuvered, however it is performed, are you aware of that? You're creating a character. And that is so important from the beginning right to the very end, because at any stage of the process that might change. When we are provided with, for instance, a head that is fully animatronic, it has its skin on, now it needs the fur on top of the skin. But it's got to be able to talk, those animatronics need to be able to move, you have to keep checking the movement. You lay on the pieces, and then you move it. And then you stitch them together, and then you move it. Because the last thing you can do it put it all together and deliver it, and they turn on those motors and it doesn't move. Then you've failed. So, making sure that those characters perform is absolutely the first thing on my list. And then we have to create these things tolook like what people want; what they've asked for. So are they the right textures?  Are they the right colors? Have we hidden things that we need in order for the character to move, but which they don't want to see on camera? Have we created the coverings on the bodies to cover joints so that they're anatomical?
How did you apply these lessons you learned from Henson and other mentors to Jim Henson's Creature Shop Challenge, being on the other side of that equation?
When we did the reality show back in 2014, the three of us who are mentors in the shop here all have a lot of experience but we didn't set out to be mentors on a reality show, so we didn't know what to expect. But what we found, the only difference between a normal day at work and what were doing was all of these cameras pointed at us. Really, we were guiding these young people, these contestants, through what was being requested by Brian Henson [who is] in our world, the director. And so, what we discovered was "We know what we're doing! Wow."  It's a different world because of the bent of the thing, because it's a television show. But we were doing what we do, and we know day in and day out, we create creatures. It was a very interesting process to do that show, and of the three mentors of the reality show, two of us worked with Jim… and really understand that fostering the next person is the best thing for everybody.  Jim used to say, "Leave the world a better place for having been here." I try to take that to heart, and I've had a recent opportunity to do that with a very big crew and I just felt grateful all the time that I had the opportunity I did and that I could pay that forward for the next generation.
---
---
Hey, West Coast Henson fans! 
Puppet Up! – Uncensored is a night of outrageous, off-the-cuff comedy featuring 80 original puppets brought to life by a cast of world-class comedian puppeteers from The Jim Henson Company. Created by legendary puppeteer and award-winning director Brian Henson and directed by Patrick Bristow (Ellen, Seinfeld, Curb Your Enthusiasm, Whose Line Is It Anyway?), Puppet Up! – Uncensored is never the same show twice. You can see it this month, January 27 & 28 on the Jim Henson Company lot in Hollywood; for more info and to purchase tickets, head to puppetup.com!
---
---