Man, we love doing new things around here at Loot Crate and ur web series Wake and Bake is fast becoming a favorite! We had a chance to talk with Andy McElfresh, the co-host of Wake and Bake alongside Kevin Smith. Get on your aprons because we've got lots of fun stuff to share!
Wake and Bake is looking to be a fun and new kind of thing for you two! What got you guys into the kitchen for this new series?
My first job out of college was as a food writer for Zagat, so I have always been a foodie. I love to cook and I love the science of cooking, which is something we talk about on the Edumacation podcast a lot. I'm the teacher, Kevin is the student in our relationship, so it was a no-brainer that we would do something together that centered around food.
Everyone loves eating but what foods do you love making the most?
My wife, Johanna, is from San Antonio, home of the best Tex-Mex. Even though there is a large Mexican population in Los Angeles, Tex-Mex is not good here. So I like to cook that style for the family. We make our traditional, all-day beans, our own corn tortillas, the whole bit. Since I'm a big sous-vide cook, I can really control how the meat comes out and get pretty close to matching the best spots in San Antonio.
Of your favorite fictional pop culture characters, who do you think would be the most creative cook?
Mr. Fantastic from the Fantastic Four. He's a scientist, which is half of cooking, and he can stretch to reach whatever ingredients he wants, which would make cooking a lot easier and more fun. Plus, whenever it's dinnertime, his wife mysteriously disappears (she's the invisible girl). See what I did there?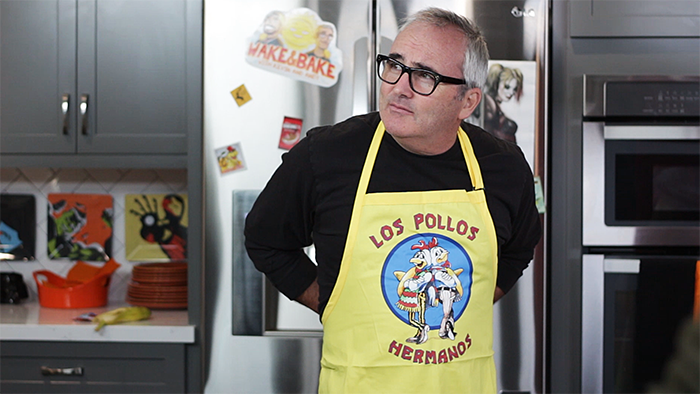 I see you used a take-out burrito in your recipe for Migas! What kind of take-out burrito would be your go-to for viewers at home to grab?
L.A. has a lot of different Baja-style food, but the best has got to be Poquito Mas. I would urge them to try the chicken burrito with black beans, sour cream, rice, guacamole, served "mojado" style, which just means they pour delicious sauce all over it before you eat it.
Say you had any ingredient and appliance at your disposal, what would you love to try cooking with Kevin?
Kevin likes to grill, and while his heart is in it, he could use some help. I would love to take a sous-vide cooker, and show him how pre-cooking chicken, for instance, and roasting on a pizza stone on the grill at 800 degrees is nearly fool-proof and gives you perfect, moist chicken. For breakfast, I would sous-vide some beef tender and show him how to make steak and eggs.
Have you ever checked out the litany of food shows on television? What's a favorite?
Bizarre Foods on the Travel Channel is my favorite. At Zagat we learned that people are most curious about "hidden gems," and no matter the city, that show finds the oddest – and best – places. Plus, when I was writing about food I had to try some of the most bizarre dishes, from jellyfish to crickets, and it's fun to watch people eating that stuff when it's excellent.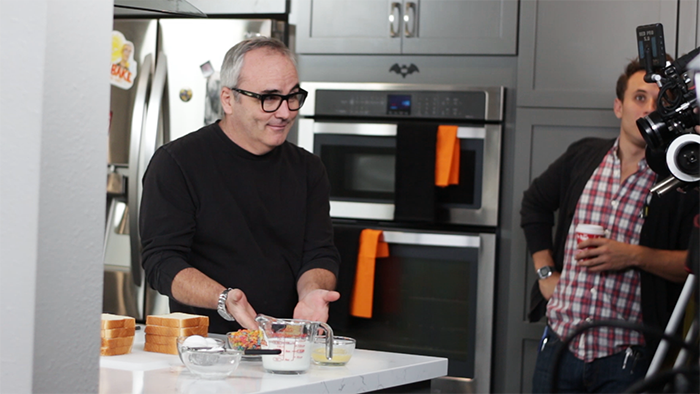 Everyone talks about breakfast being the most important meal of the day, do you strive to cook your own regularly?
We cook our breakfast every day. The fast, out-the-door hot breakfast is our "egg roll," which isn't a Chinese egg roll but rather a soft taco with egg and cheese, salsa optional. The method is fast, and is a one-pan meal: you toast the cheese and tortilla right in the pan, take it out and scramble the egg in the oil left over by the cheese. The eggs get fluffy and are very flavorful.
Name one spice or ingredient you always need in your kitchen!
Avocados. Nature's mayonnaise.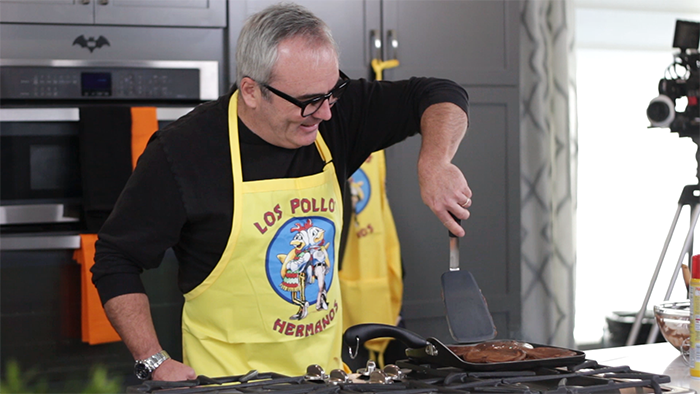 I loved the Maillard Reaction chart in the first "Migas" episode and your explaining salt breaking yolks down to Kevin. Is the science part of cooking a thing you're interested in?
Yes, of course. I was a photographer's apprentice my summer after high school, which gave me great lab skills for college. It's all like following a recipe, though chem lab is more like baking than cooking. Once I started writing about food I started to learn how to apply all of that to the more artistic side of cooking. I like the precision of sous-vide cooking, and my first machine was a scientific water bath temperature controller I converted myself.
What do you guys think the goal is, other than fun and entertainment, for Wake and Bake?
The goal for me is to show Kevin (and our viewers) that cooking breakfast is easy and fun, and that you can get creative with ingredients to make things your own, and special. Everyone should have their own signature dish. If you notice, we have an odd ingredient that suits Kevin's lifestyle in every recipe. It was great to hear from him that he had made the family cereal milk French toast last weekend, after we had done it on the show. I think (for now) that's his signature dish.
Thanks so much to Andy McElfresh from Smodco's Edumacation for stopping by to chat all about the new show! You can check out Wake and Bake on Loot Crate's YouTube channel. The next episode with Kevin and Andy is February 17th, so get ready for some in-the-kitchen cooking shenanigans with us!