Today, before Black Mirror's fifth season drops in 2019, we're getting a Black Mirror movie… and the audience gets to choose what happens!
Sub-titled Bandersnatch, which is both a retro video game reference and nod to Lewis Carroll (knowing Brooker, anyway, we think it's probably both), the interactive film recalls the "Choose Your Own Adventure" style of storytelling that so many of us 80's babies grew up with. At certain points in the film, Netflix will throw us a pop-up where we get to choose the protagonists's next move, just like the heroes (usually kids) of those crazy adventure books we loved so much. (According to reports, there are up to 5 hours of footage shot for the film to accommodate multiple different storylines.)
Let's be clear, though: The audience-driven-choices at the heart of this method isn't the only thing that Black Mirror would now have in common with the "Choose Your Own Adventure" series. As anyone who was a fan of the books remembers, throughout these tales – whether it was a space adventure, a historical epic, or an Agatha Christie-style murder mystery – just as many choices led to happy endings as they lead to terror and death for the protagonist (i.e. YOU). Just like most of Black Mirror's dystopian cautionary tales, the CYOA books could be seriously messed up, man. And some of those books were a lot more messed up than others. Let's journey through today's Friday Five, some of the weirdest and most wild reading adventures of our childhoods!…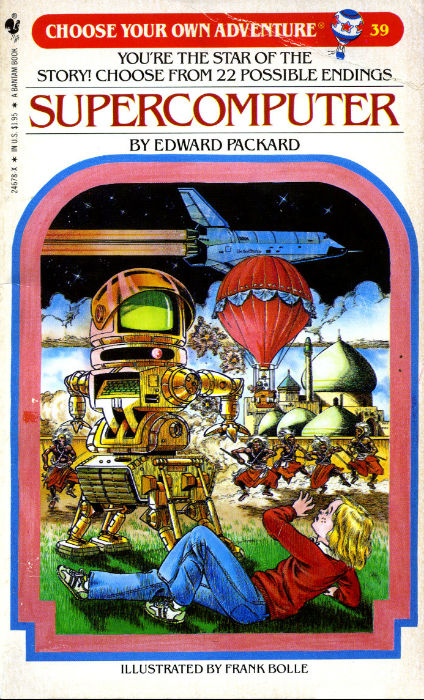 Supercomputer by Edward Packard
The premise of this one starts out seeming innocent enough: As the protagonist, you are a computer programming whiz kid whose savvy with a motherboard has led to you winning a contest for a brand new, cutting-edge super computer. It's the home-computing era version of the genie in the bottle, only this time it's all down to your genius! You'll note that CYOA all-star author Edward Packard wrote this; he wrote four of the books on our list, because the dude can definitely get dark. Some of the more light-hearted story arcs in Supercomputer involve you teaching the computer to do your homework or your chores – surely every kid's fantasy, right? But what about it leading to you inadvertently starting global thermonuclear war?! Yeah, we know, kinda the plot of War Games, only this time it doesn't end with a last-minute game of Tic-Tac-Toe that saves the day. And in the era when we'd all been scared out of our wits by The Day After when it aired in 1983, nuclear war was nothing to laugh about.
You Are A Shark by Edward Packard
Yup, that's it, that's the plot. You Are A Shark. Okay, maybe that's not the extent of it; you didn't think Packard would let us get off that easily, do you? This is no Finding Nemo style romp with great whites; it actually starts in the mountains of Nepal where you're a backpacker who stumbles into an ancient temple and suddenly you black out. That's the first page, kids. The rest of the book is you inhabiting the bodies of various animals – not just a shark, but others – and if you play your cards right, you manage to make it out of the temple and escape the curse of being a carefree human who doesn't understand just how brutal Mother Nature can be. Oh, and plenty of other times you are eaten savagely by other animals, including killer whales and lions… and when you're an octopus, by a shark. When you're the shark, the octopus attacks you with an ink blast and in the confusion you take a bite out of yourself. Gaaaah! We won't go into the part where you are a pig who is being raised for its meat, other than to say it's the best advertisement for vegetarianism in a kids' book since Charlotte's Web.
Space And Beyond by R.A. Montgomery
Ah, this one's a brain-breaker from the pen of the other big name in CYOA authors, R.A. Montgomery.  It starts off weird: You are born on a spaceship traveling at 62 times the speed of light, which causes you to age physically to about 18 in just three years. To say that this bizarre, space-time-continuum, wibbly-wobbly-timey-wimey paradox goes on to inform the rest of the book is putting it mildly; some of the wacko endings in Space And Beyond are straight out of the Arthur C. Clarke playbook. There's one where you fly into a black hole and live the rest of your life with "the black hole people." (WTF, who are the black hole people?!!) In another, you pull a full Dave Bowman and fly your ship so fast that you merge with the infinity of space… somehow. Hang on, is that good or bad? No way Montgomery's going to give you the satisfaction, child, life doesn't have easy answers!  Hell, even when you manage to put together a pretty awesome adventure for yourself, it all goes sideways; in one ending, you've become a vastly rich and successful space pirate… then the galaxy outlaws money, so all of your loot is worthless. *sad trombone sound*
Hostage! by Edward Packard
First things first, we've got to point out that this cover art is clearly from the latter years of CYOA's run, where they suddenly abandoned the whimsical cover illustrations you see on the other four books listed here in favor of far less interesting imagery. Well, unless you find a scared child in a chokehold from a paramilitary guy who looks like he walked off the set of a Chuck Norris movie interesting. It certainly hit the panic button for a lot of us youngsters back in the day! Hostage! is another one of those CYOA books that in retrospect bears a striking plot resemblance to a movie of the era – this time it's the 1991 prep-school-in-peril epic Toy Soldiers starring Sean Astin and Wil Wheaton, which we previously wrote about here! – but as per usual with this book series and Packard's books in particular, this one gets pretty nuts. How nuts can a fairly straightforward take of schoolkids being caught in the middle of a terrorist plot get? Well, for a start there's a story thread where you can choose to join the terrorists. Yeah. How did that even make the final edit?! (Look, it does end badly for you if you choose that route, but jeeeeez louise, Packard!)
Inside UFO 54-40 by Edward Packard
Here it is, fans! – undoubtedly one of the most notorious, most what the helllll CYOA books of all time, and it's because it's the book that broke the rules. Inside UFO 54-40 starts with you on an airplane, and suddenly you are abducted by a group of aliens who want you as a specimen for their space zoo full of, to them, "alien" creatures. You can roam their spacecraft but there are a ton of dangerous and awful fates that lie in your path, depending on your choices – among them, landing in a kind of alien dungeon where you literally become so depressed you eventually die. Or you can try and make a run for it through a dimensional portal and accidentally get split in half. Yikes! Packard did squeeze in at least one "nice" ending where you make it back home to your parents, but through the whole book he keeps dropping mentions of a beautiful planet called Ultima which is clearly the most awesome ending that every kid wanted to find. But you can't, not the normal way. There are no plot threads that lead you to Ultima by design, but it is in the book… on page 101, a standalone page that is not connected to the rest of the story at all. The only way to find it is to flip through every page until you land on it. In essence, you have to cheat. Figures at one point, they'd try to test our mettle with our very own Kobayashi Maru.
FINAL BONUS FACT!: That illustration we used in the header up top is not from any of the books on our list. It's from Who Killed Harlowe Thrombey?, one of the earliest CYOA books and not one that is particularly weird or twisted. That kid's ginormous head always kind of freaked me out, though, so it seemed fitting. 😉
---
---