Kingdom Hearts 3 is a mere 11 days away! Isn't that insane? It's been a personal goal of mine to help Kingdom Hearts fans (and those interested in jumping on the bandwagon) understand the overwhelming storyline up until this point. Hold onto your Keyblades, this is a long one!
If you haven't already, definitely check out my previous piece that covers the main antagonist of the series, Xehanort, as well as his various forms and overarching intentions. That one will fill in many points that I won't be hammering down fully in this one. With that behind us, it's about time I learn you all about the Kingdom Hearts protagonist, Sora, and those directly connected to him.
*SPOILERS AHEAD*
SORA
Originally from Destiny Islands, Sora is just a regular guy who loves hanging out with his cryptic best friends, Riku and Kairi. The three of them are sick of being pent up on this island and are eager to see what lies beyond their world. Low and behold, one night before they were going to make the extremely dumb decision of leaving their island by raft (these kids are like 14!), a storm strikes the island filling it to the brim with Darkness. Darkness is swallowing the world, and Riku sees this as an opportunity to make the leap of faith and leave the island, succumbing to the Darkness.
Now, let's backtrack. Long ago, Riku was granted the power to wield a Keyblade through a bequeathing from Terra. Through this "ceremony," a Keyblade will one day select him as its wielder. Destiny Islands being swallowed by the Darkness was supposed to be that moment where the Kingdom Key would come to Riku. However, since Riku gave into the Darkness, the Kingdom Key chose Sora instead.
Now let's talk about his other friend Kairi. Remember that weird thing that Xehanort wants to get his hands on? The χ-blade? Remember how it was destroyed and separated into 20 pieces (7 of Light and 13 of Darkness)? Yeah, Kairi holds one of those pieces of Light inside her Heart, making her a Princess of Heart (along with Alice, Snow White, Cinderella, Jasmine, Aurora, and Belle). When Destiny Islands is being swallowed up, Kairi, to protect that Light, places her Heart inside of Sora, making her body all limp and non-responsive and stuff. Basically, she's a vegetable for like 70% of the first game.
ANYWAYS!
Near the end of Sora's initial journey, he managed to save Riku from the Darkness with the help of Donald Duck and Goofy, but not before having to unlock his own Heart to set Kairi's free. Doing this turned Sora into a Heartless, only to be saved by Kairi's Light in the end.
This is about to get weird, so stay with me. It's time to continue Sora's story through entirely different people. It'll make sense, I promise (I hope).
VENTUS
Ventus (also known as Ven) is one of the three main protagonists of Kingdom Hearts: Birth By Sleep, which takes place 10 years before the first game. Four years before the events of Birth By Sleep, however, Ventus was a Keyblade apprentice training under Master Xehanort. Master Xehanort secretly wanted to use Ventus as a vessel to forge the χ-blade by forcing him to fight Neo Shadow Heartless with the power of the Darkness within his Heart. Not really sure why it works that way, but maybe we'll learn more about it in Kingdom Hearts 3!
I digress, Ventus, being the hardhead that he is, refuses to use the Darkness to overcome the Heartless, wearing himself out until he faints. Master Xehanort then forcefully extracts the Darkness from Ven, thus creating Vanitas, who takes on a humanoid figure with a helmet/mask thingy. This leaves Ventus in a broken state, and Master Xehanort drops off Ventus' unconscious body on Destiny Islands to live out the rest of his life until he eventually disappears into nothingness. However, a young Sora (in his Heart) comes to Ventus' rescue and allows him to connect to his own Heart to remain whole until Ventus is strong enough to fix the damage done. When this happened, Ventus' unconcious body summoned a Keyblade, much to Xehanort's surprise, so he brought him to the Land of Departure where he'd train under Master Eraqus instead, alongside his pupils, Aqua and Terra. Oh, also Ventus lost all of his memories of everything prior to the Land of Departure. Isn't that convenient?
Years later, Ventus' adventure takes some turns when Terra is sent away for a second chance at the Mark of Mastery (after failing the first time by allowing his Darkness to escape). Worried for his friend, he chases after Terra, and Aqua (just being appointed as a Keyblade Master by Eraqus), is sent to look after Terra and bring Ven home.
Xehanort later reveals to Ven that Eraqus wants to bring him home because they know of his (Xehanort's) plans to use him and Vanitas to forge the χ-blade, revealing his evil scheme. Ventus returns home to ask Eraqus about this, but Eraqus is there prepared to KILL HIM in order to prevent the χ-blade from being forged. He is then saved by Terra, who arrives just in the neck of time, woefully killing Eraqus instead (I cried).
Ventus travels to the Keyblade Graveyard to confront Xehanort, but not before telling Aqua and Terra that they must kill him if he has to clash with Vanitas (which would form the χ-blade). In the end, Vanitas reveals himself from under his mask, and to the surprise of the player, looks like Sora! This is because of Ventus' deep ties to Sora. In the confusion of battle, Vanitas manages to take over Ventus. However, Aqua defeats Vanitas' physical form with the help of King Mickey. Ventus battles Vanitas within his heart and wins, thus destroying his own Heart.
However, due to Ventus' initial connection with Sora, his fragmented Heart finds its way to Sora. Ventus now sleeps in Sora's Heart, and, up until this point, has not recovered. His body, however, was brought to the Chamber of Sleep by Aqua, which is a hidden room deep within Castle Oblivion, a world formerly known as Land of Departure.
ROXAS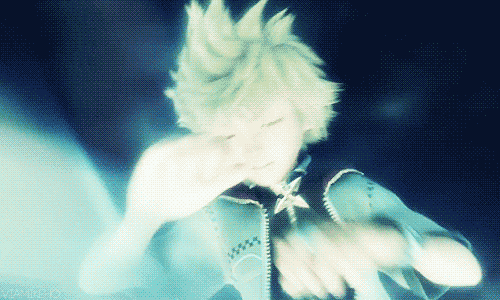 "Hey, isn't that the Ventus guy?"
"Nope, sure isn't!"
So, remember when Sora sacrificed himself to free Kairi's Heart? Because of that, Sora turned into a Heartless, and whenever a Heartless is crated, a Nobody is also created from the empty shell. The Nobody in this instance is Roxas! Roxas takes the physical appearance of Ventus because his Heart is a part of Sora's. Since Roxas was made from a person whose Heart is made up of the Hearts of two different people (Sora + Ventus), he has the ability to wield two Keyblades, which is neat!
When Roxas was created, he was found by Xemnas, who leads Organization XIII, and gave him his new name ("Sora" scrambled up with an "X"). However, Xemnas only wanted Roxas in the Organization because his weapon, the Keyblade, is the only one that could unlock the Hearts from Heartless, which Xemnas needed to create a new, fake Kingdom Hearts. When that plan is fulfilled, Xemnas planned to use Roxas as a vessel of Xehanort to create the 13 Darknesses, one half of the χ-blade, and use the χ-blade to unlock Kingdom Hearts. Lacking his memories of his former self (Sora), which is not typical for a Nobody, Roxas accepts Xemnas' offer.
Throughout his adventure, Roxas befriends Axel, a rambunctious loose cannon and 8th in the Orgaization's ranking, and Xion, the 14th member of the Organization, who mysteriously wields a Keyblade, as well. However, Roxas begins to have second thoughts about the Organization's motives because of the way they treat he and Xion. After a very sad turn of events that I'll go over later in this post, Roxas decides to run away, only to be captured by Riku and taken to Ansem the Wise (who has taken on the name DiZ).
DiZ places Roxas inside a Data Twilight Town in order to hide him from Xemnas and the rest of the Organization XIII. With the help of Riku and Naminé, DiZ works to reunite Roxas with Sora so that Sora can be complete again. At the beginning of Kingdom Hearts II, this finally happens.
XION
Xion probably has the most heartbreaking story of all those connected to Sora. She originally appears in Kingdom Hearts 358/2 Days, where she joins the Organization XIII as the 14th member. Xion is able to wield the Keyblade because she is a replica of Roxas created by Vexen and Xemnas through the Replica program. Basically, Xion was a failsafe for Roxas, in case he was to fail. The Organization was clearly ready for anything.
Anyways, I digress! Xion took on a different appearance depending on who she interacted with. To most, she just looks like a hooded figure, and you couldn't really see her face. The more she went on missions with Roxas, she actually began unintentionally feed off of Sora's sleeping memories within Roxas, which made her take on the appearance of Kairi. This is because as Sora progressed through Castle Oblivion (the events of Kingdom Hearts: Chain of Memories), he slowly forgot about Kairi. All of these memories weren't lost: they slept within deep within Sora, and therefore, within Roxas as well.
From that point on, Xion began to take on her own persona and developed a personality. It wasn't until then that she began to wonder who she was and why she was here. Curious, she traversed to Castle Oblivion, where many of the secrets of the Organization XIII were claimed to be hidden. Upon entering, she immediately passes out due to the fact that Sora's memories of Kairi were being repelled by Naminé, and Xion is basically an embodiment of that. Axel ends up saving her and bringing her back to the Organization.
It's then that she realizes her fate. Xion and Roxas, now best friends, cannot co-exist because she's slowly taking away Roxas' power. In the end, she tricks Roxas by making him think that she wants to overpower him to become the real Sora, forcing him to fight her. In the end, Xion's plan succeeds and Roxas eliminates her. Xion fades away and thanks Roxas for giving her wonderful memories and says they will always be together through Sora. With that, Xion rejoins with Roxas, and because of that, everyone forgets about her existence. What a sad way to go.
NAMINÉ
Remember how I said that Sora sacrificing himself created Roxas? Well, it also created Naminé! Naminé is a Nobody created from the Heart of Kairi and the shell of Sora. Because of this, she takes on a similar appearance to Kairi, but due to her special nature of also being connected to Sora, she has the power to manipulate his memories. When she was created, she appeared in Castle Oblivion where she was soon captured by Organization members Marluxia and Larxene. The two of them planned to overthrow the Organization and wanted to use Naminé to gain control of Sora.
In fear of being trapped in Castle Oblivion forever, Naminé reluctantly agrees to help Marluxia and Larxene and begins to manipulate Sora's memories. She starts by slowly making him forget Kairi, and then replaces Kairi with herself. In doing this, Sora is driven deeper into Castle Oblivion in desperation to save Naminé, making him forget even more.
However, Naminé eventually realizes how much wrong she's doing and steps in to protect Sora from Larxene. She felt bad for being so selfish– all she wanted was to not be alone. When Sora made it all the way through Castle Oblivion and defeated Marluxia and Larxene, Naminé made a promise to him to fix all of his memories that she had replaced. However, in doing so, Sora, Donald and Goofy would all forget the events that transpired in Castle Oblivion, and in turn, forget Naminé.
As she works on restoring Sora's memories for an entire year with the help of Riku and DiZ, she hits a roadblock, realizing that she cannot finish without Sora being reunited with Roxas (since Xion stole all of the lingering memories of Kairi, and now Xion resides within Roxas). Riku then brings Roxas to her, and she guides him into accepting his fate, befriending him in the process. In the end, Roxas reunites with Sora because she tells him that he will live on through Sora, and Naminé later reunites with Kairi. At the end of Kingdom Hearts 2, when Sora and Kairi reunite on Destiny Islands, it shows a flash of Roxas and Naminé smiling, indicating that they're living on through Sora and Kairi.
Whew! That was a mouthful. I hope you all have enjoyed the journey as much as I have, and through this and my piece on Xehanort, you have a tighter grasp on what events will transpire in Kingdom Hearts 3. Who is your favorite Kingdom Hearts character? Let us know on Twitter!
---
---