Starting in the month of July, Loot Wear has teamed up with female artists throughout geekdom to design and curate for our Loot for Her line. We're calling this program "For Her, By Her"! Each month we'll bring you a one on one with each artist we collaborated with, making unique apparel designed by talented women in the field.
This month we bring you star artists Alex Strangler, Jen Bartel, and Bamboota! Each of them designed one variant of the Loot For Her Bob's Burgers leggings in this month's subscription. Over the next couple of weeks, we'll bring you Q&A's with each of these talented ladies about the Loot For Her items they designed for the ANIMATION theme.
Second up in the series, her's our interview with Jen Bartel, best known for her ongoing cover work on IDW's Jem and the Holograms; she's also worked for Marvel, Dark Horse, BOOM! and many more comics imprints!:
Where do you call home?
Minneapolis, Minnesota.
When did you realize you wanted to be an artist and how long have you been an artist for?
I've been drawing for as long as I can remember, but I think I decided to seriously pursue an art career when I was in high school.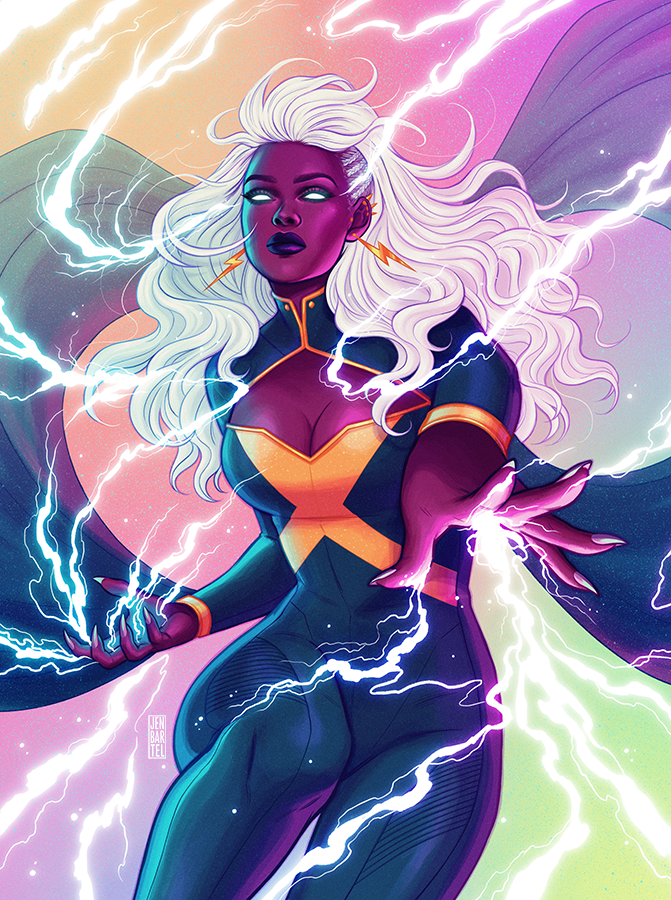 How did you figure out your artistic style?
A lot of trial and error. I tried every medium in the book, studied the works of other artists, and really cultivated my taste before I was able to commit to my own style.
What is your own style fashion wise?
I love being comfortable, so I wear a lot of loose cami tops paired with high waisted shorts or leggings, but I also like to have some edge so a cool bomber or moto jacket is key.
What are your fandoms?
I don't know that I've really added any new ones since I was a teenager, if I'm being honest… I was a huge Sailor Moon fan then, and I still am today.
You chose Linda Belcher as your muse for your Bob's Burgers leggings design! What are the things you like about Linda Belcher?
Linda is actually my favorite Bob's Burgers character because she's hysterical but also kind of no-nonsense. She's sincere to a fault, and I just love characters that aren't afraid to be honest with themselves.
What do you like about designing geek fashion?
It's the merging of 2 passions of mine, so it's a perfect fit. Seeing people wear their interests and connect with total strangers at conventions or just out on the street is always so fun.
What inspires you as an artist?
I'd say movies and animation—I think the combination of pictures and audio/soundtracks really just get my mind working.
Where do you see your art taking you in the future?
More than anything, I'd love to work on my storytelling abilities — so hopefully my art takes me into a platform that allows me to do that, whether it's through comic books or another medium.
Your art is so vibrant and bold! How do you come up with the color palettes you work with and what mediums do you use?
I like to joke that I'm an "Evil Lisa Frank", haha. I'm just not afraid to use highly saturated palettes — as long as the colors are working harmoniously with each other there's no need to mute everything down! I often will ink on paper with a brush and pen but 99% of my color work is done digitally.
Do you have any words of inspiration for other female artists?
Girls are taught from a young age that they should make room for boys to exist, but boys are seldom taught to make room for girls — in most industries there are not as many opportunities for women. Take every opportunity that is afforded to you. Never apologize for your successes. Don't shrink yourself down to make others feel more comfortable.
Thanks for chatting with us, Jen! You can see more of Jen's art at her website, as well as on Instagram and Twitter. She'll also be at San Diego Comic Con at booth 2047 if you'd like to meet her!
---
---
We'll have more with another of July's Loot For Her artists next week! And in the meantime, do sign up for Loot Wear this month to get the Bob's Burgers Loot for Her and so much more. Signup deadline is 7/19!