Loot Wear is teaming up with female artists throughout geekdom to design and curate for our Loot for Her line. We're calling this program "For Her, By Her"! Each month we'll bring you a one on one with each artist we collaborated with, making unique apparel designed by talented women in the field.
---
 This month we bring you star artist Sho Murase! Sho designed our Harley Quinn item for us in May's ROLE MODELS? theme!
Where are you from originally and where do you call home now?
I am Japanese, grew up in Spain.
What is your artistic background and did you have any formal training?
I started in the industry as an animation artist. I went to art school and then to an animation school.
How did you arrive at your present skill sets and artistic style?
I grew up in Europe and have been living in San Francisco California for a while now. People usually comment that my mix of cultures is reflected in my work, that they see the Asian & western art influences.
Your art style ranges from super detailed to minimalism with high impact. Which artists are your influences?Too many to name. Rene Gruau, Klimt, and Jordi Bernet etc.
What are your current fandoms?
Anything by Haruki Murakami.
This month you've designed a Harley Quinn item for us! What do you like most about Harley?
She is fearless.
Can you tell us a little about the design process behind your item?
I start from trying to feel the character I am trying to portray, her strength and uniqueness first and then everything else comes to life on her own.
How has geek fashion played a role in your life and can you tell me about your personal fashion style?
Pop culture art and movies have become very mainstream nowadays, with high fashion brands using comic art on their garments, so there is a big blur between the so called geek fashion and high fashion. I tend to dress comfy, relatively simple but tend to go for darker colors, some of my favorite designers are Rick Owens and Anne Demeulemeester. But cool does not mean expensive. I like to balance cheap but great looking geeky fashion with some high fashion elements.
Tell us one fun or quirky thing about yourself! 
I am a space cadet. I may not look like one but I am very spacey, so if you know me and find me on the street, don't hesitate to call me, I am not trying to ignore you.
Do you have any words of inspiration for other women looking to go into your field?
You are more powerful than you know; you are beautiful just as you are.
Thanks for chatting with us, Sho! You can see more of Sho's art on her website, as well as on Twitter, Facebook, and Instagram!
---
---
Before we get to the amazing pictures of the May ROLE MODELS? themed Loot For Her EXCLUSIVE, make sure you're ready to grab yours before May 19th at 9pm PST!
We're proud to reveal the incredible design made just for us by Sho! 

SPOILER WARNING:

If you don't want a spoiler yet, scroll no further!
Ready?  Okay…. introducing, Sho's Harley Quinn tank top!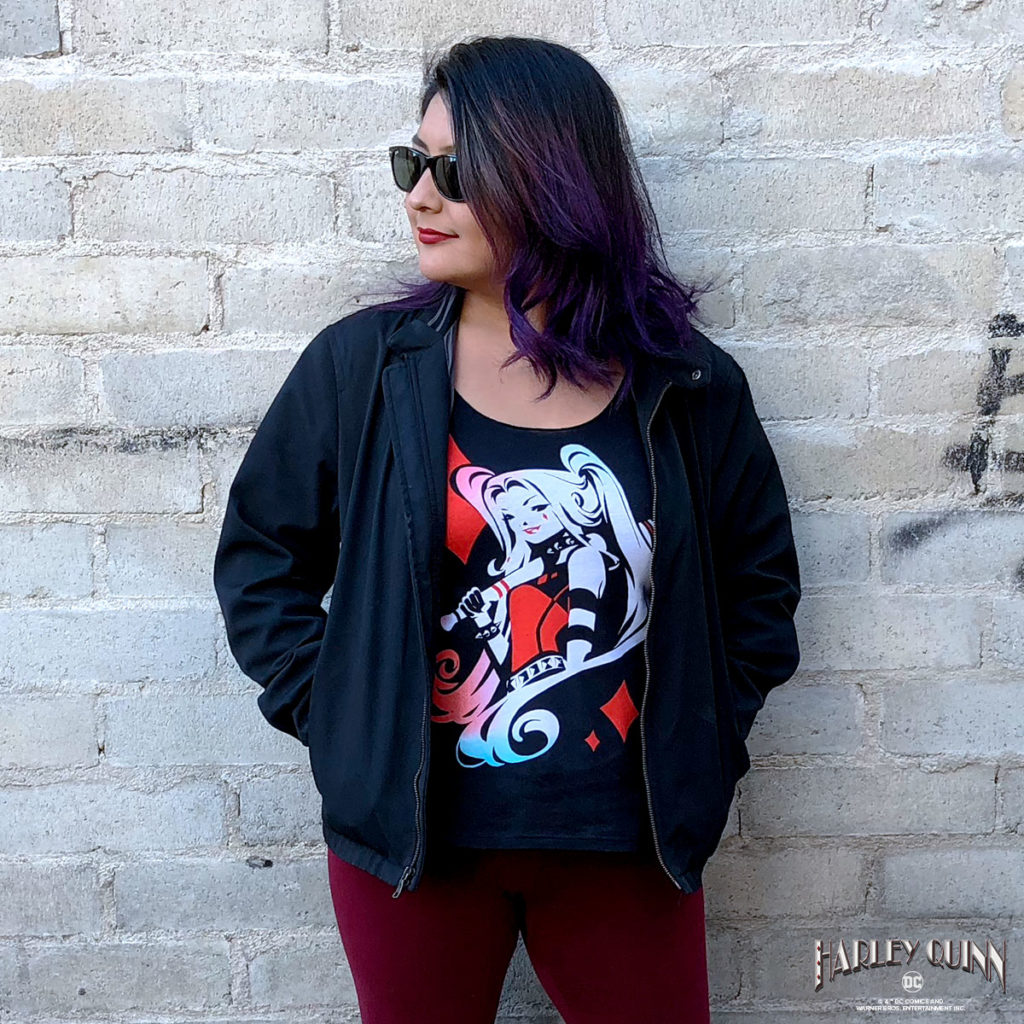 ---
---