October is nearly upon us, and with it comes a change in the weather, pumpkin spice lattes flowing through the streets, and some of the coolest and spookiest movies and television shows entertaining us all month long.  But this October, there is one show that I'm looking forward to most: Stranger Things!
I honestly can't remember a show that drew me in and captivated me the way that Stranger Things did.  Sitting down on a hot summer night in July of last year, my family and I browsed through Netflix searching for a show. Typically we're non-committal and unenthused by the options but on this particular night, Netflix displayed a brand new show at the top of the list, a show that none of us had heard of before.  We decided to give it a shot, and dove into Chapter One: The Vanishing of Will Byers. Less than 48 hours later we had devoured the entire first season.  I have since watched the first season three times, and I have loved it each and every time.
With Season Two right around the corner (and having just finished my 3rd viewing of season one!), I find myself hankering for something to keep me busy, so I've decided to put together a list of five movies I plan on watching to prepare me for season two of Stranger Things on October 27th.  Not only do I feel that these movies inspired Stranger Things in some way, but they also give me the same kind of feels that the incredible Netflix show does.  In no particular order, here are my five favorite Stranger Things-esque movies I'll be watching next month: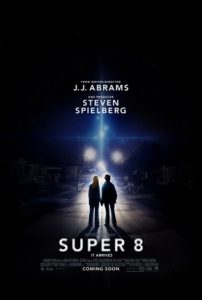 Super 8 (2011):  The J.J. Abrams and Steven Spielberg led film Super 8 is one of my favorite sci-fi films in recent memory.  It was one of the first film experiences that really made me feel the science-fiction nostalgia you get from classic films like E.T., Close Encounters of the Third Kind, etc.  Super 8 follows a group of young teenagers who are on a mission to film a low-budget horror movie that they want to submit for an international film festival. While shooting on their super 8 camera, a train violently crashes and unleashes an unknown and dangerous entity on their small town, followed by the kids going on an epic adventure to vanquish the malevolent force. The performances, the visual effects, and the overall feeling of the film was simply incredible, and it wasn't until Stranger Things that I had a modern film or television show tap into my childhood memories the way Super 8 did.  The movie is pretty phenomenal and is one I would definitely recommend if you have a sci-fi itch you need to scratch this month.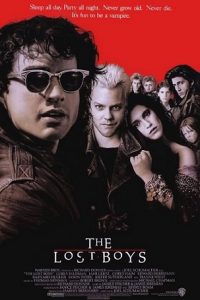 The Lost Boys (1987):  Showcasing angsty vampires before angsty vampires were cool, 1987's The Lost Boys is one of the first teenage horror/comedy movies I remember watching as a kid. In the film we see two teenagers settle into their recent move from Arizona to California.  Simple enough, right?  Then the older brother, Michael, gets involved with a group of rapscallions in the small town that turn out to be a gang of violent vampires – and shenanigans ensue!  As a kid, I wanted so desperately to be as cool as Michael, and the way he and his brother team up to take down the baddies in this movie was pretty stinkin' cool.  It is honestly my first memory of seeing a movie as a child that I wanted to be a part of – I remember going out with my friends and picking all the characters we wanted to play as we imagined fighting off evil vampires in my hometown.  I wanted to do something similar after watching Stranger Things, but a 30-year-old running around pretending to fight monsters may not be as cool as me fending off imaginary vampires as an eight-year-old!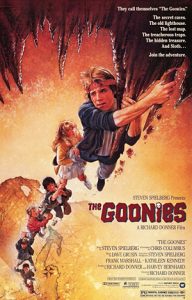 The Goonies (1985):  The only non-horror selection on my list is arguably the most impactful and influential, as The Goonies is a timeless cult classic that has gone a long way to inspire countless teenage adventure, horror, and/or sci-fi films that have been made since it's 1985 release.  The Goonies features a star-studded cast of phenomenal young actors as they portray a group of friends attempting to save their homes from demolition in the "Goon Docks" neighborhood of a small town in Oregon.  In the process, they stumble upon a Spanish map that takes them on a journey to discover the long-lost treasure of a famous 17th-century pirate – but they need to find it before the family of criminals that are chasing them do!  The creators of Stranger Things have mentioned they drew some inspiration from The Goonies, and it certainly felt that way as I experienced the same sort of excitement seeing Eleven take on the Demogorgon as I did seeing "The Goonies" chase down "One-Eyed" Willy's treasure!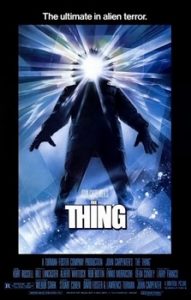 The Thing (1982):  Not for the faint of heart, The Thing is an impressive and terrifying sci-fi horror film from horror guru John Carpenter.  Considered by many to be one of the greatest horror films ever made, The Thing featured an incredible cast and an even more incredible array of practical effects that were truly revolutionary at the time.  The title of the film refers to the main bad guy in the movie; an extraterrestrial force hell-bent on attacking, absorbing, and imitating its victims.  We see this "thing" released when a group of scientists from an Antarctic research station unearth a crashed space ship and wake it from its cold slumber.  I was 13 when I first saw this movie, and I'm not going to lie to you… That may have been a little young!  The film really is horrifying, but an incredibly well-crafted experience.  Not only did the feeling of discomfort watching the Demogorgon wreak havoc on Hawkins remind me of seeing the "thing" terrorizing Antarctica, but I also noticed some really cool The Thing Easter eggs while I watched season one of Stranger Things.  I'll be keeping my eyes peeled for similar Easter eggs when I watch season two!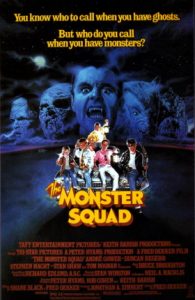 The Monster Squad (1987):  There is only one movie I can think of that I've watched every year for 25 years straight, and it is 1987's The Monster Squad.  Probably one of the more lesser-known titles on this list, The Monster Squad is a horror comedy that features re-imagined Universal Monsters as they attempt to take over the world.  The Mummy, Wolfman, Gillman, and Frankenstein's Monster are led by Dracula himself as they run up against their most difficult adversaries ever: a group of kids known as "The Monster Squad".  The movie showcases some incredible special effects – Seriously, probably my favorite version of the Wolfman ever – and some really fun performances from the rag-tag group of youngsters.  If you have never seen The Monster Squad, and you're looking for a movie to quench your Stranger Things thirst (or if you've ever wondered if Wolfman has nards), then give this movie a look this Halloween!
So while you're waiting for season two of Stranger Things, you can always give these films a look to keep you distracted until October 27th rolls around!  Got any movies or television shows that make you feel the same way that Stranger Things does?  Hit us up on Twitter (@lootcrate) and let us know!
---
---