In February, there are tons of great new titles available to stream – some of which sync great with the franchises we are spotlighting this month! It's our latest roundup to compliment your loot when it arrives. Get psyched with us for BUILD, and check these titles out:
Batman
Across multiple streaming services at the moment, there are various ways you can get a dose of the Dark Knight. On Netflix, some titles were recently removed (boo) so all that's left is the (still pretty enteraining!) 1966 Batman: The Movie starring Adam West. Good on any day, even the ones where you just can't get rid of a bomb…
Also on Netflix is The Batman animated feature. Over on Hulu, it's your opportunity to catch up on the prequel-slash-reboot-slash-kinda just total insanity that is Gotham. And Amazon Prime has the full first season of Batman: The Animated Series. Truthfully, though, if it's bat antics you want, this month you should go all in on HBO Now, which currently features all of the Warner Bros. Batman films – from the sublime (Batman Returns) to the terrible (Batman & Robin) – plus a plethora of animated features including Year One and The Killing Joke.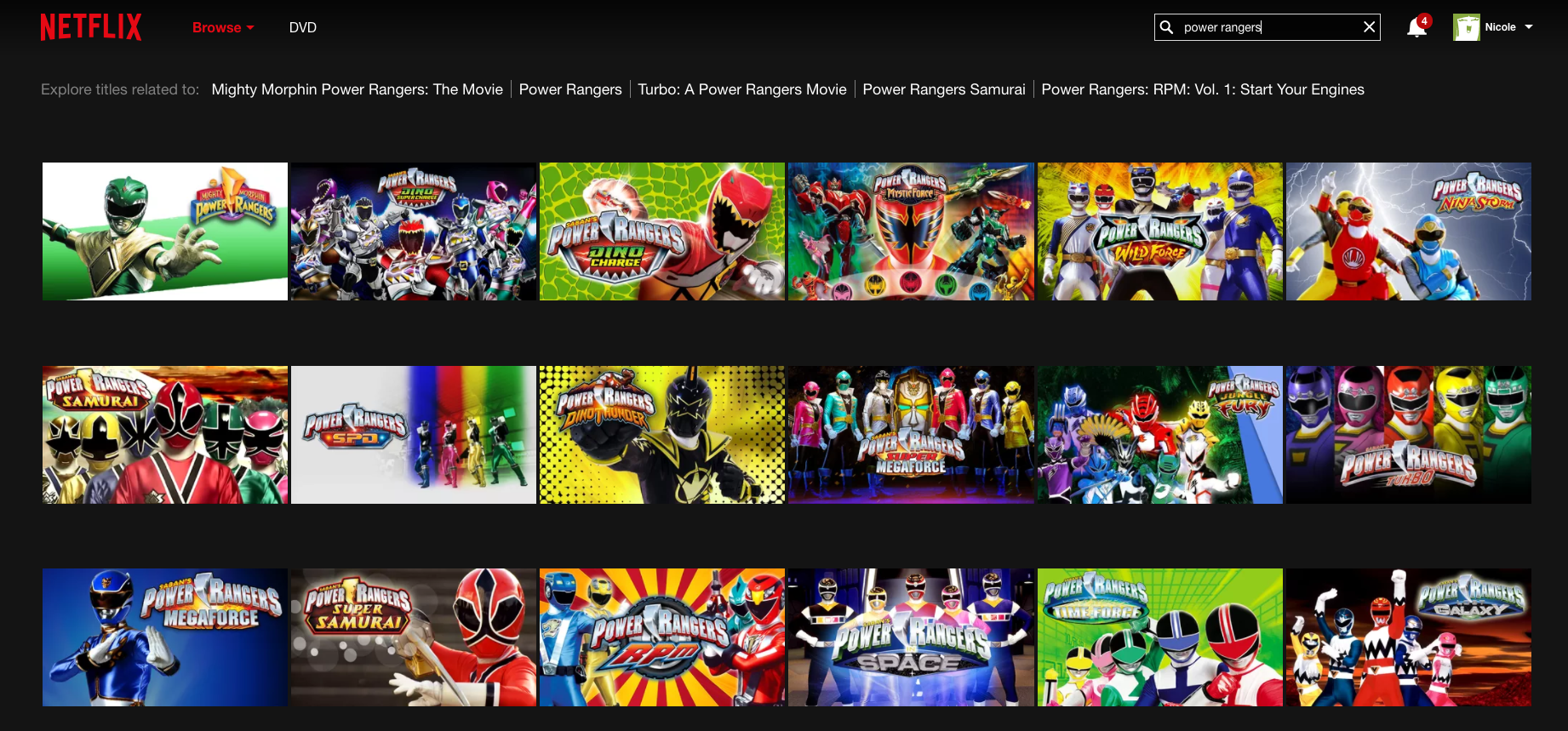 Power Rangers
Rather than go with a nice still photo for our illustration here, it was pretty compelling to take a screenshot of what happens when you search "Power Rangers" on Netflix. Will you look at all that action?!  Basically, you can sample any iteration of Ranger goodness you want on Netflix at the moment, be it Mighty Morphin Power Rangers, Dino Thunder, SPD, Turbo, In Space – they've got it all and more.
Meanwhile, if you decided to go in on HBO Now, you can also prep for the upcoming Power Rangers feature film by revisiting the 1995 movie that set the Mighty Morphin crew loose in cinemas. Boy, they knew how to montage…
LEGO Dimensions
So, the crossover radness of LEGO Dimensions hasn't yet made it out of the gaming realm. And sadly, The Lego Movie is no longer available to stream unless it's a rental (NOT awesome). However! – Netflix has a healthy selection of LEGO-based animated shorts for your enjoyment, including (among others) LEGO Marvel Superheroes: Maximum Overload and LEGO Jurassic World: The Indominus Escape. Check 'em out!
Robotech
If you gained a love of anime in the 80s, chances are most of your favorite shows were English dubs of original Japanese series; for example, Voltron began life as Beast King Go-Lion.) When it was tied into toy sales Stateside, Robotech (featured this month in Loot Crate DX) encompassed three entirely separate Japanese anime shows. The first season was based on Super Dimension Fortress Macross, and since Netflix has that entire first season at the moment, it's a great time to discover or re-discover this classic!
Spool up one of these great BUILD shows and get ready for this month's Loot; get your subscription before February 19th!