Each month we are going behind the scenes with local comic shops in our "Talk Shop" feature. This month we visited Endgame Comics in Ventura, CA. See what store owner Weston had to say about why he opened up shop and some of his favorite comics.
What's the history behind the store? 
The store was formerly known as Hypno Comics for several years till the former owner moved to NV and was taken over by my business partner Jon Tomala.  I later partnered with him back in 2019 and helped re-establish it as Endgame Comics and Collectibles
What inspired you to open up a comic shop?
I worked as an employee for a few years when the store was formally Hypno Comics, and it was a lot of fun.  Meeting fellow geeky and nerdy people that enjoyed the same things and collected the same stuff was just fun.  So when the new owners were having issues once they took over I couldn't let the shop fade away.I had to come in and help out and bring it back up again to where it once was, but also making it better and changing it with the current times.  I really want to create a space where the people working in the industry can meet the local community and just geek out and have a safe space to do so.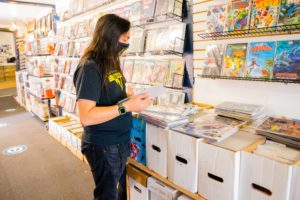 Tell me about where the store is?
The store is located in Ventura, California just a few miles south of Downtown Ventura and the beach.
What are the customers and community like?
The customers and the community are awesome.  They come out and support us and want to help out any way they can and they are excited to see that during this pandemic that we are not letting it get us down instead we are getting new products and really expanding what we carry.  From not just comics but also sports/non-sports cards, toys, collectible pins, patches, and our wide variety of stickers.  They come out to support our sidewalk sales events when we have them since we don't just do it for our shop, but we try to get the local artists and vendors to be a part of it too, as we want to help the community out as much as we can too and our customers see that.
Comics can be a little intimidating for new readers. What would you recommend to someone just getting started? 
Everyone thinks you gotta start off with issue #1.  That's not usually the case.  You can practically go into a shop pick up a new release issue of your favorite character and enjoy it then if you like you can either go backward or forward with the following issue that comes out the following month.  Since there's a new story usually every 4-6 months or 4-6 issues.  Unless it's a big event book that happens in several different character books or tie-ins or if it's an indie book that's not done by DC or Marvel.  I also recommend picking up a graphic novel or trade paperback that way you get the full story without missing anything.  From there you can jump into the newer issues.  Picking up a random issue is sometimes the best because you then think about how did they get to this place and where will they go from there as well.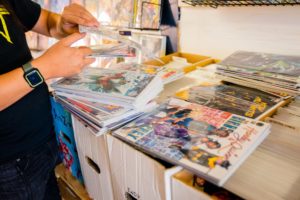 What are some of your best-selling comics at the moment and why do you think those are so popular?
Some of our best-selling titles are Teenage Mutant Ninja Turtles Last Ronin, BRZRKR by Keanu Reeves, Batman, Spider-Man, and X-Men.  They are so popular because right now both Batman and TMNT are showing us worlds where these characters aged or a world without them giving new characters to take the mantle.  X-Men has been reinventing their universe for a little over a yearnow anddoing great things with it.  Spider-man is always a hit among all ages.  As for BRZRKR, it was awesome on kickstarter and Keanu just signed a deal with Netflix to bring the book on that platform for an anime-style show.
Marvel and DC are the typical go-to's for most readers but what are some indie comics you could recommend? 
I would recommend BRZRKR, TMNT Last Ronin, Transformers/Back to the Future, Rick and Morty, Critical Role, Spawn, and Power Rangers.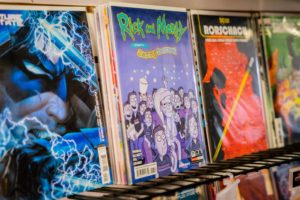 What are some of your personal favorite comics?
Ghostbusters, Rick and Morty, BRZRKR, TMNT,  Batman, Star Wars, Iron-man, Spider-Ma
n, and Transformers/Back to the Future.
How can people show more support for local comic shops? 
Instead of buying online check out what your local shops have to offer, they might be a bit pricier but there's no waiting, plus we are always happy to work out deals if
you ask nicely.  Not only that tell us what else you like us to expand on or show more products.  Setup a comic book subscription or pull list, it helps us with ordering and knowing what our community wants to see in stores but it also guarantees you a copy of the book when it comes out.  Buy gift cards if they offer them and tell your friends and family about the store.  Also, come out to events when they have them chances are you not just supporting them but also artists or other local shops they partnered with.  Most importantly, at least with my shop is  I would like people to come in regularly not to just check out what's new in the shop but also to just hanging out and talk about the latest episode or movie that just dropped.  It's been hard during this pandemic for sure, but once we can again I like just chatting it up with our community about all things nerdy.
If you're in the neighborhood, visit Endgame Comics at 1803 Main Street, Ventura, CA 93001. Or check them out on Instagram, Facebook, and Twitter.
Celebrate the legacies of G.I. Joe, Black Panther, F9, and The Lord of the Rings with this month's collectibles and gear.