Welcome back to my blog my fellow weebs ! If you haven't heard already Loot Anime and Crunchyroll have partnered up to bring you some of the best and most exclusive anime goodies across the land! By that, I mean we are doing a Crunchyroll Crate! Exciting right? Let's dive a little deeper into the anime titles in this month's Crunchyroll Crate themed: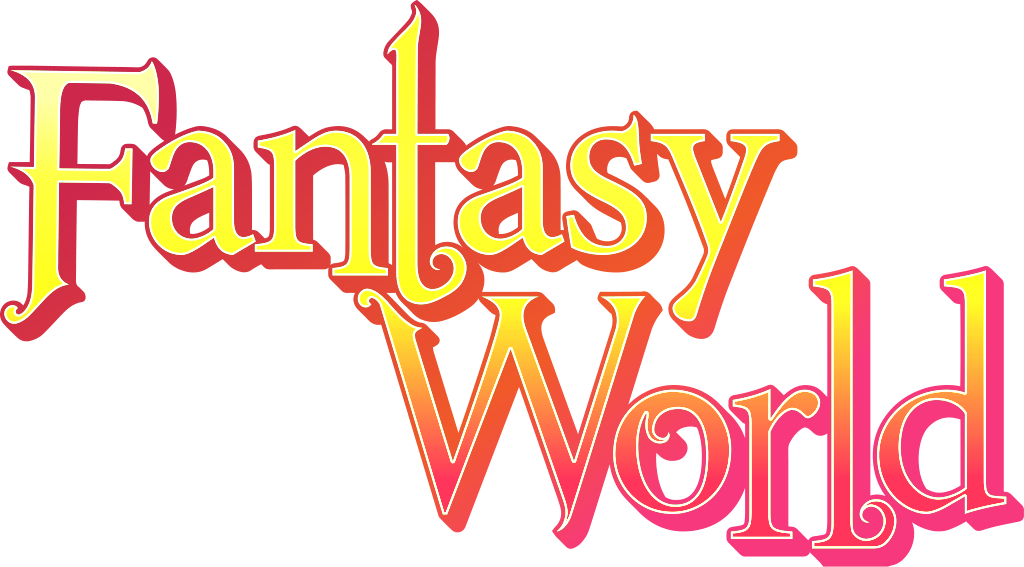 So, What is the Crunchyroll Crate???
Crunchyroll Crate is a monthly subscription crate that will include items from an incredible lineup of Crunchyroll's anime titles, including  So I'm A Spider, So What?, Tower Of God, Somali and the Forest Spirit, The Ancient Magus' Bride, alongside the brand's beloved mascot Crunchyroll-Hime. And that is only the titles in this month's crate! The monthly Crunchyroll Crate will be available worldwide, excluding Asia and select territories, and fans like you can even order the crate right now! Shipping for this month's "Fantasy World" Crunchyroll Crate is scheduled for mid February 2021.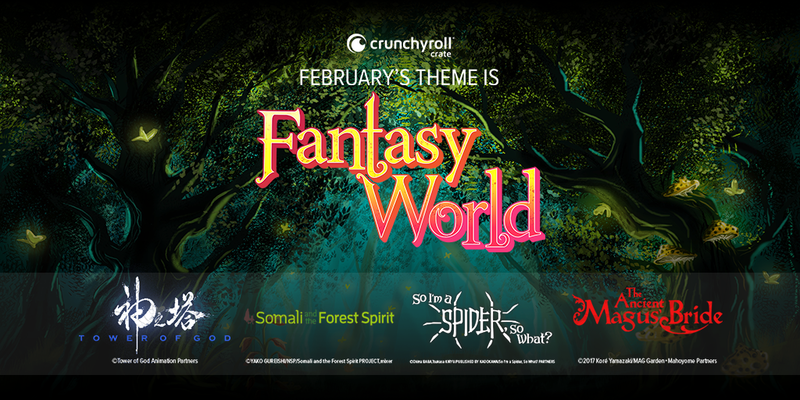 Let's take a deeper look into some of this crates anime titles! 
TOWER OF GOD
If you have no idea what Tower of God is then get off this page because that means you have never watched Crunchyroll or read a Webtoon before. JK but for real please do yourself a favor and jump on this band-wagon. Tower of God began in 2010 and is written and drawn by SIU (real name Lee Jong-hwi). The series follows a young boy named Twenty-Fifth Bam, who has spent his life beneath a gigantic tower. The only other person in his life is a girl named Rachel, who finds her way into the mysterious tower. Determined to be reunited with his friend, Bam also enters the tower. This tower is filled with magical energy Shinsu, as well as a variety of different species and people groups. The tower also has a strict caste system and hierarchy, with progression among its ranks determined by strength and intelligence.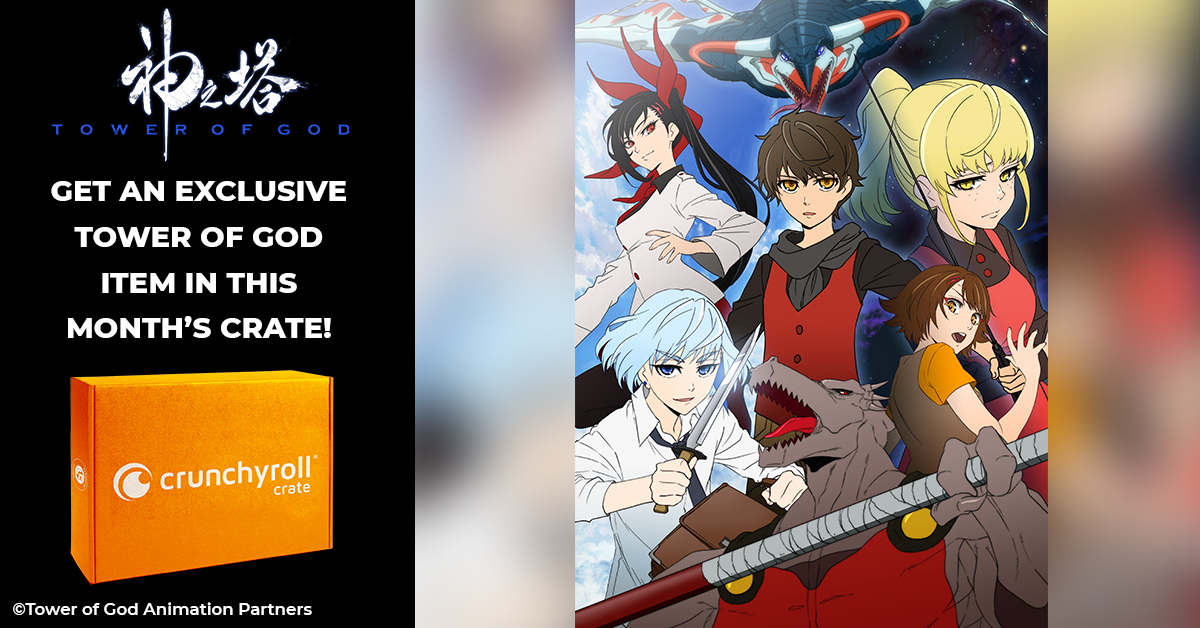 SO I'M A SPIDER, SO WHAT?
OKAY this one is good. In another world, a powerful spell cast during a battle between Hero and Demon Lord opened a dimensional rift which destroyed a Japanese high school classroom, killing all within. Perhaps as a result of that rift, both the students and teacher have been reincarnated into that fantasy world, one where a divine system of skills and game stats defines everything. Many of those students have been reincarnated as humans (original gender notwithstanding), including one who's reborn as the fourth son of a king. However, at least some have come back as monsters instead. Chief among those is a girl reincarnated as a 3-foot long spider in the land's vast, labyrinthine underworld. As one of the underworld's weaker monster types, she must develop her few abilities and rely on her wits to survive. Her successes are greater than she knows, however, and she's starting to attract unwanted attention.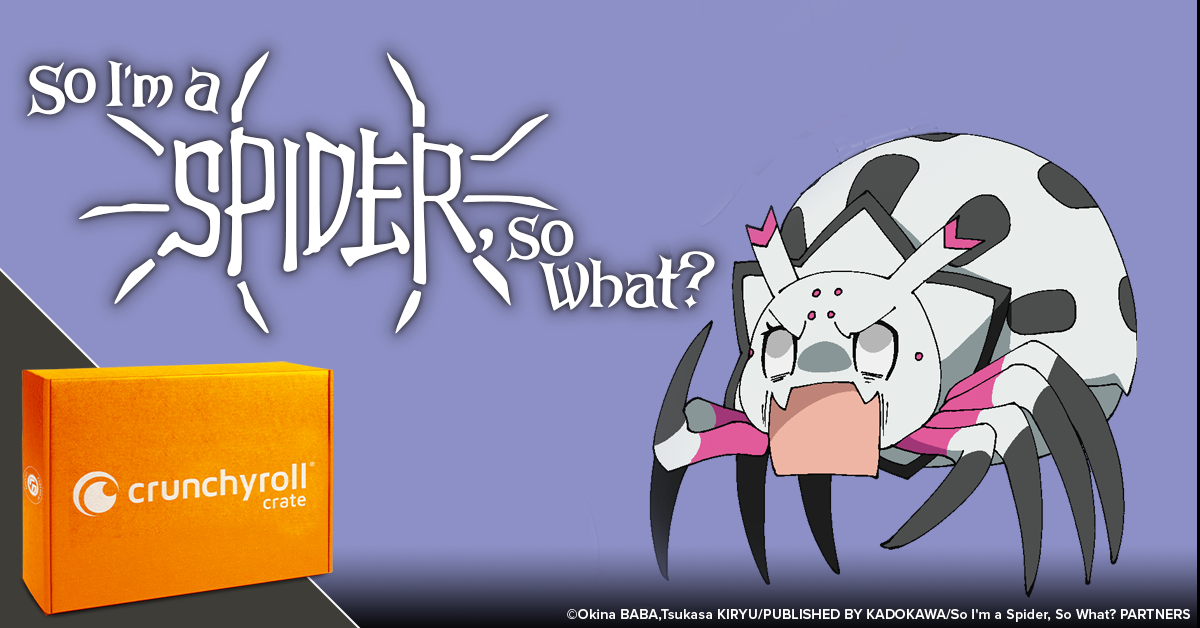 SOMALI AND THE FOREST SPIRIT
Somali and the Forest Spirit is a Japanese fantasy manga series by Yako Gureishi. It has been serialized online from April 2015 to October 2019. It has been collected in six volumes. An anime television series adaptation by Satelight and HORNETS ran from January 9 to March 26, 2020. Crunchyroll co-produced the series.Due to author Yako Gureishi's health problems the manga was officially cancelled in December 2020. Despite the end of the manga this show is widely popular in the anime community. In this anime, the world is ruled by spirits, goblins, and all manner of strange creatures. Human beings are persecuted, to the very point of extinction. One day, a golem and a lone human girl meet. This is a record of the pair, one a member of a ruined race, the other a watchman of the forest. It tells of their travels together and of the bond between father and daughter, but the golem can only live for another year or so, he must find other humans in order to get her with her own race before he dies.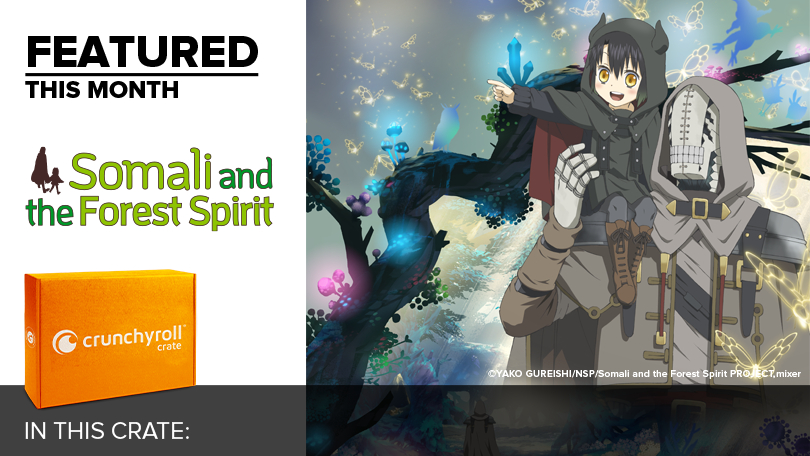 THE ANCIENT MAGUS BRIDE 
Probably my personal favorite out of all the titles in this crate has t o be The Ancient Magus Bride. The Ancient Magus' Bride  is a Japanese manga series written and illustrated by Kore Yamazaki. A three-part prequel OVA of the manga was animated by Wit Studio as well as an anime television series adaptation that aired from October 2017 to March 2018. The plot goes something like this… Having been ostracized by both her relatives and partially by society, orphaned high school student Chise Hatori decides to sell herself at an auction in order for somebody else to take her in and have a new place to call home. At the auction in London, she is sold for five million pounds (around 7 million in US dollars) to Elias Ainsworth, a seven-foot-tall humanoid with an animal skull for a head. This magus, who seems closer to a demon than human, either brings her the light she desperately seeks or drowns her in ever deeper shadows in her new country, Great Britain. The series deals with a romantic slice-of-life storyline in a surreal and supernatural light. It's dreamy and I love it.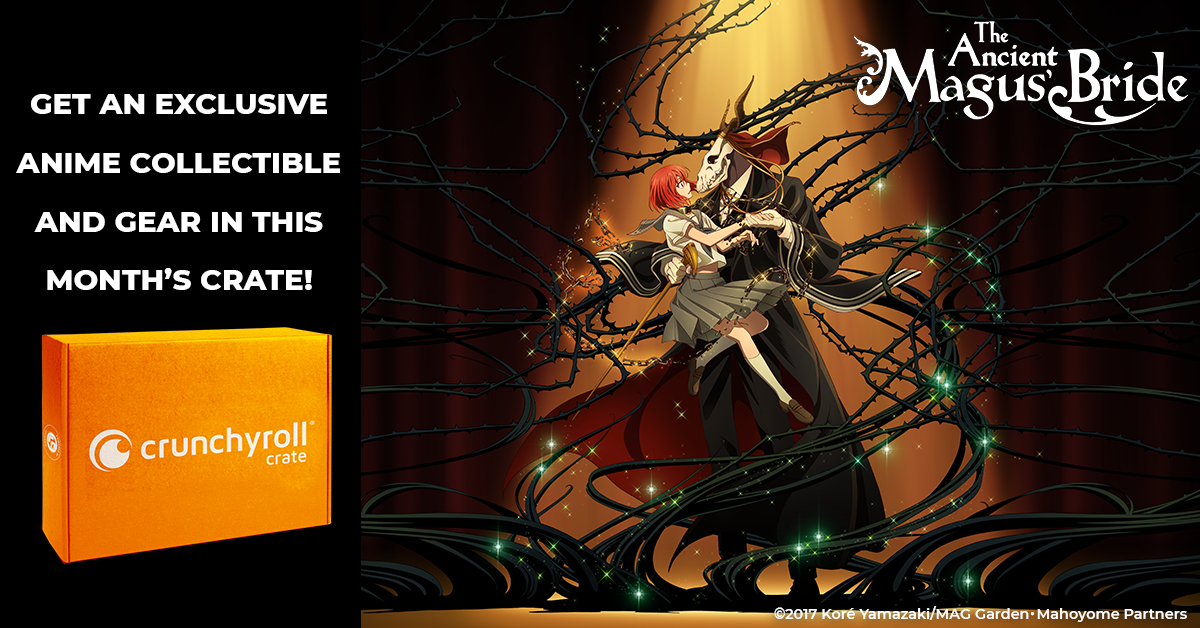 DON'T YOU JUST LOVE THIS MONTH'S CRATE?
I know I am super excited to see what you guys think about the titles in this crate. Our team here at Loot Anime is working really hard to appease you weebs because we know how important it is to the community to showcase your favorite anime. This month's crate is full of some top tier anime and we hope you guys love it just as much as we do! As always thanks so much for reading my blogs and be sure to keep up with our weekly post for more information on upcoming themes and anime related content! We <3 you all!