With any film adaptation, there are changes from page to screen; the Harry Potter series is no exception. Fans have spent hours to years to decades talking about which scenes didn't make the cut, and which lines they wished had stayed the same. (Looking at you Goblet of Fire.) But sometimes, the movies get it just right—or better! Here are some of our favorite bits from the movies that you won't find in your books.
The Boys' Dormitory in
Prisoner of Azkaban
The first two Harry Potter films, directed by Christopher Columbus, were incredibly faithful to the books. Once Alfonso Cuarón took over the helm, the films started to depart into their own style and details. One of the first added scenes is a moment early in Prisoner of Azkaban, just after the welcome feast but before the rest of the plot. 
Harry, Ron, and the other Gryffindor boys hang out in their pajamas, passing around magical candies that allow them to make funny sound effects. Neville makes a sound like an elephant, Ron the roar of a lion, and Harry a long, high-pitched whistle—complete with steam billowing out of his ears. All the boys have a good laugh and end up dissolving into a pillow fight. The whole interaction is precious, and it's nice to see the characters have some downtime to be kids, away from all the dangers of complicated plot.
Luna and the Thestrals in
Order of the Phoenix
Another treasured scene involves fan-favorite Luna Lovegood. In the books, Luna is a standout character for her quirky interests and eclectic nature. In the films, she's lovingly played by Evanna Lynch: a fan first, and HP actress second. Lynch does an amazing job of bringing Luna to life, most notably in the thestral scene in the fifth film.
Thestrals are the spectral horses that live in the Forbidden Forest, visible only to those who have seen death. In the book, Harry learns about thestrals in his Care of Magical Creatures class. In the fifth film though, that task is left to Luna. She explains the nature of thestrals, why she can see them, and why they're not really so bad as they seem. In a jarring, honest gesture, she also comforts Harry about being an outcast, now that so much of the wizarding community has turned against him. It's a short scene, but one that endears the viewers to her much more succinctly than the book.
"But I am the Chosen One!" in
Half Blood Prince
Okay, we MIGHT be a little biased, but Half Blood Prince has some really fun departures from the books. It's by far the lightest of the second-stage Harry Potter movies. Even though Lord Voldemort has returned, a lot of the story focuses on the trials and tribulations of being a teenager in love which, of course, sets up some great comedy. 
Take Romilda Vane, for example. In the book, she's a very snide, younger student who has her sights set on Harry. Harry, who is focused on much darker things than romance most of the time, isn't the slightest bit interested. In fact, he actively refutes Romilda on the Hogwarts Express. In the movie, on the other hand, Romilda is a very pretty girl, and Harry an average, hormonal teenage boy. He's all for touting his ridiculous title as the Chosen One if it means getting some love. Hermione promptly smacks him. Again, this scene is great for its levity, giving us a break from the horcruxes and duels to show us teens being teens—even if they are magical.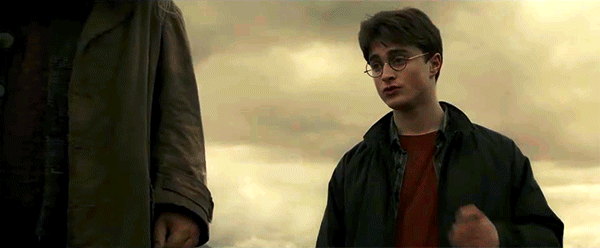 Felix Felicis in
Half Blood Prince
While Harry does undoubtedly take Felix Felicis in the novel, the effects are…slightly different, to say the least. In the book, Harry describes the feeling as "an exhilarating sense of infinite opportunity." He's giddy with confidence, knows exactly what to do, and does so with a smile. He's not necessarily single-minded—he takes a second to celebrate when he starts a fight between Ginny and her current boyfriend—but he is relatively focused on achieving his objective. 
In the movie, Harry's a bit more delirious. While the lucky potion is just as effective, Harry is much more silly and excitable than he is in the books. Instead of respectfully waiting for Hagrid to bury his pet acromantula, Aragog, Harry dryly comments that most people are unsettled by their pincers. Then he holds up his hands and makes clicking noises, for a demonstration. Even Hagrid seems to note that Harry's being plain weird at that point, but it's all the more funny for the audience. Harry's movements and throwaway lines are a joy to watch, and we can only hope that Daniel Radcliffe had just as much fun acting them!
Harry and Hermione's Dance in
Deathly Hallows Part 1
It's fair to say that Deathly Hallows is the darkest of the Harry Potter books. All of the danger has come to a climax, and the Golden Trio are away from school, fighting in the trenches to defeat Lord Voldemort once and for all. Warner Brothers and director David Yates wanted to pay special attention to all the details in the final book, so they split the novel into two separate films. That left them with a unique challenge: how do you take months of dreary camping and unfulfilled searches and turn it into a compelling film?
One thing Deathly Hallows Part 1 does is to pay just as much attention to the downtime as the big plot points. While the trio is tired and hurting, there's always some light to be found in the dark. After Ron leaves their group, Hermione reaches her emotional low. Harry's heartbroken too, losing his best friend. So he turns on the radio, grabs Hermione, and pulls her into a dance. It's silly and uncoordinated, not serious or daunting like the rest of their lives have become. And for a moment, they're able to smile and laugh and be at peace. Whether you see this scene as two friends supporting each other at their lowest, or read into it a bit more, it's a really touching scene amidst the stressful plot.
There are more incredible moments that the Harry Potter films gave us. Honorable mentions go to Hermione's line, "You foul, loathsome, evil, little cockroach," and Malfoy's hilarious, "I didn't know you could read." Even though the film series has been over for a full decade now, it's nice to know they're there to rewatch when you need them. Until the very end.
Tell us your favorite scenes in the Harry Potter series! And make sure to check out our Wizarding World crate for more magical merch!