Loot Wear is teaming up with female artists throughout geekdom to design and curate for our Loot for Her line. We're calling this program "For Her, By Her"! Each month we'll bring you a one on one with each artist we collaborated with, making unique apparel designed by talented women in the field.
This month we bring you star artist Anna-Maria Jung! Anna-Maria has designed our Star Trek: The Next Generation boyfriend cardigan for us in September's ROBOTIC theme.
Tell us a little about where you call home!
I come from a little mountain town called Graz, in Austria. Well, it's mostly hills, but the mountains aren't far. Graz is the hometown of THE Terminator, Arnold Schwarzenegger, and has a fantastic little hill in the middle from which you can see the whole city. 30 minutes from the town, you can find a chocolate factory in which you can eat as much chocolate as you want (I'm not kidding here).
What was the moment you realized you wanted to be an artist?
Being an artist wasn't always my first choice. When I was very little, I wanted to become a grave digger because I was curious what a real skeleton looks like. Nobody ever told me that I could just go into a museum or a church's ossuary to see those. Then I wanted to become a baker, with a focus on creating replicas of my dad's car in real size and cake form. After that, I followed the obligatory girl's dream of becoming an actress, which was superseded by the wish of becoming a mad scientist (I read an article about M.I.T. in a science magazine). Realizing my total lack of talent for math, physics, and chemistry, I decided to do the second best thing: become a cartoonist and create crazy robots and insane, fantastic technology in comic stories. I love being a cartoonist/illustrator. There is only one thing I would love to do more: hunt monsters and evil-doers with Nikola Tesla and H.P. Lovecraft.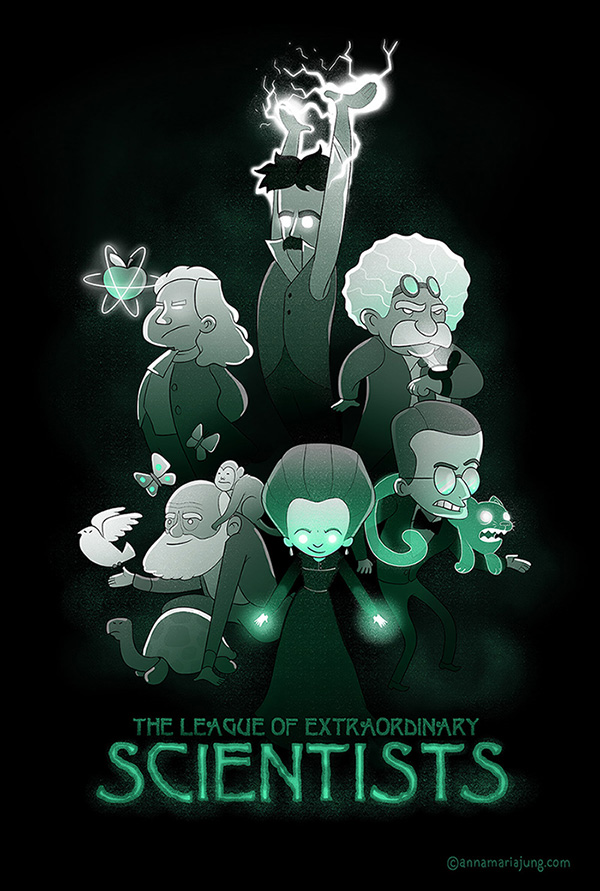 There are many things that can act as an inspiration for an artist. Who or what inspires you?
I have a lot of sources, from countless different aspects of life. Artistically I love classics, especially romantic art. Comics-wise, I am equally inspired by the French (Trondheim, Moebius), the US (more on a story-telling level: Warren Ellis), and the British (Grant Morrison, Garth Ennis) and Japanese comic scenes (I don't have real role models there, but I adore some of the style elements they use). I also buy almost every concept art book that is published – it's probably my favorite kind of illustration at the moment because it is usually very cinematic. Another source of inspiration is classic point-and-click adventures. When I played them first when I was 13 (Day of the Tentacle was the first) I always adored the cartoony backgrounds with all those layers of depth (a similar style used in traditional animation backgrounds). I also get a lot of inspirations by any narrative-based medium, movies, TV shows, computer games, books, theater but especially pen and paper role-playing games. And last but not least, other illustrators of course, famous and successful ones as well as some who are just on the rise. I learned at a lot by looking at illustrators on various internet platforms, illustration blogs, shirt sites or some of my illustrator friends.
What are your fandoms?
Monty Python, Star Trek, Computer Games (especially well written, narrative-heavy adventures), RPGs (Fantasy!), Fantasy literature (especially edgy, funny stuff), cartoons (Steven Universe, Adventure Time, Bob's Burgers, all that modern awesome stuff), Farscape.
This month you drew an absolutely darling picture of Data and Spot from Star Trek: The Next Generation for us! What do you like most about Data?
He's just adorable and he's part of my childhood – he was my favorite character on TNG when I was a kid. He was so darn funny and was, somehow, the most humane character on the show.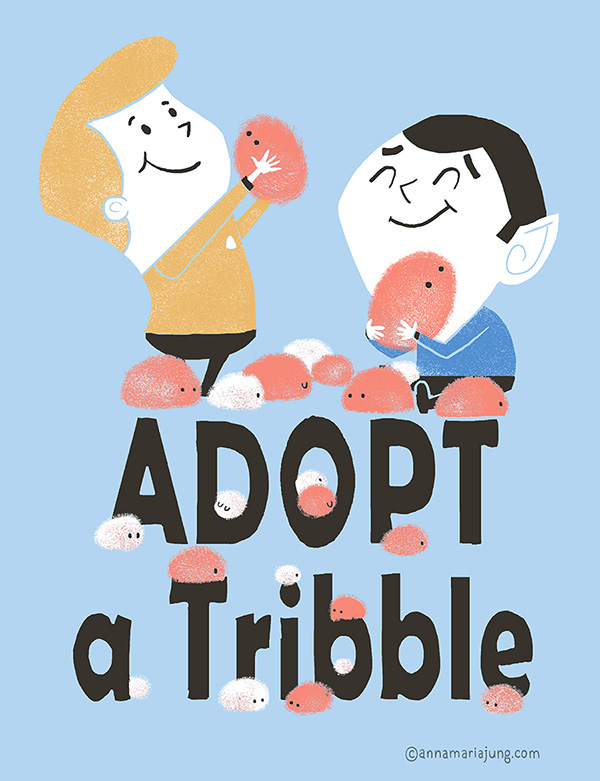 What did you like most about designing geek wear?
I checked out a couple of Star Trek episodes again in order to do "research". That's the best kind of research! 🙂
Can you tell me about your fashion style and your favorite things to wear?
I have slowly moved away from shirts with prints on (due to my profession I have soooooo many of them). Now, I just like practical clothing – my favorite is to wear a simple dress with a nice pattern or one color. I still have some favorite geek shirts I like to wear though, anything RPG/D&D related usually makes me happy.
What inspires you as an artist and keeps you inspired every day?
One of my favourite aspects of being an artist is that I can tell the stories I want to tell. As a more narrative, sequential illustrator, I can tell all those stories that I would like to read/see myself. This is an amazing feeling, and even though it is a lot of work (especially a comic), it satisfies me deeply.
What are some ways you push yourself artistically?
At the moment, I push myself by studying about 30 minutes in the morning every day before I start drawing for work-related projects. I study anatomy, other character designs and figure drawing, but try to switch it up once in a while. I also try to draw outside once in a while, and sketch people from life.
Do you have any words of inspiration for other female artists?
Persistency and the will to learn and accept critique by others is vital, no matter your gender. Open your mind for new concepts, but don't leave your own style and love for certain topics – don't bend to the Star Wars theme just because it might sell well, if that's not what inspires you. Study other people's art. Read articles. Deal with the industry. Be an artist and a businessman/woman. And never ever stop learning.
Also: Never forget to draw things that are fun! Fun is the most important thing! 🙂
---
---
We're proud to reveal the incredible design made just for us by Anna-Maria Jung!
SPOILER WARNING:

If  you don't want a spoiler yet, scroll no further!
Ready?  Okay. 😉