Hello there Looters! Steven here, and today I get to take the first leg of the Top 5s for each Universal Monster! Since our Core Loot Crate is featuring the big three in classic monster films this month, the Community Team wanted to about our top 5s! I drew Frankenstein's Monster. It may be because I am the big lumbering oaf of the team, but I'm honestly here for it! I've always been intrigued by the idea of the dead coming back to life and before zombies were a thing we had Mary Shelley's Frankenstein. This classic in horror literature paved the way for not just Frankenstein movies in the truest sense of the literary work, but it also brought out the creativity in others to use the characters and central plot point for inspiration in their own on screen adaptations! That's enough jib jab though, so let's get into what I believe to be the top 5 Frankenstein movies!
5. Re-Animator(1985)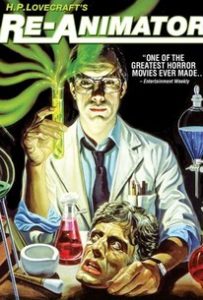 Re-Animator isn't a Frankenstein film in the literal sense but does still mirror many of the same themes. Based on H.P. Lovecraft's Herbert West–Reanimator, Re-Animator tells the story of Herbert West, a man who brings his professor back to life using a reagent he developed, but as most stories based around reviving the dead, it has negative consequences. This could be viewed as more closely related to the zombie film genre, but what aligns Re-Animator more with Frankenstein in this case is the "Mad Scientist" aspect. The basis of the story here, in my opinion is less about the actual creations and more about the common themes of tragedy in death, as many of the characters brought back to life are done out of despair and loss. It kind of gives the whole thing a Monkey's Paw kind of vibe. I included this on my list because although it is a little farther off from other films in terms of holding to the Frankenstein source, it does carry many of the same elements.
4. The Rocky Horror Picture Show(1975)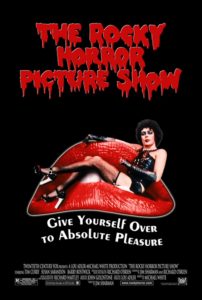 The Rocky Horror Picture show is probably the furthest from the source material on this list. However, it has developed such an overwhelming cult following that it must be included. The Rocky Horror Picture show is a musical that follows a newly engaged couple. The couple named Brad and Janet, played by Barry Bostwick and Susan Sarandon respectively, after their car breaks down on a long dead end road. Seeking shelter, they stumble upon an extravagant mansion owned by Dr. Frank-N-Furter, played by the always incredible Tim Curry. The way this ties into Frankenstein is in that Frank-N-Furter is trying to create the perfect plaything. It's also revealed that he used some parts  of his previous lovers to build his new man, Rocky Horror. The Rocky Horror Picture Show makes my top five because it was able to take the Frankenstein concept and turn it on its head. The music is fun, the story is silly, and honestly Time Warp stays in my head on an almost constant basis.
3. Frankenstein (1931)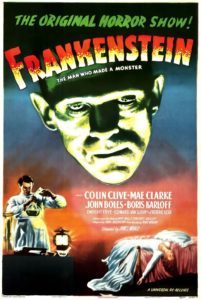 Can you really have a top 5 Frankenstein Movies countdown without the original making an appearance? Yes, you could. However, I can not. This was the one that started it all. It was revolutionary in its ability to instill terror in the hearts of early movie-goers. The story, if you haven't seen it, follows Dr. Henry Frankenstein, a scientist living in the Bavarian Alps. Henry and his assistant, Fritz, are at work piecing together a human body from parts of dead men. Some of these parts are obtained through graverobbing and others from freshly hanged criminals. The piece together this "monster" and bring it to life using a passing lightning storm. The Monster is innocent and childlike at first, but begins wreaking havoc after being antagonized. The monster's actions are usually performed out of fear as he has no understanding of the world around him. The reason, other than it being the original, that pulls Frankenstein into my top 5 is the story telling of the repercussions of "playing God" and toying with the laws of nature. The story is also tragic for the monster as he was unwilfully brought into this world and then punished to the fullest extent humanly possible all because he had no understanding of the world around him.
2. Edward Scissorhands(1990)
Again, we're drifting away from the obvious Frankenstein films to bring another one that is an homage to the idea of what Frankenstein and his monster represent. Edward Scissorhands follows the story of Edward, a man created by The Inventor. The Inventor used scissors as a placeholder for real hands because Edward was built in stages. Unfortunately, The Inventor dies before being able to finish Edward and he is left in the old abandoned house alone. The way the movie ties more of the Frankenstein elements into the story can become lost on the viewer if they don't have Frankenstein on the mind going in. The elements of being alone in a world you don't understand, inadvertently hurting people because you don't realize the power you have(Frankenstein being strength and Edward being the sharpness of his blades), and being punished for something you don't understand. It dives a little deeper into the idea that humans are the real monsters for lashing out at that which they don't understand out of fear, which in turn always makes situations worse. It provides a bit of social commentary in that regard and is a brilliant piece of cinema.
1. Young Frankenstein(1974)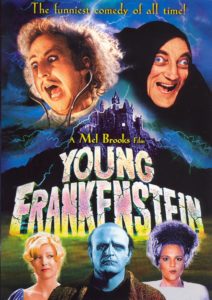 Well, call me cliché, but Young Frankenstein has been and likely will remain my top Frankenstein movie of all time. The movie follows Frederick Frankenstein (pronounced Fronkensteen), the grandson of Victor Frankenstein. Frederick is a lecturing physician at a college in America. He receives news that his great grandfather father has passed away and he inherits his estate. At this point, Frederick travels to Transylvania to inspect the property. It is there we meet Igor (pronounced eye-gor) who escorts him to the estate. While inspecting the property, Frederick discovers the secret entrance to his grandfather's secret laboratory, where he decides to resume his grandfathers experiments. The reason Young Frankenstein holds such a special place in my heart is that it was my introduction into parody. I've always been a fan of comedy but this was and still is one of the best parody films of all time. What makes it special in the realm of parody is that instead of just mocking the source material, it expands upon the lore while remaining clever, witty, and at some points ridiculous. The performance from Gene Wilder is as amazing as always, and the performances from Peter Boyle and Marty Feldman were some of the funniest you can ask for.
Thank you for joining me in this little walk through my 5 favorite Frankenstein movies! Feel free to reach out on social media and let me know your favorites, or just yell at me for mine haha! Don't forget to check out this month's Core Loot Crate titled "Monster Party" for an exclusive piece of Frankenstein merch!