Alright, I know what you are thinking.. "It's almost summer why is she giving us a guide to Spring 2020 manga?" Well simply, because I want to and you should appreciate it at that. We all know that Spring is the best time of the year for anime and manga and that is why I want to bless you today with this list of 10 of the best manga from Spring 2020! SO here we go!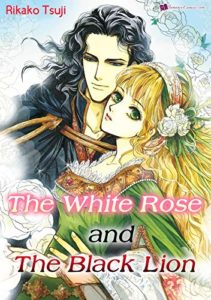 10. The White Rose and The Black Lion
Are you obsessed with romance manga? This one is for you! Lady Elesia has long idolized the Robin Hood-like figure known only as the Black Lion, so much so that she asked her father to teach her swordplay, archery, and how to ride a horse despite those being unladylike pursuits. When her father vanishes and a corrupt churchman claims her family lands and tries to make Elesia his mistress, she takes her skills and goes to the last place her father was seen, the Duke of Bristol's castle, where she disguises herself as a boy named Willy to try and find her father. But when the man who wants her for his own shows up, will Elesia manage to maintain her ruse, or will the handsome duke prove to be an unexpected ally?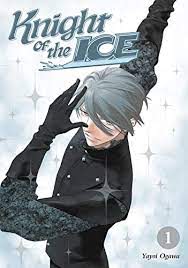 9. Knight of the Ice
This one gives me serious Yuri On Ice vibes. Chitose is trying to make a life for herself in the big city as a journalist for health magazine SASSO, but there's just one problem: her childhood friend, Kokoro, is a champion figure skater and he can't function if she's not there to cheer him on. This means that Chitose is stuck running between work and Kokoro's competitions, and it's starting to take a toll on her job. But life's not easy for Kokoro, either he has to hide his love of a children's anime that gives him strength, and his childhood friend Chitose has no idea that he's been in love with her for years. Will either of them be able to succeed in their careers, or are they doomed to fail in both their jobs and their personal lives?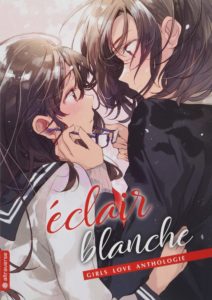 8. Éclair Blanche
If you like girls love this is exceptional. In this follow-up to Eclair, girls and young women fall in and out of love, find loves requited and unrequited, and explore romance both platonic and romantic. Creators include Canna,  Nakatani Nio, Fly, Hiroichi , and many others not previously available in English.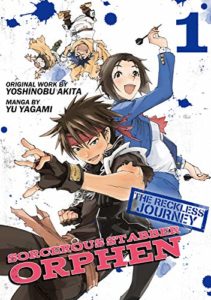 7. Sorcerous Stabber Orphen: The Reckless Journey
Orphen is a down-and-out young adult just trying to make a living as a loan shark. He might just be mistaken for your average person. That is, if he were not one of the most powerful sorcerers in the world, having once been a member of the prestigious Tower of Fangs. For this reason, his name is not unknown to everyone, especially to a young policewoman who wants his help in tracking down two criminals. Expect that Constance Maggy is horrible at her job. She has never been able to catch a criminal, and oftentimes injures innocent people in the process of chasing down a perp.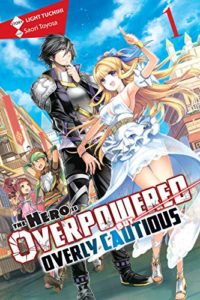 6. The Hero is Overpowered but Overly Cautious
The Gods are real, and they want nothing more than to protect the universe from evil. Ristarte is younger member of the pantheon, looking to carve out a name and help people. She has been tasked with saving a world—although it will be difficult. This world is Ranked S, meaning it is menaced by demons of incredible power. Thankfully, she seems to have found the perfect Hero to beat back the darkness: a man from Japan whose high stat numbers indicate incredible power.

5. Caste Heaven
School can be difficult at the best of times. But it's especially difficult for Class 2-1, where Castes are everything. A sick card game is played. You go searching, and depending on which card you find, you are given a rank. If you are the king, everyone bows to you. If you are the Joker, however, you are the Target. People are permitted to do whatever they'd like to you, to bully you and vent their anger at their whim. Azusa is the current king. Everybody does exactly as he says.  Except, in the most recent version of the game, he has lost his status. He is now the Target, and a person who used to be below him, his dutiful servant, now lords over him.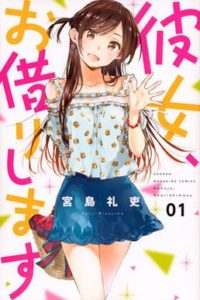 4. Rent-a-Girlfriend
Kazuya has never had much luck with girls, and when his first girlfriend ever dumps him after a month and then blocks him on social media, the college student is feeling like things will never work out for him. On a whim, he signs up for the Diamond Rental Service, an app that allows you to rent a girlfriend for a day. Things are pretty well over when he gets a call from his parents that his grandmother's in the hospital, and Chizuru ends up going with him…and his overeager grandma believes that she's really his girlfriend! Now Grandma's getting demanding and Kazuya's not sure what to do – especially when it turns out that his rental girlfriend is not only a student at his college, but also his neighbor…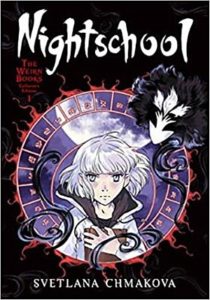 3. Nightschool
There are things that lurk in the shadows.  Dark things. Dark creatures. Alex Treveney is one such being. She is a Weirn—a magic user with a familiar, a being of pure pit called an Astral. Despite it being her time, though, her place to show the world she really is, Alex prefers to stay indoors, much to the chagrin of her sister, Sarah. Sarah works at the NightSchool, a high school where vampires and mermaids and wizards congregate and learn to harness their powers.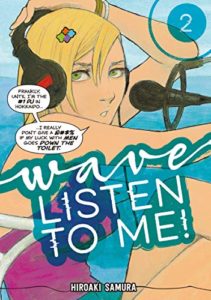 2. Wave, Listen to Me
Minare likes to drink. And who could blame her? Her crappy boyfriend just dumped her and took several thousand yen from her in the process. But there is such a thing as being a little…too vocal when the liquor hits you. Being a little too candid. Such is the case when, one night, she opens up to an older gentleman in a bar. The next day, she finds that the man (a rather prolific radio producer in their city of Hokkaido) had, without her knowledge, recorded her inebriated confessions and is currently playing blaring them across the airwaves, even in the restaurant where she works. To save face and dignity, Minare breaks down the doors of the station BTS and, at the behest of the producer, fills the space of the segment with her own, off-the-cuff ramblings.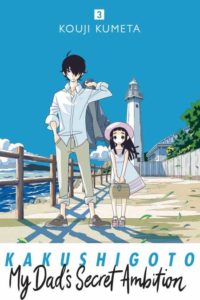 1. Kakushigoto: My Dad's Secret Ambition
Kakushi Goto has a secret he wants to hide from his ten-year-old daughter Hime at all costs: he's the creator of racy manga. Not only is that not dignified, but how can he, a single dad, possibly admit that he's the man behind Testi-Cooool and Tights in the Wind? It's hard enough trying to make up for a lack of mom (one Hime doesn't seem to feel) without this complication. From leaving the house in a suit to buying up all the bootleg merchandise at a local festival that might give his secret away, Kakushi has his work cut out for him as does his best to be superdad.
---
Just making this blog has gotten me super excited to dive into some of these manga. If you are an avid manga reader and didn't see one of your favorites on the list, please forgive me, I am no expert. As always, thanks so much for reading my blog and be sure to click on my face for more anime related content!
Which manga are you excited to read this spring? Be sure to let us know on TWITTER!