WHAT IS UP DEMON SLAYER FANS! Thanks for joining in on this blog. This one's gonna be short and sweet because as you all know there is only so much I can say at this point about the new Demon Slayer movie considering it doesn't release in the U.S until the beginning of 2021. ANYWAYS, The much anticipated Demon Slayer: Kimetsu no Yaiba Mugen Train anime film opened in Japan last Friday, taking everyone watching for an emotional ride through the next story of the anime adaptation of Koyoharu Gotouge's manga series that ran in Weekly Shonen Jump. The story of Demon Slayer: Mugen Train continues from where the Demon Slayer: Kimetsu no Yaiba anime series left off. It's strongly recommended to watch that before watching Demon Slayer: Mugen Train, but I assume the film will do a good enough job of bringing people up to speed in its opening scenes so that it's not 100 percent required.
Also I am not sure if you heard  Demon Slayer literally CRUSHED IT, and its large $43.85 million USD opening proves it. No other film even came close this past weekend. While the total isn't the highest opening of 2020, it is one of the largest since COVID-19 forced millions of theaters to close. Demon Slayer's movie outperformed many films opening this past weekend, but the jury is still out on how its lifetime gross holds up. We will see. Meanwhile in Japan, this latest film has demolished box office records everywhere. Demon Slayer: Kimetsu no Yaiba – Mugen Train now has the highest-grossing opening day in Japan as it grossed $12.03 million USD. Its weekend total makes it the highest-grossing opening weekend at the Japanese box office. EVER.
If that wasn't convincing enough to make you see the movie when it releases then just imagine how insane the animation is going to be. Does anyone remember the scene in the anime where Tanjiro is fighting Rui, the spider boy?I remember it like it was yesterday because the animation alone made my jaw drop to the floor.I'll leave a gif of what I'm referencing below. OK so as I was saying, the animation alone should make you want to watch this film.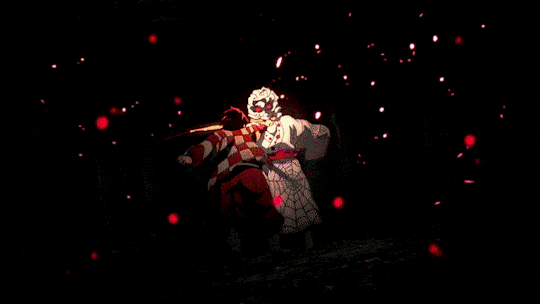 From what I have seen through the trailer and other teasers Demon Slayer: Mugen Train has got to be Rengoku's story. While we first met Rengoku at the Ubuyashiki mansion in the TV anime, we really get to know him through the story of Mugen Train and see the struggles he went through to get to where he is. That is actually really exciting in my opinion. I feel like a lot of anime's strictly focus on the backgrounds of their main characters so It is going to be really cool to be able to learn more about the history of not only Rengoku but the Demon Slayer Corps as well.
Anyways, that is all for this weeks blog, as I said it was going to be short and sweet. I will make sure to do another review type blog on this movie after I have seen it and can give you all some better feedback. As always thanks so much for reading my blog and all of community's blogs here at Loot Crate. Be sure to click on my face below for more anime and Hello Kitty related content. Have a great day!
Are you excited for Demon Slayer: Kimetsu no Yaiba Mugen Train? Let us know on TWITTER!