Hello my beautiful fellow weebs. It's me, your otaku fairy godmother granting you yet another wish with a product reveal of our February Crunchyroll Crate themed "Fantasy World!" Who's excited? Before I reveal the beauty that is the item I'd like to talk a little more to the anime that it comes from! So let's get to it…
So I'm A Spider, So What?
Warning: May contain Spoilers. 
Kumo Desu ga, Nani Ka? o
r 
So I'm a Spider, so What?
is a light novel written by Okina Baba and illustrated by Tsukasa Kiryu  about a girl who is reincarnated in another world as a spider-monster. The light novel is published in Japanese by Kadokawa Shoten and in English by Yen Press. The manga is published by Shosetsuka ni Naro.
The story goes as such: The day is as normal as it can be in high school as the students peacefully go about their everyday activities until an unprecedented catastrophe strikes the school, killing every person in its wake. Guided by what seems to be a miracle, a handful of students are fortunate enough to be reincarnated into another world as nobles, princes, and other kinds of people with prestigious backgrounds.
One girl, Kumoko, however, is not so lucky. Being reborn as a spider of the weakest kind, she immediately experiences the hardships of her dire situation. Even so, she must press on to survive the numerous threats that endanger her life. Discovering that her new world has a system like that of an RPG, she tries her best to hunt prey and defeat monsters to level up and evolve. As she gradually grows stronger, she hopes one day her efforts will be rewarded, and that she will be granted a better life.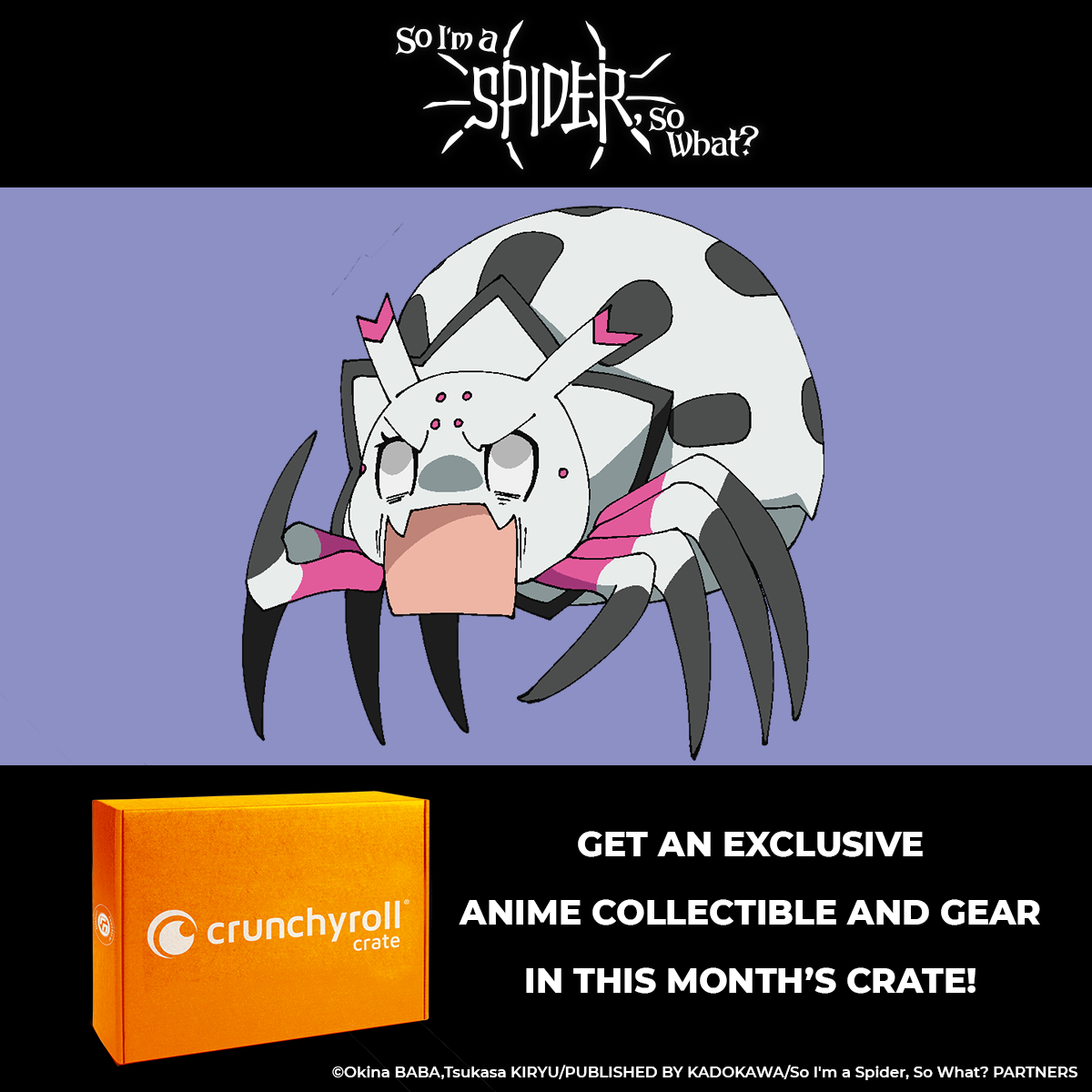 If you read the synopsis and thought, "This story is about fighting against monsters in an underground dungeon," then I guess I can't blame you. That was more or less my initial guess as well. While I thought that the events would eventually advance further, I believed that at least the genres, themes, and narrative structure would remain at least somewhat loyal to the idea of a conventional battle gauntlet survival struggle. Then I actually started reading further and quickly found myself wondering "What even is this?"
If you have been lucky enough to watch the first two episodes of the show, you may have also thought "Does this character ever shut up?" There is TONS of dialogue in this show and you have to be a level:expert weeb in order to read the subtitles fast enough. Props to the voice actor, Aoi Yuuki, for being able to speak faster than the human eye can read.
Anyways, back to the product reveal, here at LootCrate we thought, "What do anime lovers and spiders have in common and how can we use that to make an awesome product?" The answer is nothing. Anime lovers and spiders don't have that much in common so we decided to do an AWESOME product anyways and here it is!
WE HEARD YOUR REQUEST, AND HERE SHE IS. FIRST ONE EVER MADE, ALL EXCLUSIVE KUMOKO PLUSH!!!!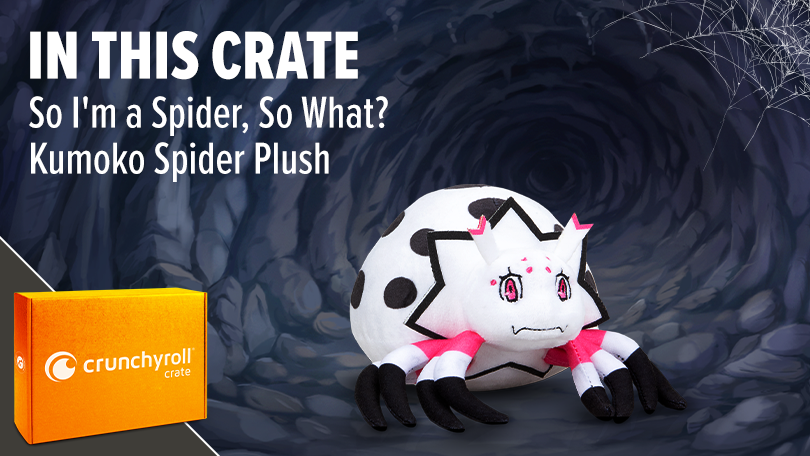 She's creepy, she's crawly and she's ready for action! Isn't she beautiful?
Make sure you snatch this up before they are all gone! BTW what do you think of her? Let us know on TWITTER! Also, we made a TikTok with her you can watch HERE! As always, thanks so much for reading and make sure to click my face below for more anime related content!