Sometimes even a well-known superhero reaches a point in their history where it's time for a new direction. A direction that delivers them higher, further, faster… more.
When Kelly Sue DeConnick took the reigns of Captain Marvel in 2012, that particular moniker was new Carol Danvers, the Air Force pilot who absorbed a fusion of Kree DNA and took on superpowers as Ms. Marvel for decades in the pages of Marvel Comics. In DeConnick's acclaimed run, Carol re-emerged as of the most inspiring and beloved figures in the modern Marvel canon, with a new look, new adventures and a dedicated fan base. (Salute, Carol Corps!) She's only continued to grow in popularity; as DeConnick moved on to other projects and other great writers – Michelle Fazekas, Tara Butters and Margaret Stohl among them – have continued to tell Carol's story, the character has become ever more present in Marvel animation, games, and, next year, her long-awaited debut in the Marvel Cinematic Universe.
Captain Marvel is one of the female heroines we're celebrating in the current Marvel Gear & Goods theme, "Take the Lead," so we caught up with DeConnick to talk about how she approached writing the character, some of her other favorite heroes and inspirations, and how darn excited we all are to see Brie Larson put on the red, gold and blue…
When you first picked up a comic book that inspired you, which book was it and what were the stories or characters that you found intriguing?
I think that the question of what's inspiring and how do you define that experience is pretty big. So, I mean, there were… the ways in which I was inspired by comics mostly was not to go out and solve crimes, but rather to create comics, to tell stories. The first comic I remember really spending time with was, hilariously, a Christian comic about the musician Andraé Crouch, and it was about him on an evangelical bus tour or something. I was on a road trip with my grandparents, and they bought it at a gas station for me and I was bored. And I'd read everything, this was pre-phones and iPads, even before video games… We used to have to entertain ourselves with conversation, and pencil and paper! And I remember reading this comic a few times and then cutting it apart, and kind of re-mixing it and trying to draw copies of panels and change things. I was probably more creatively inspired by my boredom than I was by that particular comic, if I'm being 100% honest. But that's the first time that I remember really super-engaging [with a comic].
One of the first characters that I really loved was a Batman villainess named Natalia Knight, Nocturna is her villain name, and I remember drawing her a lot. Again, I was not inspired to be her – although, I was a very goth teen, so. But it was creative inspiration, I felt the power of visual storytelling.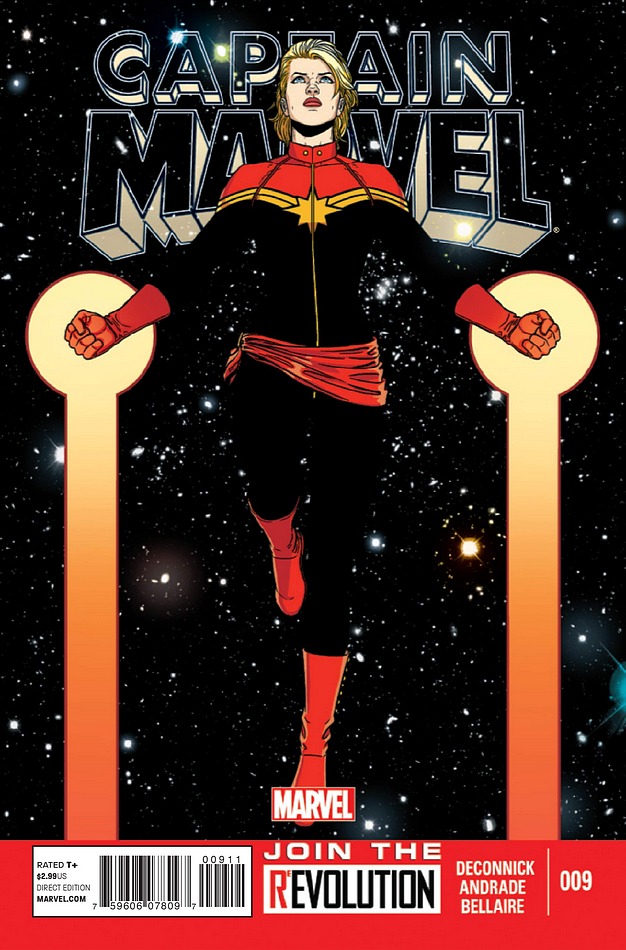 This particular incarnation of Carol Danvers that originated in your book has, over the last several years, become the definitive version of the character. When you sat down to write that first run, what were the characteristics that you most wanted to imbue her with?
My concern when I sat down to write the first run was that, because of the role she had had to play in Civil War – and I understand why this was done, it was a larger chess game and people had to fulfill certain roles – but Carol had done some things in that event that I felt were indefensible. And done them in the name of being a good soldier. That was a thing that I meditated on quite a bit because, having grown up in a military family, I understood that a good soldier is not one who blindly follows orders or policy. I think that's something that Captain America very easily and naturally embodies, and no one has difficulty with that.
There's also, I think, this difficulty with us having a lack of iconic reference for a female soldier. People tend to go to this "okay, regimented, by-the-books" [archetype] – I think that Margaret Houlihan, early in M*A*S*H … tends to be the archetype. If you look at [Carol] when she was Ms. Marvel in, oh what was that kids' show? – The Super Hero Squad Show. Carol Danvers was that archetype, she was a killjoy and a nag, and everyone's unpleasant mother. And it's really hard to root for that kind of character, and give them a solo title to carry, because who wants that? So, the key problem I had to solve, I felt… was to recover her character from the events of Civil War, even though there had been some great work done on the character since by Brian Reed, I felt she had not distanced herself from that activity.
Also, I needed to make her cool. I needed to make her somebody you cheer for, so my approach was Carol Danvers as Chuck Yeager. Having grown up in a military family, on Air Force bases, my feeling was that this idea that we have of the rule-following, stick-up-the-butt soldier is not my experience of the military people I grew up with. It is most certainly not my experience of pilots. There is a particular glimmer in a fighter pilot's eyes, and there's no reason that should be different for a female character. So I wanted to give her swagger, her Chuck Yeager, her Pappy Boyington. And I think we did manage to accomplish that. What I love about her is she's headstrong and cocky, and also frequently wrong. That's the thing about Carol, is she can be wrong and learn from it and get up and… okay, I was wrong, I blew it, I'm going to take a different tack. And I find that more resonant than the Carol who always makes the right decision – which also assumes there's always a right decision to make! Like, the world is very complicated, things are not always very easily black and white. She's a good character for a complicated world.  
You've also written Avengers Assemble and other titles while at Marvel. Who were some of your other favorite characters, particularly female characters, to write?
I loved writing the Carol/Jessica Drew [Spider-Woman] dynamic, that was a lot of fun for me. Carol's very upward facing, everything about her is aspirational and she's bright, big, sunlight. And she's also a little corny, her sense of humor is a bit off, she's like dad-joke funny.  Jessica is darker than that, Jessica is genuinely funny and it's a biting kind of funny. And where Carol is [reaches arms out], everything about Jessica is this [holds up fists] – she's defensive, fists-up. And the fact that the two of them are such good friends and appreciate each other's approach so much is very beautiful. I loved the opportunity to write female friendships and I got to do so many in that book. Wendy Kawasaki is a character that I adored writing, Tracy Burke, Helen Cobb… Kit, the little girl, the intergenerational relationships were great. Oh! – Anya Corazon [Spider-Girl]. Writing the three "Spider-Women", Anya, Jessica and Natasha [Black Widow] in that run we did with Warren Ellis on Avengers Assemble, the three of them together were hilarious, I would totally write that series. We just sort of stumbled into it, but after writing that scene of them in the elevator? It was like, "Oh, this is gold."
You had a run of issues early on that took Carol into the past, and other writers have taken her in some great directions since your run ended. Are there any storylines or situations you didn't get to explore with her that you would have liked to?
Wendy Kawasaki was created because I had asked for Anya Corazon and she wasn't available. I did get to write Carol and Anya later in Avengers Assemble, but I ended up finding that I preferred the chemistry between Jessica and Anya… I would have liked to have gotten more into the relationship between Rhodey [War Machine] and Carol. I find myself cringing as I say that because I'm rather famously uninterested in writing romance, it's a thing I have to be prodded to do. But I think it was less about romance – clearly there's a romantic spark and core that I was trying to develop there that actually came very naturally – but their chemistry, the way that they pushed each other to do more, and to do better.  The romantic competitiveness was really interesting to me, we don't get to see that a lot. Culturally when we see women compete we see them compete with each other, usually in a very back-handed and manipulative way, for the attention or approval of a man. So, I'm very interested in women who are willing to compete [for other reasons] – Carol competing with Helen Cobb, or Carol with Jessica, and those friendships surviving those competitions. So yes, I would have liked to have spent a lot more time with Carol competing with Rhodey, and how that could be sexy. Oh, there's so many things. My son has a million questions for me about the Flerken. I want to write a Flerken kids' book: Henry and I should co-write it, about the Flerken home world and the history for the species. He has so many specific questions about their biology and abilities, and their cultural structure. We should write it, it would be so great!
And finally, a question that I think I know the answer to, but I'm going to ask it anyway for posterity: How excited are you for the Captain Marvel movie?
Apoplectically excited! I know things! And I have to say, I feel very good about it. These movies are fun, they're supposed to be fun and it is fun, it's hilarious, it's going to be amazing. But it's also important, and important I think for a lot of the reasons that we just talked about. It's important to be able to see women in these roles. We've seen Wonder Woman which was so important to a lot of people, as well. I'm trying to figure out the best way to articulate this… The same way we were talking about Carol and Jessica, they can both be wonderful and they can mean a lot in very different ways. It's going to be great, you guys.
---
---
Marvel Gear & Goods' "Take the Lead", featuring not only Captain Marvel but She-Hulk, The Wasp, Squirrel Girl and more, is available until 7/15 at 9pm Pacific!