To celebrate this year's Women's History Month, we spoke to some amazing female cosplayers, writers, and artists! Today we are highlighting the work of writer Leah Williams! Leah is an American writer originally from Oxford, Mississippi. She writes comics for Marvel, including X-FACTOR, THE AMAZING MARY JANE, GWENPOOL STRIKES BACK, DOCTOR STRANGE: THE END, WHAT IF: MAGIK, X-MEN BLACK: EMMA FROST, and AGE OF X-MAN: X-TREMISTS. Her first original comic series is a seapunk tech noir fantasy coming soon from Oni Press. Leah has also written nonfiction articles and essays for The Atlantic, Oprah Magazine, and Salon.
How did you get into writing?
I've always been into writing in some form or fashion—I was a really bookish kid growing up; I've always been super into reading. Writing became a natural extension of that. As a kid I wrote my own little short stories or silly plays, and this same habit eventually became writing screenplays, essays, articles, and novels as an adult. I always did it for myself, though—just for fun. I never believed I could pursue writing professionally until enough kind strangers on the internet convinced me otherwise.
What writers inspired you? What are you currently reading?
It might seem like a cheesy answer, but I'm profoundly inspired by my fellow X-office writers every day. It's such a privilege being able to wake up every day and collaborate with some of the most brilliant creative minds in our industry, and do so in this fictional world we share and love so much. I've also been really impacted by Ann Nocenti, Louise Simonson, Chris Claremont, and Alan Davis. On the broader scope I also love Barbara Kingsolver, Karen Russell, Octavia Butler, Jorge Luis Borges, and Haruki Murakami…you're probably sensing a theme here. Right now I'm reading a lot of books about the histories of both magic and math as research for a secret upcoming project.
What was the appeal of working in comics for you? Are there other forms of writing that you enjoy or would like to explore?
I love the collaborative nature of comics! Comics can be very much an orchestral art form like filmmaking, where there are many different moving pieces going at the same time. Comics made this way are at their best when everybody on a creative team is all striving towards the same shared mirage of their art. There's few things I find as satisfying and fulfilling as clicking creatively with my collaborators and getting excited about stuff together. It's so geeky, but I do love it.
What's a character direction you'd like to take that might surprise readers?
You mean, like, an unexpected direction for a licensed character's existing mythology? Hm. I can't give away anything that I would ever hope of actually accomplishing in a work-for-hire scenario but generally speaking, my favorite thing is to make readers fall hopelessly in love with the characters they previously hated or didn't care about.
What is your approach to writing iconic characters? Do you like to try new things or keep it familiar? Is there a certain amount of pressure when writing a well known character?
There's always a proportionate amount of pressure corresponding to how popular a character is, how big the audience for this character is, and how long this character has been around. Writing for Marvel or DC is kind of like being a torchbearer, in that being handed the reins to a beloved character with a very important legacy in Western comics is a weighty thing. An unexpected heel-turn with a white hat character can feel jarring if the existing mythos doesn't support that kind of change, even slightly. This can be disruptive to readers' suspension of disbelief. For something like that to read as a sincere and authentic change to a character, first you have to build out your story in a way that sets up this new journey you envision for a character. But my favorite approach regardless is by far to always to use the existing canon of a character and then do something that's both additive and unexpected with the existing mythos.
I strive for both authenticity and evolution at the same time when I do character-work, because I'm someone who's been profoundly impacted by serialized storytelling and falling in love with fictional characters. I, like many enthusiastic cape comics readers, have a sense for when changes that feel inauthentic, un-researched, or done simply for shock value. But for the same reason–this is exactly why I love finding ways to surprise and delight fans of a character. Making a complex character like Emma Frost resonate with both long-time and brand-new readers is like completing the most difficult obstacle course. It's exhilarating! And it always feels like I'm simply sharing with readers what I love about a character, too—but doing so along with sharing what only I can see in the far distance.
What's a character you've always wanted to write?
Atrocitus. I love Red Lanterns, and of them all I love him the most.
How have comics progressed since you began writing? What changes would you like to see in the future?
I think the Western comics industry has experienced several significant changes within the fairly short amount of time I've been writing them! There's been quite the reckoning about harassment in the industry and at cons, and in the future I hope to see BIPOC creators flourishing in every storytelling space that has excluded them for far too long. I also wish comics as a general medium were made far more accessible to new readers.
Female, BIPOC, and gender identity among superhero characters are becoming a big topic of discussion in mainstream comics. Do you think that it's making a difference in the content or is there something more that can be done to see more of these types of characters?
There's always more work to be done. I'm passionate about this particular debate and believe it won't be won until whiteness and straightness are no longer considered the default settings of American superheroism.
Outside of writing, what are some of your other passions?
I love reading—I'm a voracious reader. And I'm one of the very many folks who took up rollerskating and the ukulele during lockdown, so at the moment I still joyfully practice these things I'm awful at. I'm an absolute Nintendo fanatic. I play everything and devour every Nintendo release; new and old. The Switch was like a gateway drug for me into that as well as collecting older systems, vintage game cartridges, and devouring long-plays on Youtube of obscure or limited-release old games. I love antagonizing my best friends/fellow X-Men writers Tini Howard and Vita Ayala with the worst memes I can find and new music I think they would like. And lastly, I'm a passionate napper. I love sleep.
Any future projects we can look forward to?
Nothing I'm at liberty to to divulge here, but there's absolutely some upcoming surprises that haven't been announced yet! Big clues in the X-Factor Hellfire Gala issue that comes out this June.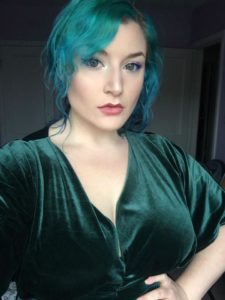 If you would like to learn more about Leah, head to her Instagram, Twitter, and Facebook