When Deadpool first hit the scene waaaaaay back in New Mutants #98 (1991), no one knew what a crazy popular character he'd become in the world of comic books. Decades later, Deadpool is as popular as ever and he's got the merchandise, movies and memes to prove it.
To celebrate the latest Deadpool Loot Crate themed as "Teacher's Pet," we wanted to showcase five fun and weird Deadpool items that exist in our crazy Deadpool loving universe.
DEADPOOL BOBBLE HEAD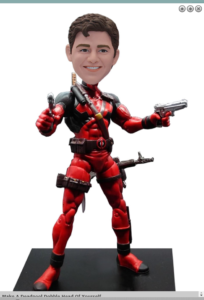 There's a company out there that will put your face on Deadpool's body. This is the perfect living room piece to let visitors know that you're a complete psychopath.
DEADPOOL MONOPOLY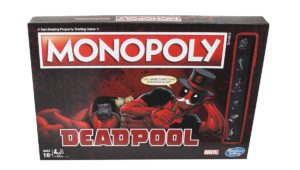 Why play regular Monopoly when you can play Deadpool Monopoly? This is the first time that Monopoly has licensed itself for use to any outside brand or property, making this version of the game worth a bazillion hundred dollars. Wait a second… nope. I'm wrong. About all of this.
DEADPOOL PINBALL
Stern Pinball made a machine that's drenched in the Deadpool universe. It's a lot of fun to play and would look great in my living room if anyone has $5,000 and wants to buy me one.
DEADPOOL QUILT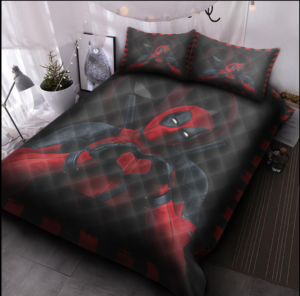 When your girlfriend/boyfriend dumps you, it's going to be the best thing ever because you'll get to curl up in bed and cry for days/weeks/months (usually months) with your favorite wise-cracking hero.
DEADPOOL STARRY NIGHT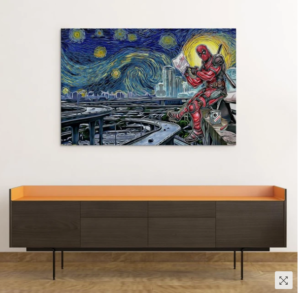 Show off your artistic side with this Starry Night Deadpool painting. Not only will you class up the joint, but you'll be the talk of the comic book town when people come over for Marvel trivia night.
Get your Deadpool collection started the right way and grab a Deadpool Loot Crate today!