This week, the original Star Wars (back then, not-yet-subtitled Episode IV: A New Hope) celebrates its 40th anniversary. Released May 25, 1977, it fundamentally changed pop culture for generations to come… but it wasn't the only big pop culture debut of the year.
1977 proved to be a landmark year in a number of ways, from arts to technology to random pop trivia footnotes worthy of a chuckle. We wanted to pull together a snapshot of these debuts 40 years ago, even if on the grand scale of things they get a little bit overshadowed by the bow of Luke Skywalker's adventure in a galaxy far, far away…
The Space Shuttle
While the first full-fledged Space Shuttle flight wouldn't take place for another four years (Columbia launched in April of 1981), NASA dipped its toe into the waters of reusable orbital spacecraft 40 years ago with Enterprise, the first test model space shuttle flown by astronauts Fred Haise and Gordon Fullerton for all of five minutes and change. No big booster rockets propelling it, either; it was launched from atop a Boeing 747.
(What it did have, of course, was an appearance by the Gene Roddenberry and the original Star Trek crew to watch the launch. Awesome.)
The Incredible Hulk (TV)
Marvel superheroes had successful incarnations as cartoons starting in the 1960's, but CBS's adaptation of the green, gamma ray-infused rage king debuted in November 1977 and arguably marked the House of Ideas' first successful live-action series. (A live-action Spider-Man, starring Nicholas Hammond, had bowed two months earlier but never truly took off.) Despite off-book alterations – now called David Banner, not Bruce, the Hulk's mild-mannered alter ego is no longer a nuclear physicist but a medical doctor – the combo of Bill Bixby's charisma, Lou Ferrigno's brute force and the man-on-the-run premise (which, let's be honest, they stole from The Fugitive pretty much) made it a bona-fide hit.
The Punk Movement
This is really more of a convergence of happenings than a true debut, but 1977 is definitely viewed now as the year that put punk on the map. The Sex Pistols, full-fledged controversy-baiting superstars in the UK already, unleashed their one and only album in a blaze of glory while fellow trailblazers The Clash released their debut to wild acclaim. Back in the U.S., though The Ramones had forged ahead as the godfathers of punk the year before, they released two more albums in '77 and coalesced the New York CBGB's-based scene (including Blondie, Talking Heads, Television and more). A lightning rod that disrupted the dominant disco and arena-rock trends of the day, and influenced entire sub-genres of bands for decades to come.
2000 A.D./Judge Dredd
In American comics, a number of now-classic characters bowed in 1977 – among them Huntress, Black Lightning, Spider-Woman and Sabretooth.  Across the pond, meanwhile, a major imprint was about to launch with a steely bad-ass as its marquee star; it's perhaps no accident that 2000 A.D. debuted in 1977 the same year that punk exploded. Judge Dredd's balancing act between righteous hero and unrelenting rule of law is as unnerving as ever, and 2000 A.D. – whose pages have included the work of Neil Gaiman, Grant Morrison and Alan Moore, among many others – has remained what VICE cannily referred to as "the Black Mirror of comics, inverting whatever social ill is freaking out the British public."
Atari 2600
When Atari's first home gaming console went on sale in September of 1977, it was priced at $199 – adjusted for inflation, that's nearly $800. For this reason, the Video Computer System (VCS) was initially slow to take off as a broadly-popular gaming option, particularly for kids whose parents couldn't afford it. Also debuting in '77 – and selling infinitely better due to its relative bargain price – was the handheld Mattel Classic Football game:
Such amazing potential wouldn't be kept out of young hands for long, though; eventually, thanks to manufacturing innovations and, most notably, programmers' ability to push the capabilities of the hardware, in two years' time the Atari 2600 was the best-selling Christmas gift in America.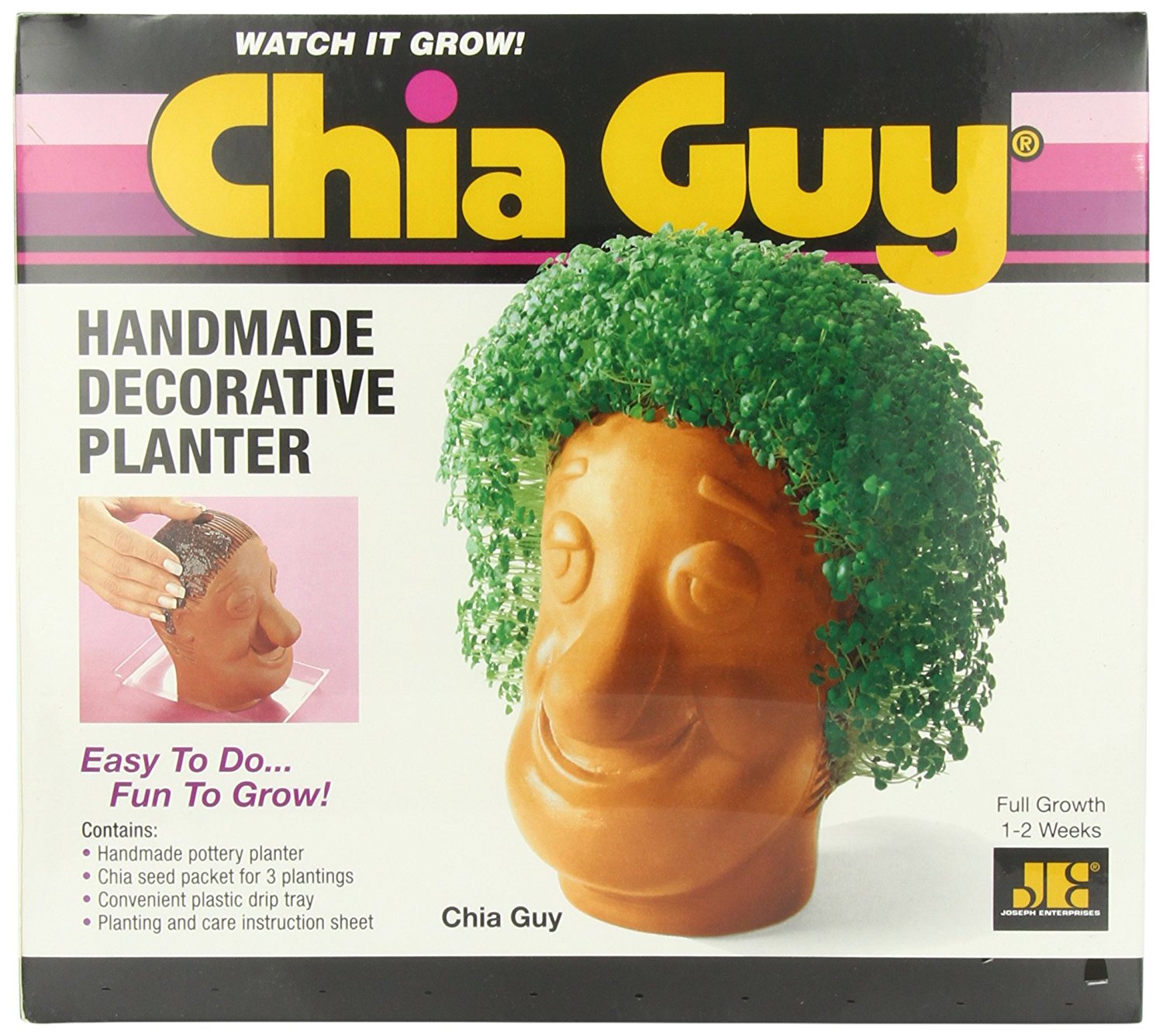 Chia Pets
Truly, every watershed year also has its share of fads. The 1970's had a boatload of them – including oddball things like Pet Rocks (c. 1975) and Chia Pets… or to be more precise, Chia Guy, a weird-looking dude who was the first terracotta plant-based "gift" that debuted in 1977.  He didn't sell very well, though his chia-sprout "hair" definitely evoked that weird trend of the late 70's where dudes were getting perms left and right. When Joseph Enterprises debuted a ram-shaped, cuddly version, the "Pet" options actually became popular for a bit. And, well… they never really went away, did they? Go down to your local Rite Aid right now, you'll find them!
What are your favorite debuts from 1977? Tell us on social with the hashtag #Loot77!
---
---
Star Wars features in the GUARDIANS Loot Crate, which is shipping now! And our new theme is ALTER-EGO, featuring The Hulk among many others; sign up by 6/19!