When you think of some of the most popular and successful superhero franchises, there is typically a handful that come to mind – and these days it feels like so many of our favorite superheroes are getting screen time in new and exciting ways.  But the heroic experience I'm the most excited about hits shelves on September 7th with the launch of Marvel's Spider-Man!
I dressed up as your friendly neighborhood Spider-Man no less than five times as a kid (I even have a picture with Santa Claus where I am, inexplicably, dressed as Spidey).  So I have to admit that I was crazy excited when I found out I was going to get the chance to chat with an integral member of the team behind the Marvel's Spider-Man exclusively for PS4 –and that is none other than Ryan Schneider, Chief Brand Officer at Insomniac Games!  
It was a genuine honor that Ryan took time out of his busy schedule – ya know, they're launching a massive game in a month! – to chat with us about the experience of bringing the entire Spider-Man universe to life in new and exciting ways:
---
Hello, Ryan! I know things have to be incredibly busy for you right now, so thank you so much for chatting with us. To start, tell us a little about what Marvel's Spider-Man on PlayStation 4 does with Peter Parker that hasn't really been explored before.
Thanks for chatting with me. There are a few things I'm proud to highlight when it comes to the uniqueness of Peter Parker in Marvel's Spider-Man on PlayStation 4. For starters, this is a completely original story. We all know and love Peter's bit-by-a-spider origin story. It's his teenage coming-of-age tale. But we're exploring something different, the next phase in his life, which begins roughly eight years later. We wanted to know what happens to Peter after he graduates from college. How is he balancing a new career while evolving relationships with family and friends, along with his on again, off again girlfriend Mary Jane Watson? In other words, we're focusing heavily on the human side of being Spider-Man in our story. You'll even get to play as Peter Parker. There's a lot more for players to learn about Peter directly when they play the game.
You're approaching Peter after he's already spent eight years as Spider-Man, so he's not quite the young hero he is in the current run of films. How did the story of the game land on this version of him?
This is a story we were interested in telling from the project's beginning. We knew we wanted to avoid familiar narrative ground and bring our own unique perspective to create our own, original Spider-Man universe. That's one of the main things that appealed to us about working with Spider-Man and Marvel – we love to tell new stories and create new worlds! We're grateful to enjoy the collaborative relationship we have with Marvel Games and PlayStation that nurtured such creative flexibility. It's been quite an honor to have the opportunity to deliver a fresh story for an iconic hero we've all grown up loving so much.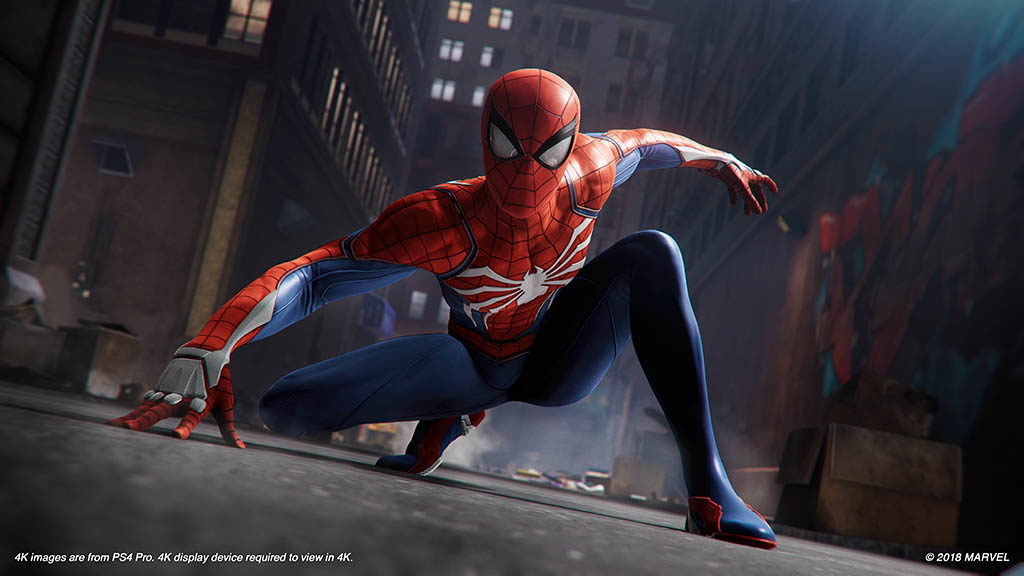 The Executive Creative Director for Marvel Games, Bill Rosemann, spoke early on in the game's development saying "The best Spider-Man stories are when Peter's world and Spider-Man's world collide" – can you speak to how Insomniac delivered on this lofty aspiration?
One of my personal highlights working on Marvel's Spider-Man was the moment Bill inadvertently used a non-erase Sharpie pen on our conference room dry erase white board to illustrate for the first time in passionate detail why people love Spider-Man so much all over the world. I'll never forget when Bill explained how Spider-Man is so relatable because we can all understand both sides of his character and that when Spider-Man wins, it's often at Peter Parker's expense and vice versa. That was such a "WOW" moment for me personally. Spider-Man's popularity clicked and I connected with the character that much more.
We worked very hard trying to bring this "worlds collide" mentality to life in the game by focusing as intently on Peter Parker as we did Spider-Man. Like I mentioned, you can play as Peter Parker, and we offer several opportunities throughout the story to feel what it is like to struggle with careers, family and relationships heading into your early 20s.
Fun fact: The remnants of Bill's legendary "worlds collide" speech remained on our conference room white board for many weeks until we replaced the sliding door as part of our livestream production set buildout. We also promptly removed Sharpie pens from the conference room.
In the game, we won't just get to play as Peter, as players get to do something we've never seen from a Spider-Man game – play as Mary Jane.  What was it like getting to create a version of MJ that few have seen before, and fold her into such an intense action game?
I think the best thing to come from our recent press preview tour is seeing the overwhelmingly positive reaction to Mary Jane and her role in the game. We all had a blast re-imagining her as a stronger and more capable character than ever before. It's humbling to feel so empowered to re-shape a character as iconic as MJ. But Marvel Games and PlayStation were incredibly supportive, and had plenty of creative ideas to help bring our version of her to life. As a result, our budding investigative journalist, MJ, stands, as an equal to Peter Parker and ultimately Spider-Man, helping him understand that he does not have to do everything himself to protect those he loves and New York City.
What was the most fun aspect of designing gameplay for a hero like Spider-Man, who has such an acrobatic and kinetic fighting style?
Since I'm not a designer, I'm going to answer this slightly differently. We frequently have playtests for the entire studio where we play portions of the game and send feedback that filters to each production team. It was a ton of fun to watch Spider-Man's traversal and gameplay evolve on a weekly and almost daily basis. Web swinging seemed to be the first thing that came into clear focus as hitting that magical "fun" marker – and the team just kept iterating to make the entire traversal experience mesmerizing and addictive. Gameplay evolved over time into what you can experience today. The biggest leaps came when we pushed ourselves harder to find ways to keep Spider-Man in the air for combat as long as possible. Once the team layered in more environmental objects to interact with, combos to play with, moves to experiment with and, of course, gadgets to unleash, it was almost impossible not to smile ear-to-ear while playing even the roughest of builds.
I'm sure you've gotten questions like this a lot, but how were you able to so expertly capture the frenetic, fluid, fast-paced combat we see in Spider-Man and make it so accessible on the PlayStation controller?
First off, thank you. We appreciate the compliment. Getting a game to feel smooth and almost effortless to pick up is deeply important to us at Insomniac and takes a LOT of work. It starts with being passionate Spider-Man fans and students of what makes him stand out as a character. Again, we have to thank Marvel Games and PlayStation for collaborating so well with us in that journey. Then, you consider that Insomniac has created and developed games now for nearly 25 years. We have a lot of experience working with PlayStation controllers for most of our studio's history. I think that's one of the reasons that Marvel Games and PlayStation approached us to consider working in the Spider-Man universe.
I hear you're quite the accomplished Ironman athlete – did that alter your approach at all when working on such a realistic, and physical, game like Spider-Man?
Not really in the way you're asking. But my double life as a triathlete affects everything I do and how I see the world in general. Endurance sports teach you, in a sometimes painfully visceral way, how far you can push your body, mind, and spirit. You also learn the importance of working through a problem in real-time because the consequences for not being able to do so – let's say emotions interfere with sound judgment – that means your race is likely over. If anything, I think I have a deeper appreciation for what it would actually take to be a real-life superhero when it comes to the physical, emotional and mental tolls it would take to be greater than you thought possible at any given moment.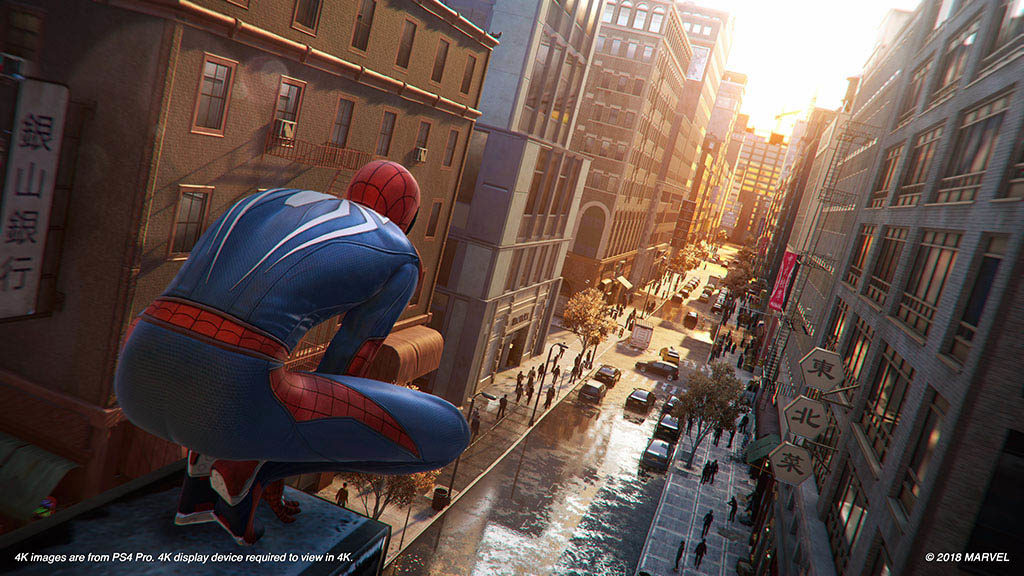 Massive open-worlds in games like Spider-Man can be overwhelming to some – so how have you approached making this version of New York City feel alive and interesting without being overwhelming over the course of a playthrough?
Great question. The simple answer here is that we've created a vibrant, populated version of Marvel's New York that's practically begging players to explore it. We're not forcing anyone to engage with the heaps of open-world content we've created. If people don't want to visit Oscorp Mobile Research Stations, track down Spider-Man's lore-filled backpacks, answer the challenge to complete several harrowing mini-missions, infiltrate enemy bases, find Marvel landmarks and more…no worries. We want everyone to experience their own Spider-Man journey in their own way, and we're confident we've provided a broad platform for people to do that.
The other thing to point out here is that this is where using a tower system to unlock new aspects of Manhattan makes a lot of sense. We're letting players choose the pace at which they'd like to engage with the world, and we're doing so in a way that fits within the context of the larger game narrative.
You've hinted that the open world in the game will continue to grow and change over time, but what are some characters or missions you can talk about now that you're excited for fans to experience?
Honestly, there's a lot to choose from but personally I'd prefer to let players experience the open world for themselves and be delighted by what they find. I'm even hoping players think about pigeons differently after they do. Whoops…did I say too much?
One last question!  What was the overall journey like for Insomniac Games to transition from creating brand new IPs and stories we'd never seen before in titles like Spyro and Ratchet & Clank, to putting a whole new spin on such an iconic and established franchise as Spider-Man?
The journey to develop Marvel's Spider-Man has been nothing short of exhilarating. It started at E3 2016, when we first experienced the shocking realization about the magnitude of contributing to the Spider-Man universe. Since our first days working on the game, we've enjoyed the triumphant feeling of creating an entirely new storyline for Peter Parker while re-imagining classic characters such as Norman Osborn, MJ, Aunt May and others. We've been thrilled to introduce new fans to the mysterious and powerful Mister Negative, alongside his more generous alter ego, Martin Li. Along the way, we've learned from the growing pains associated with expanding our studio to nearly 300 passionate souls during production, becoming collectively stronger in the process. As we pause briefly to reflect, we've all been greatly humbled by the overwhelming support for what we've created – and truly understand the great responsibility we've been given.
---
---