What is up Hello Kitty lovers? It has been a minute but this week I have decided to try and copy a recipe from Sanrio's Sweet Happy News Blog! So I know we are all biased to our own favorite characters, but I am going to try to recreate the My Melody Strawberry Almond Pound Cakes!
If you want to recreate the beautiful version of these CLICK HERE!
If you are here to watch me fail horribly then stick around!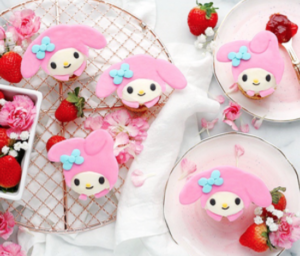 BEFORE WE GET STARTED… Let me assure you that I am not talented in the art of baking and I tend to burn everything I put in the oven. ALSO, I live in California which means I am a girl on a budget! SO all that being said, these are the most knockoff-lookin' My Melody Cupcakes you will ever lay eyes on.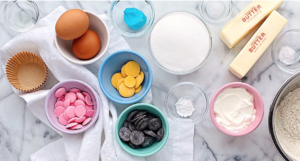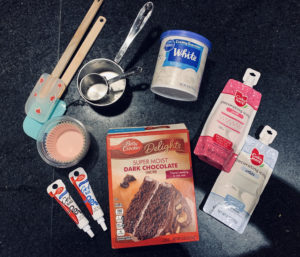 (Sanrio Recipe)                                                                                      (My Version)
Makes 1 dozen cupcakes                                                     Also Makes 1 dozen cupcakes
¼ cup unsalted butter, room temp (1/2 stick)            – 1 Betty Crocker Dark Chocolate Cake Mix Box
1 cup sugar                                                                             (or any flavor you want, we don't judge)
2 egg yolks
½ teaspoon vanilla extract                                                 -Pillsbury White Frosting
½ teaspoon almond extract                                               – Cake Mate Decorating Icing in Pink and White
1 ¼ cups all-purpose flour, sifted                                     – Betty Crocker decorating Gel in Blue and Black
½ teaspoon baking powder                                               – Cupcake Baking Cups
¼ teaspoon baking soda                                                    – Bowls, Spatulas, Spoon, Freezer Bags (I'll explain)
1/8 teaspoon salt                                                                 – A tough spirit and undying love for My Melody.
¼ cup sour cream
2 egg yolks, beaten to firm peaks
1/8 teaspoon salt
6 tablespoons strawberry jam
12 parchment muffin liners

Almond Buttercream:

¾ cup unsalted butter, room temperature (1 ½ sticks)
1/8 teaspoon salt
2 ¼ cups powdered sugar
½ teaspoon almond extract
½ teaspoon vanilla extract
2 tablespoons heavy whipping cream

My Melody Decorations:

½ bag pink or bright pink candy melts
¼ cup black candy melts
¼ cup yellow candy melts
Light blue fondant

METHOD: 

Read the back of the Betty Crocker Cupcake Box on instructions for how to cook those puppies to perfection! Once out of the oven, they should look something like this! PS. I would include the Sanrio Method but it was waaaayyyy too long to put in my blog post so if you'd rather do it that way CLICK HERE! 

ICE, ICE BABY! To start the icing process, I took out a piece of parchment paper and began to outline what I thought would look like My Melody heads. (keyword: "thought")  Here's what Sanrio says to do: "Use either a toothpick dipped in the candy melts or a heat proof piping bottle to "draw" the pink hoods, faces, and yellow noses onto wax paper. You can use the template underneath as a guide. Allow the pieces to set."

WELL, I decided to draw it with a sharpie and then i did the old D.I.Y icing in a Ziploc bag method. If you have no idea what I am talking about read it HERE. Do your best to create you own rendition of My Melody, it does not have to be perfect, I mean look at mine! LOL

Then I proceeded to place my beautiful icing creations into the freezer for 2-3 hours until they have fully frozen. Once out of the freezer gently scrape them off of the parchment paper and place carefully onto a cupcake top. Begin to decorate however you want. I am aware that the Sanrio blog uses fondant and many, many tools in order to create their outstanding My Melody cupcakes. BUT let's be real, I am not a professional baker and all I really care about is if it tastes good at the end of the day.After much trial and tribulation, here is how my cupcakes turned out. NO, they aren't very pretty and they definitely look nothing like the food artists cupcakes Sanrio hired to make theirs look absolutely perfect but DAMN did they taste good and at the end of the day I was just proud that I didn't end up burning the house down!
AS ALWAYS, thanks for reading my blog and be sure to click on my face below for more anime related content! If you are down to tackle these my Melody Cupcakes, be sure to tag us on TWITTER!
GOODLUCK! <3