For today's Loot Recipe we're celebrating National Guacamole Day. I, Steven, am also slightly lazy so we're doing it a little differently! The Lazy Guac Burger is in essence a deconstructed guacamole that takes some of its inspiration from the Sweet Home Avocado Burger from the Bob's Burgers Cookbook. Let's get started!

Ingredients:
2 lbs ground hamburger
1 tomato
2 jalapenos
cilantro (optional and to taste)
6 limes (or 1/4 cup lime juice)
1/2 cup honey
1 avocado (I know there are three here, we over bought. It's fine)
1 onion (I don't like onions so I left it out but, hey to each their own.)
Buns, unless bread isn't your thing then use whatever you usually put your burgers on.
Step 1: Marinate The Meats!
I didn't get a picture of this step but take 1 tbsp of your lime juice and use it to marinate your ground beef while you complete this recipe.
Step 2: Make the Sauce!
You're going to put your honey and most of your lime juice in a sauce pan (I recommend a pinch of salt as well, but I'm a salty guy).
Cook it on medium-high heat until the consistency thickens just a little then pull from heat and allow to cool. (It was hard to not get a shaky picture while violently squeezing that lime).
Pull it when it reaches a slightly less viscous than honey consistency and as it cools it will thicken to a more saucy texture.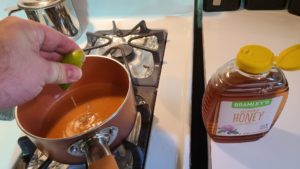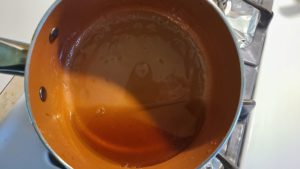 Step 3: Mix Your Veggies
This is where onions are optional. You're essentially making a Pico de Gallo here.
My personal blend is a lot more pepper heavy, but that's the beauty of this recipe you can alter it to taste very easily.
I  chopped up about 1/2 cup cilantro, 1 whole tomato, and 2 jalapeno peppers. In the mixture I like to squirt a little of my lime juice in there.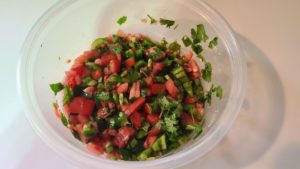 Step 4: Grill them burgers!
Now, let me preface this with one thing. I make thick burgers and I cook low and slow so these took forever! So, for the sake of this recipe we're going to make 6 patties instead of my usual 3.
Remove the ground beef from the marinade and make 6 evenly sized patties. Season them up well with salt, pepper, maybe some Tony C's if you're like me, or even some TAJÍN.
I recommend doing this step on a flat top griddle or in a large pan on the stove as low heat and a slow cook is the perfect way to cook thoroughly without burning your burger. Especially if you make them way too thick. 😅
MAKE SURE you reach an internal temperature of at least 165 degrees Fahrenheit or 74 degrees Celsius to ensure proper cooking.
     
Final Step: Plate and Enjoy!
If I could offer one recommendation at this phase, don't do what I did. Don't just get a bag of chips, even if they are the delicious Chili Lime ones. A burger this tasty deserves a proper side of delicious fries or even tots!